Network debuts booklet about Modjeska Simkins

The SC Progressive Network recently published a booklet about Modjeska's extraordinary life and social justice work in South Carolina. You can download it here, or pick up a free copy at the Network's office, located in Modjeska's historic home at 2025 Marion St. in Columbia. Read a review by Herb Hartsook on the USC's Libraries SC Political Collections blog. We are in the process of mailing the booklet to libraries and colleges across the state. To obtain bulk copies, call 803-808-3384.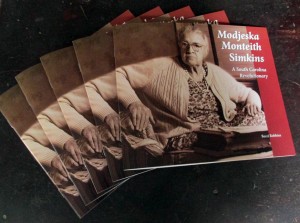 See photos of the Network's drop-in June 26 to thank those involved in the project.
Grant Opportunities
Two Southern-centric, activist-oriented foundations are now taking applications from progressive organizations in South Carolina.
The Southern Partners Fund is taking proposals until Aug. 8 with an online application for grants up to $15,000. SPF is focusing on democracy, education, and immigration. Click here to review SPF's RFP. Click here for SPF's online application (you must create an account to access the document). For more information, email programs@spfund.org, or call 404-541-9091 x 116.
The Fund for Southern Communities is taking proposals for grants up to $5,000 until Sept. 5. A copy of the proposal guidelines is here. Visit fundforsouth.org for more information. Email questions to fsc@fundforsouth.org or call 404-371-8404.
• JULY CALENDAR •
CHARLESTON
July 2, 6:30pm: Charleston Central Labor Council meeting (1st Wednesday), 2556 Oscar Johnson Dr., N. Charleston. Open to union members and supporters. For details, call Joe Shelley at 843-729-9386.
July 7, 7pm, Carolina Alliance for Fair Employment (CAFE) monthly meeting (first Monday). ILA Hall, 1422 Morrison Dr. Open to all interested in community organizing to support workers' rights. For details, contact Thomas Dixon, Coordinator of the Charleston CAFE chapter, at tad3189@gmail.com or 843-437-1949.
July 8, 6:30pm: Organize the South Panel, Avery Research Center, 125 Bull St. Labor and community organizers, workers, faith leaders and historians will discuss how we can seize the emerging political energy and use it strengthen our movement building strategies. Sponsored by the SC AFL-CIO and Raise Up.
July 21, 7pm: Charleston Progressive Network meeting (3rd Monday) ILA Hall, 1422 Morrison Dr. in the conference room at the north end of the building. This month's meeting will be a training session for people who want to be on the crew for the Health Democracy Road Show. The road show is the Network's 2014 voter education, registration, mobilization project that will run through Nov. 4. For details, contact George Hopkins at hopkinsg@cofc.edu or 843-819-0066.
July 29, 6pm: The Healthcare Movie, about how healthcare is a right in most countries, will be shown at the main branch of the Charleston Library. Following the film, Dr. Ed Weisbart, President of the Missouri Chapter of Physicians for a National Health Program, will make brief remarks and answer questions. For information, contact David Ball at (843) 670-0561.
COLUMBIA
July 1, 7pm: Columbia Central Labor Council meeting (first Tuesday), 2025 Marion St. Open to union members and supporters. For details, call CLC President Jenny Patterson at 843-270-1308.
July 8, 7pm: Columbia Network meeting (2nd Tuesday), 2025 Marion St. Come plug into any of several organizing projects going on in the Midlands. Meetings are casual and open to all. Call 803-808-3384 or email network@scpronet.com for details.
July 12, 10:45am-noon: Emergency Protest Against Israel's Bombing of Gaza, SC State House. Carolina Peace and allies call for an end to Israel's attacks on Gaza, and an immediate unconditional ceasefire from all sides. Gather 10:45AM at Plaza in front of Columbia Museum of Art (Corner of Hampton & Main Street). 11AM March to Statehouse. 11AM-12PM Noon Demonstration on Sidewalk in front of the SC Statehouse, Main & Gervais)
July 13, 3pm: NORML chapter meeting, (2nd Sunday) 2025 Marion St. Meeting agendas will be available to those in attendance.
ROCK HILL
July 2, noon: Rock Hill Progressive Network (1st Wednesday) will meet at Sila Thai Restaurant, 957 N. Anderson Road. We welcome tea drinkers if you don't want to eat. For more information, email keenanmsc@gmail.com or call 803-580-0198.
This calendar listing is for Network members. Send items to becci@scpronet.com.
To join the Network as an organization or individual, go here.