Calling all political junkies!
Join us on for SC Progressive Network/SC Voter Coalition Spring Strategy Meeting April 26, 10am – 5pm
Dinner and social 5-6pm Teamsters Local 509 Union Hall, 2604 Fish Hatchery Rd., West Columbia
This statewide meeting will be held at the spacious new Teamsters' Hall in West Columbia. We will finalize plans for the Network's ground game through the end of the legislative session, the primary elections and the November general elections. The agenda will include nonpartisan voter education work on Medicaid expansion, as well as the plans for our engagement in Republican and Democratic races.
A full agenda is being developed. Please let us know your thoughts about items or issues you want to see included. Email network@scpronet.com or attend an upcoming Network meeting near you. Please confirm your attendance so we can have enough conference materials for everyone. Registration fee of $25 includes lunch and dinner. RSVP required for meals. Pay at the door. (Nobody will be turned away for lack of funds.)
Help grow the grassroots in South Carolina!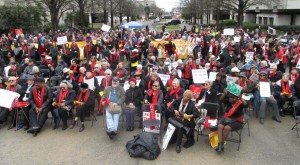 APRIL CALENDAR
Network Navigators are still on duty to help those who signed up for health insurance through the Affordable Care Act, but haven't closed the deal on a policy. Call for assistance: Columbia, 803-8445-1921. Charleston, 843-475-2859. Rock Hill, 803-792-4885. Truthful Tuesday events to demand that SC take the Medicaid expansion funds for the poorest 250,000 of our citizens will be coming to a Republican district near you. Stay tuned for details and plan on attending your local Network meeting and the Network Spring Conference April 26.
CHARLESTON
April 2, 6:30pm: Charleston Central Labor Council meeting (1st Wednesday), 2556 Oscar Johnson Dr., N. Charleston. Open to union members and supporters. For details, contact Joe Shelley at 843-729-9386.
April 3, 6pm: Workers Speak Out Against Wage Theft! Gather at 492 Meeting St. Wage theft isn't only morally wrong, it's a crime. On April 3, fast food workers from across South Carolina will be coming to Charleston to take a stand to demand that multibillion-dollar fast food corporations pay workers for every minute they work and give them every penny they earn. Enough is enough! In March, workers filed a class action lawsuit against McDonald's over wage theft violations. On March 18, workers in over 30 cities spoke out. On April 3, workers are stepping up the pressure to put an end to wage theft. Join us! For details, contact George Hopkins at hopkinsg@cofc.edu or 843-819-0066.
April 7, 7pm, Carolina Alliance for Fair Employment (CAFE) monthly meeting (first Monday). ILA Hall, 1422 Morrison Dr. Open to all interested in community organizing to support workers' rights. For details, contact George Hopkins at hopkinsg@cofc.edu or 843-819-0066.
April 27, 4-7pm: AFFA's Annual Oyster Roast, Bowen's Island Restaurant. Oysters/chili/hotdogs/beer/wine/soft drinks. Tickets: $20 ($25 at the door) Buy tickets here. April 21, 7pm: Charleston Progressive Network meeting (3rd Monday) ILA Hall, 1422 Morrison Dr. in the conference room at the north end of the building. For details, contact George Hopkins at hopkinsg@cofc.edu or 843-819-0066.
COLUMBIA
April 1, 7pm: Columbia Central Labor Council meeting (First Tuesday), 2025 Marion St. Open to union members and supporters. For details, call CLC President Jenny Patterson at 843-270-1308.
April 1, 7pm: Joy in the Journey concert, Garden of Grace Church, 2010 Atlas Rd. Come hear Jason & deMarco, nationally recognized contemporary Christian singers.
April 6, 6pm: Carolina Peace Pot Luck Dinner. Enjoy food, friends and discussion. 2025 Marion St.. Contact Dave Matos at carolinapeace2011@gmail.com.
April 7, 6-7:30pm: An evening with Barney Frank, M Space, 530 Lady St. Sponsored by SC Equality PAC, tickets $50, go HERE.
April 8 and April 22, 11am: Prayer vigil for Medicaid expansion, State House. Contact Rev. Nelson Rivers III for details at nriversiii@gmail.com.
April 8, 7pm: Columbia Network meeting (2nd Tuesday), 2025 Marion St. Come plug into any of several organizing projects going on in the Midlands. Meetings are casual and open to all. Call 803-808-3384 or email network@scpronet.com for details.
April 9, 10am: Press conference in support of medical marijuana, SC State House 1st floor lobby. Please join supporters from across South Carolina to call on state leaders to put politics aside and make medical marijuana available to patients in South Carolina who suffer from debilitating illnesses. For more information contact Columbia NORMAL, columbianorml@gmail.com.
April 18, 6:30pm: Good Friday Movie Night, Garden of Grace Church, 2010 Atlas Rd. Movie, grits bar: cheese, shrimp, multiple toppings, drinks and popcorn.
April 23, 7pm: Learn about SC's nuclear waste problem with Suzanne Rhodes, author of the League of Women Voters of South Carolina report on nuclear waste in South Carolina, USC's Green Quad, 1216 Wheat St., 146-D. Free and open to the public. Sponsored by the Carolina Peace Resource Center.
April 26, 10am-5pm: Progressive Network Spring strategy conference. Dinner and social 5-6pm, Teamsters Local 509 Union Hall, 2604 Fish Hatchery Rd., West Columbia. All are welcome.
May 6, 8am: Court date for 49 Truthful Tuesday arrests, 1 Justice Square (at Lincoln and Washington Streets). Come show your support!
ROCK HILL
April 2, noon: Rock Hill Progressive Network (first Wed.) will meet at Sila Thai Restaurant, 957 N. Anderson Road. We welcome tea drinkers if you don't want to eat. We want to celebrate our victory in the Senate and decide our next tactics to promote Medicaid expansion – and any other state issues on your mind. Y'all all come! RSVP if possible to keenanmsc@gmail.com.
SPARTANBURG
April 8, 10am: Spartanburg Progressive planning meeting, Coffeebar, 188 W. Main St. For more information, or to get involved if you can't make this meeting, email Alice Sutton at suttonak@charter.net.
This calendar listing is for Network members. If your group has an item to share, send it to becci@scpronet.com.
To join the Network as an organization or individual, go here.
•  •  •
In surprise move, SC Senate kills "Nullify Obamacare" bill
What happened, and what does it mean for us? Read this. Details at TruthfulTuesday.net.
Another 17 Truthful Tuesday protesters arrested
As the SC Senate continued debate on the ACA nullification bill, 17 more people were arrested on March 18 for blocking the road to the SC State House. This time, demonstrators prayed in the street before officers removed them. Photos of the arrests on Flickr. Visit TruthfulTuesday.net to learn more about the movement or email info@truthfultuesday.net.