The SC Progressive Network held its annual fall retreat on Nov. 15 in Columbia to regroup and recharge, reconnect with old allies, make new ones and map a way forward for the coming year. A blend of seasoned activists and new blood spent the day taking stock and setting priorities for the coming year.

See more photos in our photo album.
Out of the meeting came a commitment to craft a "strategic realignment" that develops new leadership and creates a new 501-c-3 foundation to seek funding for the Modjeska Simkins School and other projects. We are looking at the coalition funding model established by Blueprint North Carolina that is similar to the Network. Funding for Blueprint NC is a collaborative process that raises and distributes funding to the coalition's member organizations.
A re-organizational plan will be submitted to the Network Executive Committee before the end of the year. Michael Thompson – lawyer, former director of the House Democratic Caucus, and a Network member – has offered to formulate a draft plan. Blueprint NC Executive Director Erin Byrd has offered to consult. We will share those plans with the general membership before it is submitted at the spring membership meeting for final approval.
In 2015, the Network will make establishing the Modjeska Simkins School for Human Rights a priority. This is the much needed and long discussed grassroots organizing institute to grow and sustain a progressive movement in South Carolina.
The work for the coming year will include:
Organizing public support for Medicaid expansion and opposition to privatizing federal funding.
A federal lawsuit challenging the state's unequal enforcement of voting rights. This strikes at state not having control over the way the counties interpret and apply laws regulating voting. Some counties inhibit ex-felons from registering to vote by requiring documentation not required by law. Some counties inhibit college students from registering to vote at their school address. The state and national ACLU have agreed to take the case. Read more about our survey on our blog.
Working with the SC AFL-CIO on sick leave legislation and a bill to repeal the Right To Work Act.
Continue to encourage members to use social media to maximum advantage.
Improve our database to better manage membership applications, dues and renewals.
The Network no longer has funding to help people get into the Affordable Care Act's insurance market place. We are referring inquiries to the Palmetto Project.
• NETWORK CALENDAR •
CHARLESTON
Dec. 1, 7pm, Carolina Alliance for Fair Employment (CAFE) monthly meeting (1st Monday), ILA Hall, 1422 Morrison Dr. Open to all interested in community organizing to support workers' rights. For details, contact Thomas Dixon at tad3189@gmail.com or 843-437-1949.
Dec. 2, 6:15pm: AFFA meeting will include the program "I Do" How Marriage Equality affects YOU. If you are ready to pop the question or have a marriage certificate on the wall: Does your job offers spousal benefits? Were you putting off the decision to have kids? Do I talk to a lawyer before tying the knot? Am I in a common law marriage? We'll have four attorneys to answer your questions. Meeting will be held at the Charleston Marriott, 170 Lockwood Blvd. Everyone welcome.
Dec. 3, 6:30pm: Charleston Central Labor Council meeting (1st Wednesday), 2556 Oscar Johnson Dr., N. Charleston. Open to union members and supporters. For details, call Joe Shelley at 843-729-9386.
Dec. 4, 6am and noon: We will continue to turn the heat up on our companies as we fight for our $15 and Union Rights! The morning action will begin at 6am at 5150 Ashley Phosphate Rd near Dorchester Rd. in North Charleston. The afternoon action will begin at noon at 4926 Centere Pointe Rd in Tanger Outlets near Walmart. Please share this email widely, and let's help fast food workers make this action their biggest ever! For details and to RSVP email Emily.Ricards@yahoo.com or call 989-513-8488.
Dec. 13, 8:30am-8pm: Jingle Bus 2014, the Town of Mount Pleasant, 100 Ann Edwards Lane. A rolling holiday celebration will move through the heart of the Mount Pleasant Christmas Festival when Hungryneck Straphangers, CARTA and the Town of Mount Pleasant team up to launch Jingle Bus. The CARTA 42 Coleman Blvd. bus will be upgraded with a full-sized vehicle and packed with music, performances and holiday fun. The bus will also provide car free mobility with passes provided at no charge by local Mount Pleasant and Charleston merchants so everyone can enjoy the festival without having to fight traffic or look for parking.
Dec. 15, 6:15pm: Lowcountry Peace will meet at the ILA Hall on Morrison Drive. Please join us as we work to advance the local peace movement. Everyone interested is encouraged to join. Join us on Facebook.
Dec. 15, 7pm: Charleston Progressive Network meeting (3rd Monday) ILA Hall, 1422 Morrison Dr. in the conference room at the north end of the building. For details, contact George Hopkins at hopkinsg@cofc.edu or 843-819-0066.
COLUMBIA
Each Sunday before Christmas: Unitarian Universalist Congregation of Columbia Holiday Gifts Bazaar Fundraiser. Start your holiday shopping! Wonderful hand crafted and other gift items will be for sale on Sundays before Christmas. Join us on Sunday mornings for services at 11 a.m. A typical service at the UUCC includes hymns, readings, choir, children's stories, communal sharing of joys and concerns, and a sermon. Adults interested in discussing current issues or on a wider range of other topics are invited to join our Forum at 9:30am in the library.
Dec. 2, 7pm: Columbia Central Labor Council meeting (first Tuesday) and holiday party, 2025 Marion St. Open to union members and supporters. Bring a covered dish to share. For details, call CLC President Jenny Patterson at 843-270-1308.
Dec. 5, 5:30-7m: As we do every year, we will celebrate Modjeska Simkins birthday at her home, now the Network's HQ, at 2025 Marion St. We'll share cake, tell stories and toast Modjeska's spirit. Open to all; children welcome.
Dec. 7, 1:30-4pm: Holiday Open House, Hancock LGBT Center, 1108 Woodrow St. Another amazing year. So many advances, but still so much to do. This month we will be having our annual holiday celebration at the Center for our potluck. The meal will start at 2pm. Anyone interested is welcome to participate in a holiday cookie exchange. Please bring whatever cookies or holiday confections you want (whether you make them yourself or not). We'll put them all up on a table with to-go boxes. People bringing exchange treats will get first choice. As always, please feel to invite friends, families, etc. Everyone is welcome.
Dec. 9, 7pm: Columbia Network meeting (2nd Tuesday), 2025 Marion St. We'll talk about what happened at the fall retreat and Meetings are casual and open to all. Call 803-808-3384 or email network@scpronet.com for details.
Dec. 12-14: Alternatives to Violence workshop introduces the concepts, principles and tools of nonviolent conflict resolution and transforming power. Recommended for students, social workers, law enforcement officers, community volunteers, teachers, or anyone interested in solving problems peacefully. More information here.
Dec. 14, 3pm: NORML chapter meeting, (2nd Sunday) 2025 Marion St. Meeting agendas will be available to those in attendance. Details columbianorml@gmail.com.
Dec. 25, 2pm: Christmas DInner, Garden of Grace United Church, 1020 Atlas Rd. Join us for Christmas dinner. Bring your favorite dish.
ROCK HILL
Dec. 3, 1pm: Rock Hill Progressive Network (1st Wednesday) monthly meeting. For more information, contact Mary Keenan at keenanmsc@gmail.com or call 803-580-0198.
This calendar listing is for Network members. Send items to becci@scpronet.com. To join the Network as an organization or individual, go here.
Network survey shows SC county voter registration offices unclear about law
If you are sent to prison in South Carolina, you lose the right to vote. By state law, that right is to be restored upon completion of your sentence. But a new survey of the state's voter registration offices reveals that how the process for re-enfranchisement works — and doesn't work — depends on where you live. Read the full story on our blog.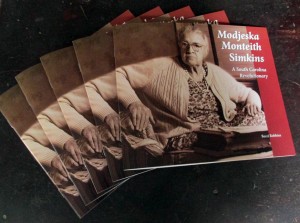 Network publishes booklet about Modjeska Simkins



The SC Progressive Network has published a booklet about Modjeska's extraordinary life and social justice work in South Carolina. You can download it here, or pick up a free copy at the Network's office, located in Modjeska's historic home at 2025 Marion St. in Columbia. Read a review by Herb Hartsook on the USC's Libraries SC Political Collections blog. To obtain bulk copies, call 803-808-3384.