After months of organizing and training, on Aug. 28 the Network launched the Healthy Democracy Road Show, a grass roots campaign to educate and mobilize voters on the state of democracy and health care in South Carolina. US Sen. Bernie Sanders helped us kick things off with a press event at the SC State House. Hear what he had to say about the consequences of not accepting Medicaid expansion in South Carolina. Bottom line: people will die unnecessarily.
We spent the last legislative session lobbying state lawmakers on the Affordable Care Act – "Obamacare" — and Medicaid expansion. Now, we are focusing on select communities across the state, taking our message to the people most affected by state lawmakers' refusal to accept federal funding.
We have the names and addresses of more than 175,000 registered SC voters who were denied a Medicaid card because of petty, partisan politics. Between now and the election on Nov. 4, we are hitting the road, going door-to-door in targeted neighborhoods to bust the myths and misinformation about health care in South Carolina.
Call 803-808-3384 or 803-445-1921 to volunteer for one of these canvassing efforts or to set up one in your area. No experience necessary. We will train you and supply all materials, and pair you with another volunteer or group of volunteers.
More photos from launch day on Flickr.
• SEPTEMBER CALENDAR •
CHARLESTON
Sept. 3, 6:30pm: Charleston Central Labor Council meeting(1st Wednesday), 2556 Oscar Johnson Dr., N. Charleston. Open to union members and supporters. For details, call Joe Shelley at 843-729-9386.
Sept 4, 8am-noon: Raise Up! RALLY for minimum wage increase, 858 Folly Rd., Brittle Bank Park (185–187 Lockwood Blvd). For the past 2 years fast food workers like me across the country have been fighting to change the $200-billion fast food industry. What started off with a few hundred workers in New York City is now a worldwide movement of thousands of fast food workers because we stood up, shared our stories, and woke the country up to the struggles of trying to survive on $7.25. For more information, contact info@raiseupfor15.org.
Sept. 6,  5-7pm: Lowcountry Rally for Justice, 76 Columbus St. Join us as we come together to show our support for the family of Michael Brown in Ferguson, MO and the family of Denzel "Jaba" Curnell in the Lowcountry.
Sept. 8, 7pm, Carolina Alliance for Fair Employment (CAFE) monthly meeting (usually first Monday, but moved this month because of Labor Day). ILA Hall, 1422 Morrison Dr. Open to all interested in community organizing to support workers' rights. For details, contact Thomas Dixon at tad3189@gmail.com or 843-437-1949.
Sept. 9, 7-8:30pm: the newly formed Charleston Peace Alliance will meet at the ILA Hall on Morrison Drive. Please join us as we work to advance the local peace movement. Everyone interested is encouraged to join.
Sept. 15, 7pm: Charleston Progressive Network meeting (3rd Monday) ILA Hall, 1422 Morrison Dr. in the conference room at the north end of the building. For details, contact George Hopkins at hopkinsg@cofc.edu or 843-819-0066.
Sept. 23, 11:30am: "Let's Get Mobility in SC Out of the Past" press conference, 51 S. Market St. Everyone is invited to a short press event to share our concerns about the direction of transportation planning in SC in preparation for the meeting the following day on Daniel Island. We'll encourage those committed to enabling a system of mobility not fixated on the car, including public transit, cycling, ferries and walking. Sponsored by Hungryneck Straphangers.
Sept. 23, 4:30-7pm: Riders Help Plan SC's Next 25 Years of Public Transit, 3366 Rivers Ave., North Charleston. Transit Riders from the Charleston area are invited to join Hungryneck Straphangers and members of American for Transit in providing public input in on the statewide plan for public transportation for the next 25 years on September 23, 2014. Since the meeting is being held on Daniel Island, which has very limited public transit services through Tri-County Link we're planning to provide rides from the CARTA Superstop at Rivers and Consgrove Ave. in North Charleston starting at 4:30 pm to the meeting on Daniel Island. Those needing a ride should contact Hungryneck Straphangers through the web site or by calling 843-870-5299.
COLUMBIA
Sept. 2, 7pm: Columbia Central Labor Council meeting (first Tuesday), 2025 Marion St. Open to union members and supporters. For details, call CLC President Jenny Patterson at 843-270-1308.
Sept.3, 1pm: Medical Marijuana Study Committee. The first meeting of the Medical Marijuana Study Committee meets in the Gressette building, Room 105.
Sept. 6, 1-am-noon: Organizing 101 Training with Tim Franzen of the American Friends Service Committee, Green Quad, 1216 Wheat St., Bldg 146-D. Whether you are a veteran organizer who needs to brush up on your skills or completely new to activism, this training is for you. The training is free, but you need to register. Space is limited. Email david@carolinapeace.org or 803-215-3263. Include your contact information and a little bit about yourself and the organizing work you would like to do. Sponsored by the Carolina Peace Resource Center.
Sept. 9, 7pm: Columbia Network meeting (2nd Tuesday), 2025 Marion St. We've got lots going on all across the state. Our Healthy Democracy Road Show is on the move. We need all the volunteers we can get. Meetings are casual and open to all. Call 803-808-3384 or email network@scpronet.com for details.
Sept. 14, 3pm: NORML chapter meeting, (2nd Sunday) 2025 Marion St. Meeting agendas will be available to those in attendance.
Sept. 15, 7-9:15pm: Transgender Forum, Public Health Research Center (PHRC) Room 114. The panel will begin at 7pm with Dr. Ed Madden serving as moderator. Questions from the audience will be taken after the panel, and a light reception will follow. Several transgender community members from around South Carolina will come together to share their stories, provide insight into their experiences as transgender individuals in South Carolina, and allow all of us to grow in our knowledge and ability to build a truly inclusive community.
Sept. 19, 6-9pm: SC Pride Pioneers' 25th Anniversary Reception, M Space, 530 Lady St. This year marks the 25th annual South Carolina Gay and Lesbian Pride March in Columbia and we are marking the milestone with this reception to celebrate the 1st Pride March held on June 23, 1990. Sept. 8 is last day to mail your check for the reception. Sept. 10 is the last day to pay by credit card.
Sept. 20, noon-10pm: 25th Annual Pride Festival, Main. St. Parade at noon; festival 1-10pm. See scpride.org for full list of speakers and performers.
Sept. 20, 8pm: Concert by Ellis, Unitarian Universalist Coffee House, 2701 Heyward St. Tickets are $17 for adults at the door and $15 with reservations. $3 for students at the door or with reservations. Doors open at 7pm and the main show starts at 8pm. Reserve your seats by calling 803-200-2824.
Sept. 21, 3-5pm: Peace Day at the State House. Join us in celebrating the International Day of Peace in fair-style atmosphere with activities for all ages including making pinwheels for peace and peace cranes, music and speakers. For details, contact lizzie@carolinapeace.org or david@carolinapeace.org. Sponsored by the Carolina Peace Resource Center.
GEORGETOWN
Sept. 3-5: The 58th Annual Convention of the SC AFL-CIO will be held in Georgetown, the longtime home of steel production facilities, at the Quality Inn and Suites, 210 Church St. The Convention will begin at 10am Wednesday and conclude by noon on Friday. Supporters of workers' rights welcome. For details, email scaflcio@bellsouth.net.
ROCK HILL
Sept. 3, noon: Rock Hill Progressive Network (1st Wednesday) will meet at Sila Thai Restaurant, 957 N. Anderson Road. We welcome tea drinkers if you don't want to eat. For more information, email keenanmsc@gmail.com or call 803-580-0198.
Save the date! 
Annual Retreat Nov. 15-16 at Penn Center, near Beaufort. Don't miss the Network's most important gathering of the year. Call 803-808-3384 or email network@scpronet.com to reserve your space. See photos from last year's retreat here.
This calendar listing is for Network members. Send items to becci@scpronet.com. To join the Network as an organization or individual, go here.
80th Anniversary of Textile Industry Massacre in Honea Path
On the morning of Sept. 6, 1934, in the tiny town of Honea Path, friends and neighbors came to blows in a labor dispute. When it was over, seven people were dead and 30 others wounded. The bloody riot at the town's cotton mill on that warm Thursday morning shaped the lives of two generations to follow — not because of the shock of what was known, but by what was unknown. Fear, threats and intimidation were used to silence the story of the greatest tragedy in the town's history.
For 60 years, the story of a mass killing in a small town was successfully erased, not only from the history books, but from the public consciousness of those people most affected by it. An instrument of fear — so powerful that parents were afraid to tell the story to their own children — formed a lifelong social contract for entire community's survival.
Ironically, Honea Path's secret was finally revealed in a way the architects of its original cover-up could have never imagined: a video documentary titled The Uprising of '34 made by three socially conscious New York City filmmakers who unraveled the secret after rummaging through old letters from townspeople to President Franklin Roosevelt.
Yet, even after the truth was exposed in 1995, the story took another strange twist. South Carolina's intensely pro-business establishment,still heavily influenced by the region's textile industry, tried to suppress the documentary, first by banning it from broadcast and then by making it difficult for people to see in public places.
Frank Beacham grew up in Honea Path. His mother was the town's history teacher. His grandfather, he was to learn from the documentary, organized the posse of gunmen who fired on their fellow workers in 1934. Only as an adult did he finally learn the deeper secrets that haunted Honea Path and the painful truth about his own family and the destructive series of events that distorted the perceptions he held of his childhood home. As a professional writer and journalist, Beacham investigated his home town and the family he never knew. He spoke with the last living shooting victim, Williams Andrew Smith, who told him that his grandfather lied about being at the mill when the violence occurred. In fact, Smith said, his grandfather, Dan Beacham, was standing over him as he lay bleeding on the ground.
An aunt, Hazel Beacham, confronted the writer about supporting the men his grandfather fought against. Beacham went on local radio in a compelling appearance that turned many in the town around to support a memorial for the workers in 1995.
To commemorate the shooting 80 years ago, Beacham has produced a 48-minute audio documentary that chronicles the shooting and features many of his interviews. He talks with a historian as to why Honea Path is not commemorating the anniversary. The program runs for the entire month of September and is free to listen to or download here.
Beacham has also written an extensive multimedia e-book, Mill Town Murder, which features text, photos, audio and video about the Honea Path shooting and its historical context.
When the documentary originally aired, SC ETV chose not to run it. This month, South Carolina viewers can watch it on ETVHD (35 -1) Sept. 4 at 9pm and on SC Channel (35-2) Sept. 8 at 9pm.
•  •  •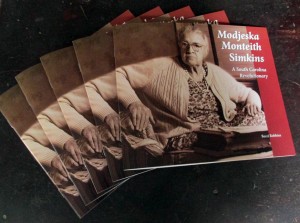 Network publishes booklet about Modjeska Simkins



The SC Progressive Network recently published a booklet about Modjeska's extraordinary life and social justice work in South Carolina. You can download it here, or pick up a free copy at the Network's office, located in Modjeska's historic home at 2025 Marion St. in Columbia. Read a review by Herb Hartsook on the USC's Libraries SC Political Collections blog. To obtain bulk copies, call 803-808-3384.