Joined the Healthy Democracy Road Show yet?
What are you waiting for? The election is Nov. 4!
Watch this video, then go here to find out how YOU can help make change.
The Network had a float in the 25th annual SC Pride parade.

Go here to see more photos.
•  •  •
• SEPTEMBER CALENDAR •
CHARLESTON
Sept. 3, 6:30pm: Charleston Central Labor Council meeting (1st Wednesday), 2556 Oscar Johnson Dr., N. Charleston. Open to union members and supporters. For details, call Joe Shelley at 843-729-9386.
Sept 4, 8am-noon: Raise Up! RALLY for minimum wage increase, 858 Folly Rd., Brittle Bank Park (185–187 Lockwood Blvd). For the past 2 years fast food workers like me across the country have been fighting to change the $200-billion fast food industry. What started off with a few hundred workers in New York City is now a worldwide movement of thousands of fast food workers because we stood up, shared our stories, and woke the country up to the struggles of trying to survive on $7.25. For more information, contact info@raiseupfor15.org.
Sept. 6,  5-7pm: Lowcountry Rally for Justice, 76 Columbus St. Join us as we come together to show our support for the family of Michael Brown in Ferguson, MO and the family of Denzel "Jaba" Curnell in the Lowcountry.
Sept. 8, 7pm, Carolina Alliance for Fair Employment (CAFE) monthly meeting (usually first Monday, but moved this month because of Labor Day). ILA Hall, 1422 Morrison Dr. Open to all interested in community organizing to support workers' rights. For details, contact Thomas Dixon at tad3189@gmail.com or 843-437-1949.
Sept. 9, 7-8:30pm: the newly formed Charleston Peace Alliance will meet at the ILA Hall on Morrison Drive. Please join us as we work to advance the local peace movement. Everyone interested is encouraged to join.
Sept. 15, 7pm: Charleston Progressive Network meeting (3rd Monday) ILA Hall, 1422 Morrison Dr. in the conference room at the north end of the building. For details, contact George Hopkins at hopkinsg@cofc.edu or 843-819-0066.
Sept. 23, 11:30am: "Let's Get Mobility in SC Out of the Past" press conference, 51 S. Market St. Everyone is invited to a short press event to share our concerns about the direction of transportation planning in SC in preparation for the meeting the following day on Daniel Island. We'll encourage those committed to enabling a system of mobility not fixated on the car, including public transit, cycling, ferries and walking. Sponsored by Hungryneck Straphangers.
Sept. 23, 4:30-7pm: Riders Help Plan SC's Next 25 Years of Public Transit, 3366 Rivers Ave., North Charleston. Transit Riders from the Charleston area are invited to join Hungryneck Straphangers and members of American for Transit in providing public input in on the statewide plan for public transportation for the next 25 years on September 23, 2014. Since the meeting is being held on Daniel Island, which has very limited public transit services through Tri-County Link we're planning to provide rides from the CARTA Superstop at Rivers and Consgrove Ave. in North Charleston starting at 4:30 pm to the meeting on Daniel Island. Those needing a ride should contact Hungryneck Straphangers through the web site or by calling 843-870-5299.
COLUMBIA
Sept. 2, 7pm: Columbia Central Labor Council meeting (first Tuesday), 2025 Marion St. Open to union members and supporters. For details, call CLC President Jenny Patterson at 843-270-1308.
Sept.3, 1pm: Medical Marijuana Study Committee. The first meeting of the Medical Marijuana Study Committee meets in the Gressette building, Room 105.
Sept. 6, 1-am-noon: Organizing 101 Training with Tim Franzen of the American Friends Service Committee, Green Quad, 1216 Wheat St., Bldg 146-D. Whether you are a veteran organizer who needs to brush up on your skills or completely new to activism, this training is for you. The training is free, but you need to register. Space is limited. Email david@carolinapeace.org or 803-215-3263. Include your contact information and a little bit about yourself and the organizing work you would like to do. Sponsored by the Carolina Peace Resource Center.
Sept. 9, 7pm: Columbia Network meeting (2nd Tuesday), 2025 Marion St. We've got lots going on all across the state. Our Healthy Democracy Road Show is on the move. We need all the volunteers we can get. Meetings are casual and open to all. Call 803-808-3384 or email network@scpronet.com for details.
Sept. 14, 3pm: NORML chapter meeting, (2nd Sunday) 2025 Marion St. Meeting agendas will be available to those in attendance.
Sept. 15, 7-9:15pm: Transgender Forum, Public Health Research Center (PHRC) Room 114. The panel will begin at 7pm with Dr. Ed Madden serving as moderator. Questions from the audience will be taken after the panel, and a light reception will follow. Several transgender community members from around South Carolina will come together to share their stories, provide insight into their experiences as transgender individuals in South Carolina, and allow all of us to grow in our knowledge and ability to build a truly inclusive community.
Sept. 19, 6-9pm: SC Pride Pioneers' 25th Anniversary Reception, M Space, 530 Lady St. This year marks the 25th annual South Carolina Gay and Lesbian Pride March in Columbia and we are marking the milestone with this reception to celebrate the 1st Pride March held on June 23, 1990. Sept. 8 is last day to mail your check for the reception. Sept. 10 is the last day to pay by credit card.
Sept. 20, noon-10pm: 25th Annual Pride Festival, Main. St. Parade at noon; festival 1-10pm. See scpride.org for full list of speakers and performers.
Sept. 20, 8pm: Concert by Ellis, Unitarian Universalist Coffee House, 2701 Heyward St. Tickets are $17 for adults at the door and $15 with reservations. $3 for students at the door or with reservations. Doors open at 7pm and the main show starts at 8pm. Reserve your seats by calling 803-200-2824.
Sept. 21, 3-5pm: Peace Day at the State House. Join us in celebrating the International Day of Peace in fair-style atmosphere with activities for all ages including making pinwheels for peace and peace cranes, music and speakers. For details, contact lizzie@carolinapeace.org or david@carolinapeace.org. Sponsored by the Carolina Peace Resource Center.
Sept. 27, 9am: The Network's Healthy Democracy Road Show float will be in the Okra Strut parade in Irmo. We welcome anyone who wants to ride and sing on the float, or walk alongside to pass out literature. This is a big festival – with an estimated crowd of 55,000. If you want to carpool, meet at the Modjeska House at 2025 Marion St. at 8am. We are float #72; parade kicks off at 9. Questions? Call 803-808-3384. Festival details at irmookrastrut.com.
Sept. 27, 7pm: Free screening of Broken On All Sides:  Race, Mass Incarceration & New Visions for Criminal Justice in the US, Columbia Friends Meeting House, 120 Pisgah Church Rd. The documentary centers around the theory put for­ward by many, and most recently by Michelle Alexander (who appears in the movie), that mass incarceration has become "The New Jim Crow." That is, since the rise of the drug war and the explosion of the prison population, and because discretion within the sys­tem allows for arrest and prosecution of people of color at alarmingly higher rates than whites, pris­ons and criminal penal­ties have become a new ver­sion of Jim Crow. Much of the discrimination that was legal in the Jim Crow era is today illegal when applied to black people but perfectly legal when applied to "criminals." The prob­lem is that through subjective choices, people of color have been tar­geted at significantly higher rates for stops, searches, arrests, prosecution, and harsher sentences. For more information, contact D. Butler at 803-727-6307
Sept. 29, 7-9pm: Columbia College host a forum for third-party candidates, who make up 20 percent of candidates running Nov. 4 for S.C. state or federal offices. The event is free and open to the public. Participants include:
Jill Bossi, candidate for U.S. Senate, American Party
Brett Bursey, director of S.C. Progressive Network
David Edmond, candidate for commissioner of agriculture, United Citizens Party
Harold Geddings III, candidate for 2nd Congressional District, Labor Party
Marjorie Hammock, co-chair of the S.C. Progressive Network
Victor Kocher, candidate for U.S. Senate and S.C. Libertarian Party chairman
Travis McCurry, candidate for S.C. House of Representatives, District 26, Libertarian
Donna McGreevy, candidate for S.C. House of Representatives, District 74, American Party
Curtis McLaughlin, candidate for 4th Congressional District, Libertarian
Ed Murray, candidate for state superintendent of education, American Party
Morgan Bruce Reeves, candidate for governor, United Citizens Party
Jim Rex, chairman and co-founder, American Party of South Carolina
Moderated by former journalist Claudia Smith Brinson, coordinator of Columbia College's Writing for Print and Digital Media program. While a senior writer with The State newspaper, she won more than three dozen national, state and regional journalism awards, was a member of the Pulitzer-finalist team covering Hurricane Hugo and was a Knight Ridder national columnist and writing coach. The forum will be held at Columbia College's Breed Leadership Center for Women, Rooms 201-202, 1301 Columbia College Dr. For details, contact Claudia Smith Brinson at Columbia College, csbrinson@columbiasc.edu or 803-786-3153.
Oct. 14, 6:30pm: Special screening of Cowspiracy: The Sustainability Secret, AMC Dutch Square 14, 800 Bush River Rd. Finally a Columbia theater agreed to screen this controversial documentary – but you MUST buy your ticket in advance here.this feature-length environmental documentary following an intrepid filmmaker as he uncovers the most destructive industry facing the planet today – and investigates why the world's leading environmental organizations are too afraid to talk about it. This shocking yet humorous documentary reveals the absolutely devastating environmental impact large-scale factory farming has on our planet. RSVP/Share on Facebook.
FLORENCE
Sept. 20, 11am-1pm: Post Office Rally at Main Post Office, 1901 West Evans St. Call SCAPWU 803-960-3379 for more information.
Oct. 11, 11am-1pm:  Post Office Rally at the Poyner Auditorium, downtown Florence. Call SCAPWU 803-960-3379 for more information.
GEORGETOWN
Sept. 3-5: The 58th Annual Convention of the SC AFL-CIO will be held in Georgetown, the longtime home of steel production facilities, at the Quality Inn and Suites, 210 Church St. The Convention will begin at 10am Wednesday and conclude by noon on Friday. Supporters of workers' rights welcome. For details, email scaflcio@bellsouth.net.
MONKS CORNER

Sept. 20, 10am-4pm: SHL's 20th Anniversary Celebration, Dean Hall at Cypress Gardens, 3030 Cypress Gardens Rd. Free events, open to the public.
10am-4pm: Planetarium show, juggling performance plus science activities for the kids, panel discussion featuring SHL's Herb Silverman and other faith and community leaders, moderated by the the Post and Courier's Adam Parker, and science activities for the kids.
5-10pm: Private party, tickets required.
ROCK HILL
Oct 1, noon: Rock Hill Progressive Network (1st Wednesday), The Oratory, 434 Charlotte Ave., upstairs in Faber Hall (the building alongside the back parking lot). Network Director Brett Bursey will speak to how we can meet the challenges and opportunities in a state too large to be a republic and too small to be a lunatic asylum.
York County Progressives are encouraged to come and get plugged into the exciting work of the SC Progressive Network. For more information, contact Mary Keenan at keenanmsc@gmail.com or call 803-580-0198.
Save the date! 
Annual Retreat Nov. 15-16 at Penn Center, near Beaufort. Don't miss the Network's most important gathering of the year. Call 803-808-3384 or email network@scpronet.com to reserve your space. See photos from last year's retreat here.
This calendar listing is for Network members. Send items to becci@scpronet.com. To join the Network as an organization or individual, go here.
The Will of the People Fund
A grass roots group called The Will of the People has recently formed with a singular focus on South Carolina's marriage equality fight. The mission is simple: To raise funds for non-attorney costs to support both a pending lawsuit as well as future marriage equality litigation in our state. The catalyst for the organization's creation is the pending lawsuit by two women against the State of South Carolina in Federal District Court. The suit seeks an order requiring the state to recognize their 2012 legal marriage in Washington, DC.
The Will of the People is a volunteer organization; therefore, nearly 100% of the money raised will be used for filing fees, legal brief writings and clerical costs in the ongoing fight for marriage equality in SC. An account has been set up in the name of The Will of the People Fund at Wells Fargo Bank in South Carolina. All contributions are tax deductible. Send checks payable to The Will of the People Fund to The Will of the People Fund, PO Box 5006, Columbia, SC 29250.
Learn more about The Will of the People Fund on Facebook and Twitter @RealWOTPF.
•  •  •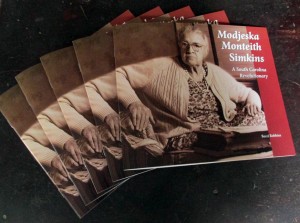 Network publishes booklet about Modjeska Simkins



The SC Progressive Network recently published a booklet about Modjeska's extraordinary life and social justice work in South Carolina. You can download it here, or pick up a free copy at the Network's office, located in Modjeska's historic home at 2025 Marion St. in Columbia. Read a review by Herb Hartsook on the USC's Libraries SC Political Collections blog. To obtain bulk copies, call 803-808-3384.