Don't mourn.

Organize!

SC Progressive Network Fall Retreat
Nov. 15 • 10am-6pm • Sandhill REC, Columbia
On Saturday, Nov. 15, the SC Progressive Network will meet for its annual fall retreat to regroup and recharge, to reconnect with old allies, make new ones and map a way forward for the coming year. The gathering will be held at Clemson University Sandhill Research and Education Center in Columbia. We are meeting in the Administration Building. Click here for a map.

PROGRAM
9:30 – Registration
10am – 1pm: Network Business
Brief reports from member groups about victories and challenges last year, what's ahead in the coming months, and how the Network can help support their work.
"Obamacare:" the Good, the Bad and the Really Ugly
This year staff members and trained volunteers worked to help SC citizens "navigate" the insurance marketplace. It was a unique education that can serve the Network well as we continue to fight for health care for all. What happened, and what's next for the ACA Navigators and Medicaid expansion in South Carolina?
Network programs: updates, projections, ruminations and solicitations
Modjeska School for Human Rights: Organizer training, leadership development, youth organizing, oral history project
Expanding the Network: membership and chapter development
Sustainability: fundraising and planning for the long haul
Communications: Can you hear us now?
Ongoing Network policy priorities
Healthy Democracy Campaign
Voting Rights/Ethics Reform – Equal Protection lawsuit for ex-felons and students, State Section 5 legislation
Marriage Equality – Update on the work going on in SC, and a look forward
Workers' Rights – Earned sick leave legislation and referendum, miss-classification of workers bill
1-2: Lunch – It's more than just food!
2-3: Policy discussion recap
3-5:30 – Election dissection: What happened in South Carolina's midterm elections, what does it mean for the Network, and how does it inform our work in the coming year and beyond?
6 – Dinner is served! Frogmore stew (sans pig) and fixin's – bringing the flavor of the Lowcountry to the Midlands
6:30: Storytime. We'll circle 'round the campfire and hear from our most seasoned activists about their time in the trenches.
Out-of-towners are invited to stay the night at the home of one of our Network members. It keeps costs down and solidarity up. If you can offer a room, or need one, call 803-808-3384 or email network@scpronet.com. Also, if you need a ride or can share one, let us know.
The conference registration is free for Network members; $25 for renewals and non-members. Lunch is an additional $10. Dinner is $15.
Please RSVP so we can prepare properly. Email network@scpronet.com or call 803-808-3384. Pay at the door.
Road Show Takes a Final Bow!
While there is much hand-wringing in the wake of Tuesday's elections, the SC Progressive Network is not mourning; we are celebrating a job well done. After a year dedicated to educating and mobilizing voters on health care, we capped the campaign with a 10-day 10-city blitz. We started at the Governor's Mansion with a press conference, and ended with a rally at the County Square in Greenville.
It was a long haul. But that's what the Network is about. We are working year-round to promote progressive values, not cranking a cold motor every two years when elections roll around. If we have a chance to pull this state out of the ideological ditch that's drowning our most vulnerable citizens, more of us need to move beyond outrage to action. It can be gratifying.
On the road we got to see parts of South Carolina too often neglected, we met dedicated community and political activists at every stop, we made friends and allies across the state, we nurtured a growing solidarity among our staff and volunteers, we generated some great press and, best of all, we changed the conversation on Medicaid expansion. It was an issue the pundits and pooh-bahs had declared dead. We insisted that the only thing dead about this issue are the people paying the price for petty, partisan foolishness.
Thanks again to our Road Show crew for a campaign to remember. Warning: watch this video, and the song may loop in your brain for days.
• NETWORK CALENDAR •
CHARLESTON
Nov. 5, 6:30pm: Charleston Central Labor Council meeting (1st Wednesday), 2556 Oscar Johnson Dr., N. Charleston. Open to union members and supporters. For details, call Joe Shelley at 843-729-9386.
Nov. 3, 7pm, Carolina Alliance for Fair Employment (CAFE) monthly meeting (1st Monday), ILA Hall, 1422 Morrison Dr. Open to all interested in community organizing to support workers' rights. For details, contact Thomas Dixon at tad3189@gmail.com or 843-437-1949.
Nov. 8, 10am-4pm: Volunteers will deliver transit information to areas in North Mount Pleasant which have unrealized transit utilization potential by delivering doorknob hanger bags with schedules and access information to approximately 800 residences and 100 businesses. We'll use four teams of youth service volunteers from both Wando High School and the Community Service Progam, each with one supervisor and a support team consisting of Hungryneck Straphangers members and youth volunteers who will work on packet preparation. Packets for each area will be optimized with a flyer focused on their bus stops and routes. Activity will be coordinated with CARTA and the Town of Mount Pleasant, including the Police Dpt. Meet at Wando High School, 1000 Warrior Way, Mount Pleasant.
Nov. 11, 7-8:30pm: the Charleston Peace Alliance will meet at the ILA Hall on Morrison Drive. Please join us as we work to advance the local peace movement. Everyone interested is encouraged to join.
Nov. 17, 5pm: Hungryneck Straphangers will hold a demonstration immediately before the first of three public meetings on the latest episode in a 25 year series of unrealized attempts to build a regional transit system. The public meeting is being held by the Berkeley, Charleston Dorchester Council of Governments at Charleston Progressive Academy, 382 Meeting St., and will run from 6 to 8 pm.  This location is on the #10 River's Ave. CARTA Bus Line. At the demonstration, Straphangers will be joined by other advocacy organizations, in beginning the process of generating sufficient popular support for real action or at least a terminal decision which ends the historic pattern or wasteful repetitive studies on this issue which now goes back 25 years. Results from the second round of their Lowcountry Transit Issues "Dotmocracy Poll" will be released to the public. The demonstration will be live streamed to the internet on Charleston Progressive Live channel on the UStream network. For full information, click here.
Nov. 17, 7pm: Charleston Progressive Network meeting (3rd Monday) ILA Hall, 1422 Morrison Dr. in the conference room at the north end of the building. For details, contact George Hopkins at hopkinsg@cofc.edu or 843-819-0066.
COLUMBIA
Nov. 4, 7pm: Columbia Central Labor Council meeting (first Tuesday), 2025 Marion St. Open to union members and supporters. For details, call CLC President Jenny Patterson at 843-270-1308.
Nov. 8, 11am:  Visit/volunteer work day at Cotton Branch Farm Animal Sanctuary in Leesville (about 30 minutes from downtown Columbia). Volunteers must be 18 or older. We may clean out the baby pools, pick up garbage, feed the animals veggiesor work in the garden. Please wear clothes that can get dirty. You will also probably want to bring a bag lunch (meat-free, please) or a snack or two. Check out the Cotton Branch Facebook page.
Nov. 8, 10-noon: Peace Walk: Step Up to Stop Gun Violence. Gather at Zion Baptist Church on Washington St. Members of various faith groups, schools and organizations will walk to support non-violent ways to resolving conflict and being more neighborly and peaceful. March will end at the State House. For more information or to register a TEAM from your school, church, synagogue, email FaithCoalitionOnGunViolence@gmail.com or follow us on Twitter: @FCGV_SC.
Nov. 9, 3pm: NORML chapter meeting, (2nd Sunday) 2025 Marion St. Meeting agendas will be available to those in attendance. Details columbianorml@gmail.com.
Nov. 11, 7pm: Columbia Network meeting (2nd Tuesday), 2025 Marion St. We'll be doing post-election dissection and planning for the Network's annual fall retreat Nov. 14. Meetings are casual and open to all. Call 803-808-3384 or email network@scpronet.com for details.
Nov. 15, 10-noon: NORML Adopt-A-Highway Pickup. Meet at the Busted Plug statue on Taylor Street near Bull Street. Our route is the length of Taylor down to Huger.
Nov. 15, 10am-6pm: SC Progressive Network Fall Retreat, at Clemson Sandhill Research Center, 900 Clemson Rd. Details to come.
Nov. 16, 4pm-7pm: ThankLiving Party for Cotton Branch Farm Animal Sanctuary, Lake House at Lake Carolina. You are invited to join compassionate friends for fun, food, music and more! Don't miss this animal-friendly fall celebration. Enjoy yummy hors d'oeuvres, treats and wine, beer or natural soda (all included in your ticket price), bid on the wonderful items in our silent auction, and help us feed our two rescued turkeys ~ Matty and Patty ~ a delicious harvest feast! This is a family-friendly event! The venue is a rustic, wooded setting right on beautiful Lake Carolina. The Lake House has indoor and outdoor stone fireplaces, floor to ceiling windows, outdoor heat so so folks can be comfy outside and in, and even a little sandy beach.
Nov 16, 6pm: Peace Potluck, Carolina Peace's monthly planning meeting. Bring a vegetarian dish and share food and conversation as we plan the peace agenda.
Nov. 27, noon: Thanksgiving with family and friends at the Harriet Hancock LGBT Center, 1108 Woodrow St. Our annual Thanksgiving Dinner hosted by Eddie Thompson and Jayson Lee Myers will be held at the Center. Dinner starts at 1pm. They will be supplying a couple large turkeys and ham for the event. Please post in the comments what you will be able to bring with you to complete this meal. This event is for anyone and everyone looking to share a nice Thanksgiving day with friends. For this event, it is important that we have a fairly accurate count for the hosts, so please be sure to let us know whether you will or will not be able to attend. Call 803-771-7713 or email info@lgbtcentersc.org.
ROCK HILL
Nov. 5, 1pm: Rock Hill Progressive Network (1st Wednesday) monthly meeting. For more information, contact Mary Keenan at keenanmsc@gmail.com or call 803-580-0198.
FT. BENNING, GA
Nov. 22-23: School of the Americas (SOA) Watch Annual Protest Vigil. The School of Americas (renamed WHINSEC) is an US army school that trains Latin American soldiers, many of whom have been implicated in human rights abuses and some of the worst atrocities in Latin America's  dirty wars.  The first SOA Watch vigils were held to commemorate the killing of four American nuns in El Salvador by SOA trained soldiers.  Close the School of the Americas!  Earlybirds attend an additional protest the Friday before at the Ft. Stewart Immigration detention facility in Lumpkin, GA.  More information at www.soaw.org
Interested in traveling from South Carolina to attend? Contact David Matos at 803-215-3263 or david@carolinapeace.org.
This calendar listing is for Network members. Send items to becci@scpronet.com. To join the Network as an organization or individual, go here.
Network survey shows SC county voter registration offices unclear about law
If you are sent to prison in South Carolina, you lose the right to vote. By state law, that right is to be restored upon completion of your sentence. But a new survey of the state's voter registration offices reveals that how the process for re-enfranchisement works — and doesn't work — depends on where you live. Read the full story on our blog.
The Will of the People Fund
A grass roots group called The Will of the People has formed to focus on South Carolina's marriage equality fight. The mission is simple: To raise funds for non-attorney costs to support a pending lawsuit and future marriage equality litigation in our state. The catalyst for the organization is the pending lawsuit by two women against the State of South Carolina in Federal District Court seeking an order requiring the state to recognize their 2012 legal marriage in Washington, DC.
The Will of the People is a volunteer organization; nearly all of the money raised will be used for filing fees, legal brief writings and clerical costs in the ongoing fight for marriage equality in SC. An account has been set up at Wells Fargo Bank. All contributions are tax-deductible. Send checks payable to The Will of the People Fund to The Will of the People Fund, PO Box 5006, Columbia, SC 29250.
Learn more about The Will of the People Fund on Facebook and Twitter @RealWOTPF.
•  •  •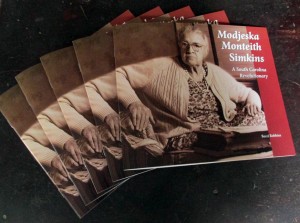 Network publishes booklet about Modjeska Simkins



The SC Progressive Network recently published a booklet about Modjeska's extraordinary life and social justice work in South Carolina. You can download it here, or pick up a free copy at the Network's office, located in Modjeska's historic home at 2025 Marion St. in Columbia. Read a review by Herb Hartsook on the USC's Libraries SC Political Collections blog. To obtain bulk copies, call 803-808-3384.