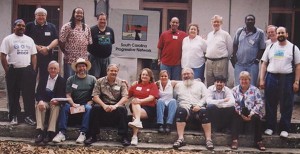 Network retreat at Penn Center, Beaufort, SC, 2002.
South Carolina Progressive Network
PO Box 8325, Columbia, SC 29202
2025 Marion St., Columbia SC 29202
network@scpronet.com
The South Carolina Progressive Network is a coalition of grassroots activists who have joined forces to promote social and economic justice in the Palmetto State. Created in 1995 as a tool to engage South Carolinians in their communities and in their government, the Network connects people to each other and to resources designed to leverage the work of progressive organizations.
Meetings: The Network meets each month in Charleston and Columbia to share information, coordinate projects and plan events. Meetings are informal and open to anyone interested in good government and improving the quality of life in South Carolina. See calendar listing for details.
Join us! While the Network is a member-driven organization, you don't need to be a member to participate in meetings or other Network events. Our members are comprised of groups and individuals who support our mission statement and agree to pay annual dues based on a sliding scale. To join, download the appropriate form and mail to PO Box 8325, Columbia, SC 29202.
Individual membership
download here
Organization membership
download here