!title here->

Literature added to Spoleto's menu with "Visual Poetry"
---
<!story here-> "Visual Poetry," a collaborative exhibition of batiks and monotypes by Mary Edna Fraser with poems by Marjory Wentworth, is on view through July 9 at the Gibbes Museum of Art.
Fraser's primary medium is batik - an ancient method of dyeing textiles. Working with silk, Fraser creates works of art from an aerial perspective that ripple and flow.
Often taking photos from the open cockpit of her grandfather's 1946 Ercoupe, Fraser documents the changing terrain as it spills into and recedes from its watery surroundings. Collaborating with Fraser on this exhibit and the forthcoming book What the Water Gives Me is Sullivan's Island poet Marjory Wentworth (also POINT's poet this month; see page 12). Her poems transport readers and listeners to quiet places deep in the ACE Basin or just off her island home.
"We are pleased to have the opportunity to showcase the batiks and monotypes of Mary Edna Fraser since her exhibition at the Smithsonian and to present the literary verses of Marjory Wentworth," said Gibbes Director Paul C. Figueroa.
"The unique combination of visual art and poetry is a sensual and intellectual treat for our visitors," he said. "The exhibit is especially appropriate since this is the first year that the Spoleto Festival has included a literary series among its offerings.
Artist Mary Edna Fraser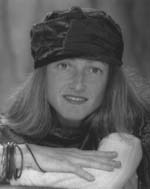 Poet Marjory Wentworth
---
The Self-Conscious Camera
Photographs from a private collection
"The Self-Conscious Camera: Photographs from a Private Collection" examines the art of photography in an exhibit on view until July 16 at the Columbia Museum of Art.

Presented in seven parts, the exhibit covers color, light, medium, narrative, space, time and the photographer as artist.

Each part demonstrates how the photographers used their tools to manipulate their subjects to let viewers see the world in new and unusual ways.

With more than 90 works by 70 artists, The Self Conscious Camera includes images from the mid-19th Century to the contemporary work of 1995.

Robert Rauschenberg, Cindy Sherman, William Wegman, Harry Callahan and Edward Steichen are a few of the photographers represented in this exhibit, taken from a private collection in Columbia.

The Columbia Museum of Art, downtown at the corner of Bull and Senate, is open Tuesday through Friday 10 5 and on weekends 12:30 5.

Admission to the exhibit is free through June 31; but a new admissions policy takes effect on July 1. For information, call 799-2810.
---

Contents Page
---


© Copyright by POINT, 1995
Last modified 6/9/95