!title here->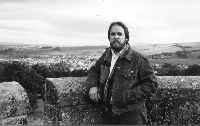 The Return of Thomas the Rhymer
BY THOMAS RAIN CROWE
---
<!story here-> I guess I have always been a Scot. It's just taken me 46 years and my first trip to Scotland to see it for myself.
After vicarious lives lived as an American expatriate in Paris, a Native American in the Sierras, a mountain man in the Southern Appalachians and a wannabe Welsch living on the southwest coast of Wales_finally now, with some tangible frame of reference, I have come 'round to identifying myself with my true genetic roots.
On both sides of my family I come from Davidsons. Clan MacDhaibhidh (Dhai being Scots-Gaelic for David, Mac being the Gaelic prefix meaning son of), and Clan Dhai before that. The Clan Dhai Davidsons came from the northern Highlands of Scotland, from the area around Inverness, just north of legendary Loch Ness and just South and west of the shores of the North Sea.
They are probably best known to Scottish history, going back as far as the 13th century, as Gael Bards. Poets. Poets in the tradition of Ellen Kushner's mytho-historical novel Thomas the Rhymer.
The Clan MacDhai Gael bards, by the 14th century, were well-known throughout Scotland and, in some circles, were considered infamous. In fact, by the late 14th century, in retaliation to the influence of the Clan MacDhaibhidh bards in the region, the entire Davidson Clan was chased out of Inverness to Rosshire and Dingwall, where the castle Tulloch became the seat of the Chief of Clan Davidson, where it has been ever since. Where, even today, the Clan Chief of Davidson is one of the last to wear the Highland kilt costume as part of his daily attire.
So I come from bards. Which is perhaps why from an early age I was drawn to lyric language. As a young boy, every night my mother read me Robert Louis Stevenson, Robert Burns and a little later Sir Walter Scott_Scots all! It is perhaps no wonder that I have, for nigh half a century, had this almost instinctive compulsion to scribble. It must be in my blood.
Dingwall, the family seat of the Davidsons, is the eastern gate to the northern Highlands of Scotland. Now I know why the Scots and the Scots-Irish made their way into the Blue Ridge Mountains and stayed. On this eastern coastal mountain range of the Americas they had found familiar turf. It looked and felt like home, with mountains rising abruptly from the foothills of South Carolina into the Polk County hills around Saluda, looking much like the stretch of single-track train route from Garve to Achnalt, which continues on in a ride through fernwooded gorges and snow-melt white waterfalls west of Kyle of Lochalsh, where you catch the ferry to the Isle of Skye.
To the Scots-lrish-American immigrants this new land must have felt as familiar to them as the Highlands of Scotland felt to me traveling on a reverse course. And all I could think of, as did they, was "Home!"
As if playing out the folk epic of Thomas the Rhymer and the story of his return to his Scottish homeland after a painful period of prolonged exile, where he was greeted in his native village with celebration and ceremony, I too was greeted in Dingwall at Tulloch Castle like a returning native son_with a piper in full Davidson tartan regalia playing "Scotland The Brave," an all-women team of Scottish dancers doing Highland flings and reels, and a ceremonial presenting and carving of "the haggis" as an hors d'oeuvre for the homecoming feast.
Having been given the large Davidson family suite to stay in during my visit and, after a celebra-tional raising of the Davidson colors on the seldom-used flagpole atop the castle tower, I couldn't, on this first night in Scotland, have felt more welcome or more at home. At home here amid all this Scottish history in a castle which was the true home of Shakespeare's MacBeth as well as several Scottish kings and queens. A castle which has, too, its castle ghost, whom I met in the middle of the night.
They say here that I look like a Scot. That I belong. If this is true, then I guess I have always been a Scot. So who does that make me now?
But my trip to the Scottish Highlands to the headwaters of my genealogical roots was not only about bloodlines. It was merely the final destination on a journey that was also a pilgrimage to the source and heart of the Celtic lyrical literary traditions_both past and present. A journey that would not only take me to Edinburgh to the homes and haunts of the mentors of my childhood: Stevenson, Burns and Sir Walter Scott, but had taken me to Ireland and Wales where, in addition to Scot-Gaelic poets currently living in Scotland, I sought out and met some of the most influential contemporary poets writing in their native Gaelic and Welsh.
In truth, little is known in most literary circles or is taught in classrooms here in the United States about the ancient traditions or the rich contemporary wealth of writers carrying on and expanding that Celtic bardic legacy. A fact that is due, to large extent, to English influences stemming from the English invasions of these three countries and the genocide of language and culture that was the result: a dubious legacy from which these countries are still struggling to recover.
The literary arts are a high national priority with respect to the governmental funding of publishing houses, magazines and literary cultural institutions in these three Celtic countries. Even those who don't read as much as they might or might like to seem to support the funding of programs or people who serve to keep these literary traditions alive.
Unlike in America, where the idea of culture is that which will replace anything old, in Ireland, Scotland and Wales the past is alive in the present. Memory is long. Cultural loyalties deep. As deep as Loch Ness. As mythic as the unseen beast who lurks there at the bottom_a reminder of what was, as well as a cairn along the way to guide what will come.
On this trip to the Celtic Isles, the grits and cornbread staples I had left behind were replaced by Guinness in Ireland, cockles and laver (seaweed) bread in Wales, and haggis and nettle soup in Scotland, a kind of gastronomic culture shock that my stomach adapted to easily, even happily.
Meanwhile, between meals and back in Scotland at Tulloch Castle, I was courting the legend of the castle ghost_not the ghost of Macbeth, which you might expect in a place where Shakespeare's anti-hero spent a significant portion of his life, but "the Green Lady" as the locals and the castle help call her_whom I swear I heard in the middle of the night, rattling keys in old door locks and running through the halls banging stairway doors behind her.
She is said to be Elizabeth Davidson's youngest daughter who, so the story goes, fell down a back stairs of the castle to her death in flight from having walked into an upstairs bedroom to find her father in bed with one of the maids.
The story becomes even more mysterious in relation to the family portrait which hangs in the large dinning hall. An 18th century painting of Elizabeth Davidson and her three children, with a large dark area in the background where her husband once stood but where now there is only a black place where someone (no one knows who) has painted him out. Castle gossip and castle blood can get very thick!
Having done all the necessary ghostbusting, and with my formal arrival ceremonials out of the way, I struck out for the Isle of Skye in search of Scotland's greatest living bard, Sorley MacLean.
MacLean is to Scotland what Bobi Jones is to Wales, what Yeats is to Ireland, that poet whose work singularly defines the direction poetry has taken in his own country over the past half-century or more. And in Scotland, MacLean, approaching his 85th birthday, is "the man."
Taking the scenic ride from Dingwall through Garve down to Kyle of Lochalsh, and taking the ferry over to Skye, I caught the bus which took me to the port town of Portree, the "capital" of the island.
Arriving in Portree in what I was told was a typical horizontal 40-mph rain storm, I made my way through town and into a grocery store. There I found MacLean's neighbor, Christine Nicholson, who, along with Sorley, lives in a little community outside of Portree called Braes. Nicholson said she would hand-deliver a personal letter from me to his house, if I liked, the following day.
As it turned out, I had just missed him; he had left for the mainland with his son-in-law the day before I arrived on the island. But at least I got to see Skye. Had seen the place of legend if not the legend himself. And that alone was worth the poem or two I was able to write during the three days I was there.
Having a few days left before leaving to go back to the States, I took the ferry from Skye to Mallaig, where I hopped an old steam locomotive to Glenfinnan, an hour inland and one of the most beautiful and remote sections of the Southern Highlands.
In Glenfinnan there is only Loch Shiel and the surrounding of soft green hills_and quiet! In this place you can truly "hear the silence," as the natives say. And if ever there were a single place one could call God's country, this would be it. Bracken, birch, blooming rhododendron, water running in all directions and deer. In fact, at the old shooting lodge where I stayed, deer came right up to the house and ate out of my hand.
Historically, Glenfinnan is the point where Bonnie Prince Charles landed in Scotland in 1745 to begin his efforts to unify the clans of the Scottish Highlands against the English crown. Right on the banks of Loch Shiel where a memorial to this Scottish champion now stands, began one of the most revered campaigns ever mounted in Scotland. Although he would eventually fail, and despite his divided blood lines shared with the French side of his family (he was 1/2 Scot_a Stuart and the great-grandson of Mary Queen of Scots), "Bonnie Charlie" is one of Scotland's most celebrated patriots.
My short time in Glenfinnan was probably the most profound experience I had of Scotland. Settled for a time in this tranquil spot and courted by the quiet winds, I felt truly at home with the land for the first time. And of all the trinkets I would take home from Scotland, the memory of my time in Glenfinnan will be my most cherished.
Everywhere I have been in Scotland, they have liked my tartan cap. "You look like a Scot," they say. With my straight, thin dark hair, short stocky frame, and my passion for privacy, I guess I have always been a Scot.
And there is a sadness in me as I prepare to leave this place and yet, at the same time, a longing that begins to burn like the first flames of a forest fire organically lit. I have returned, like Thomas-the-Rhymer, to this land of mirrors.
What I am taking away from here is the knowledge that there are always more questions than answers. In leaving here tomorrow for America, where will I call home?
Thomas Rain Crowe is a poet who lives in North Carolina.
---

Contents Page
---


© Copyright by POINT, 1995
Last modified 8/8/95