---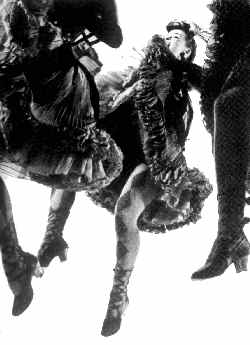 DO SOMETHING is a bulletin board for political and social activist groups to post upcoming events. Mail information to POINT, P. O. Box 8325, Columbia, SC 29202, or fax us at 771-6572. This is a free service; deadline for entry is the 23rd of each month.




AIKEN




Come dance to beach music at Bohemianfest Nov. 4, 7 p.m. midnight, to benefit the Aiken Center for the Arts. Tickets are $15 in advance, $20 at the door, with special rates for groups of 10 or more. For reservations, call 641-9094.


The First Thursday Writers Series is held the first Thursday of each month at the Aiken Center for the Arts, 122 Laurens St., SE. Call 641-9094.




CHARLESTON




52%, a women's political action group, meets the third Monday of each month at 7:30 p.m. at Lance Hall, adjacent to the Circular Congressional Church at 150 Meeting St. The next meeting is on Nov. 20. Bring information on legislation and newspaper clippings. Also, bring stationery, an envelope and a friend. Call 853-0052.


Lowcountry ABATE is sponsoring a toy run to benefit the Salvation Army on Nov. 26. Bring a new unwrapped toy or a $5 donation to The Blue Parrot, 1063 E. Montague Ave. in North Charleston. Meet at noon; parade begins at 1 p.m. Party after the parade!


Meetings of the Lowcountry Gay and Lesbian Alliance are held the last Tuesday of each month at 7 p.m. at the Charleston County Library on King Street. Call 720-8088 or write: LGLA, P.O. Box 98, Charleston, SC 29402.


A fundraiser to benefit My Sister's House, an agency for victims of violence in the home, will be held on Dec. 1 beginning at 6 p.m. at 78 Society St. The evening will consist of a juried art exhibit, silent auction, door prize and a brief presentation. Event organizers are accepting entries from professional artists as well as the general public centering on domestic violence as a theme. An entry fee of $15 will be applied to fundraising. Call Broad Perspectives at 723-0913 for information.


This month 13 Records releases Play it Safe, featuring the first-ever compilation of Charleston's musicians who donated time and talent to help raise money for Lowcountry AIDS Services. Play it Safe is available at all music outlets, at live concerts by participating musicians, consignment outlets or by mailing $13 to P.O. Box 20001, Charleston SC 29413.




COLUMBIA




The American Association of University Women will hold a luncheon meeting on Nov. 18 at noon in Daniels Hall at Columbia College. Members and non-membvers are invited. Cost is $7. The program will center around the group's legal advocacy fund, developed to help women achieve equality in higher education. Make reservations by Nov. 15. For details, call 356-2170.


Call the Association for Children for Enforcement Support for information on how to collect child support. Services are free. Call 892-3403 (Lexington County) or 755-6713 (Richland).


Need a pal? Adopt a pet from the Animal Protection League, 6080 Old Leesville Rd. Call 783-2119.


Carolina Cats, a pet rescue foundation, needs temporary homes for cats awaiting adoption. Vet care and supplies are provided. Call 791-7707 for details. Donations of all kinds are gratefully accepted. Write: P.O. Box 210705, Columbia, SC 29221.


Columbia Audubon Society sponsors a variety of free events each month. Call 737-7204 or the Audubon Society's Infoline, 748-9066.


Hombres! is a support group for gay men to realize their true selves. Open sessions meet at 7 p.m. on Mondays at the GLPM Community Center, 1108 Woodrow St. Call 771-7713 for information.


Les Ms., a confidential group offering women the chance to learn about lesbian identity, meets on Tuesdays at 7 p.m. at the GLPM Community Center, 1108 Woodrow St. The group is seeking a new volunteer co-facilitator, willing to commit five to 10 hours each week for at least one year. A background in education, public health, social work or counseling with experience in issues such as sexual identity development and coming out processes, lesbian health, substance abuse, domestic violence and lesbian relationships is desirable. Call 771-7713.


Peter Pan is playing at the Columbia Marionette Theatre on Laurel Street. Shows are at 3 p.m. Saturdays and Sundays through Nov. 11. Call 252-7366.


The Mental Health Association in Mid-Carolina will hold its 56th annual meeting and dinner on Nov. 28, 7 p.m., at Shandon United Methodist Church, 3407 Devine St. RSVP by Nov. 21 by calling 733-5425.


Midlands Astronomy Club meets the first Thursday of the month at 7:30 p.m. in Rm. 208 of the USC Physical Science Center.


The Midlands Libertarians meet the second Thursday of each month at 7 p.m. at the Lizard's Thicket on Bush River Road. Call 894-4073.


The Columbia Branch NAACP meets the third Sunday of each month at various churches. For details, call the NAACP at 256-8771.


A Native American Cultural Festival will be held on Nov. 10 11 at the YMCA soccer fields at the end of S. Holly St. by Owens Field Airport. The showcase will include traditional songs, drums and dances by performers from across the United States. Call 799-6105 for details.


Overeaters Anonymous is a fellowship of recovery for those with food problems. No dues, fees or weigh-ins. Call 736-9878 for a meeting in your area. The group will hold its state convention Nov. 11 at St. Martin's Episcopal Church at 5220 Clemson Ave. For details, call 786-1993.


Palmetto AIDS Life Support Services offers two confidential support groups for people living with HIV; one for HIV+ men and women, and one for HIV+ women only. Call 779-7257.


Parents and Friends of Lesbians and Gays (PFLAG) offers a free monthly support group at 6 p.m. on the 3rd Thursday of the month at the GLPM Community Center, 1108 Woodrow St. Call 799-6533.


Join Planned Parenthood of Central South Carolina in its efforts to protect women's reproductive rights. Stay informed and add your name to Planned Parenthood's Action Alert Network by calling 256-2600, ext. 24.


Rape Crisis Network has moved to a new office at 2611 Forest Dr., Suite 201. The agency provides free, 24-hour counseling for rape victims and their families in Richland, Lexington and Newberry counties. For help, call 771-RAPE.


The S.C. Gay and Lesbian Pride Movement (GLPM) meets the third Sunday of each month at 2 p.m. Call 771-7713.


A Smoke-free Support Group, an informal program for those who have kicked the habit, are wearing the patch or are in the process of quitting, will meet Nov. 7 and 21 at 5:15 p.m. at 1817 Gadsden St. This is a free service. Call 779-5864 for details.


Join Midlands women who are in the process of creating a Women's Resource Center. For details, call 791-8156.


The Women's Shelter will hold its annual Thanksgiving Souper on Nov. 16 from 5:30 to 7:30 p.m. at Eastminster Presbyterian Church, 3200 Trenholm Rd. The souper raises funds for the shelter's programs and helps promote understanding of homelessness and hunger. Tickets are $2 for adults; $1 for children. Call 779-4706 for details.


The University of South Carolina's women's studies department will offer two programs this month. "Memory and Healing: A Workshop for Women" will be held Nov. 6, 6:30 9 p.m., in Rm. 428 of Gambrell Hall. On Nov. 15 the program "Building a Critical Mass: Rethinking Black Women's Political Activism" will be held at 7:30 p.m. at Gambrell Auditorium. Dr. Patricia Hill Collins, author of Black Feminist Thought, will present. A reception will follow.


The YWCA offers a variety of services for women at nominal fees, including computer training, employment skills development and legal information. For details, call 252-2151.




HILTON HEAD ISLAND




The Midlands chapter of the Archaeological Society of South Carolina will sponsor a field visit Nov. 25 to Green Shell Enclosure, a prehistoric Indian oyster-gathering and village site on Hilton Head Island. The trip will be led by Chris Judge of the S.C. Heritage Trust. Meet at 1:30 p.m. at Hilton Head Museum on Hilton Head Island for a slide show and exhibit tour, followed by a tour of the site. For details, call 787-4169.




SPARTANBURG




The Third Saturday Out Coffee Social for gays and lesbians is held 11 a.m. 1 p.m. at the Unitarian Universalist Church, 251 East Henry St.




STATEWIDE




Citizens Opposed to Domestic Abuse offers 24-hour crisis line counseling, emergency shelter and help with orders of protection. Call 1-800-868-2632.


The sixth Grassroots Leadership Conference will be held Dec. 8 10 at White Oak Baptist Conference Center in Fairfield County, about 45 miles north of Columbia. Deadline for registration is Nov. 22. For details, call S.C. United Action at 536-9376 or CAFE at 235-2926.


Pathways to the Future, a state forum, will be held Nov. 17 and 18 at White Oak Conference Center. The event is about South Carolinians helping to make a difference addressing community problems at the sources. Pathways is a collaborative effort of the S.C. Institute on Poverty, Clemson University and South Carolina State University. Call 734-6122 or 1-800-868-3677.


The S.C. Nature-Based Tourism Association will hold its annual conference at Hickory Knob Resort State Park Nov. 9 10. Anyone interested in the development of the nature-based tourism industry is invited. For details, call the Sea Grant Consortium at 727-2078.


The S.C. Sierra Club holds monthly meetings across the state. Find a group near you and help save South Carolina's environment. All meetings begin at 7:30 p.m.

| | | |
| --- | --- | --- |
| Charleston | 1st Thursday | MUSC Basic Science Bldg. |
| Clemson | 1st Tuesday | Unitarian Church, 226 Pendleton Rd. |
| Columbia | 3rd Monday | Unitarian Church, 2710 Heyward St. |
| Florence | 2nd Thursday | John Calvin Presbyterian, 2000 Marsh Ave. |
| Greenville | 3rd Wednesday | Unitarian Church, 37 Hillcrest Dr. |
| Hilton Head Island | 1st Tuesday | Palmetto Electric Bldg., Matthews Dr. |
| Murrells Inlet | 2nd Monday | Belin Methodist Ed. Bldg., Business 17 |
| Rock Hill | 2nd Thursday | Wesley Foundation, corner of Stewart and Park |


The 10th annual Sustainable Agriculture Conference will be held Nov. 10 - 12 at the Blue Ridge Assembly in Black Mountain, N.C. The event is organized by the Carolina Farm Stewardship Association. Call 919-968-1030.