Edwin McCain: the next big thing?
BY CLAIR DELUNE

---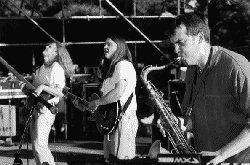 The first cold day of fall began and ended with explosions.


I woke early and lit my gas furnace to ward off the cold. An ominous pause was followed by a booming burst of flame that arced out, catching the floor on fire. I grabbed a broom, decidedly not an approved fire-squelching device, and tried to pound out the flames. Fireballs jumped and multiplied as I hit them; they mocked and taunted me as they danced demonically across the floor.


With the flames vanquished at last, all that was left to do was to extinguish the smoldering broom. Relieved at having survived such an event, I looked forward to a more peaceful day.


Little did I know that 12 hours later I would experience my second explosion of the day when I heard Edwin McCain and his band.


McCain, a Greenville native, is a singer who is powerfully philosophical, positive and persistent. His musical style represents a return to music with a message, music with meaning, poetry set to music.


His recently released Atlantic Records debut recording, Honor Among Thieves, reflects life experiences in such a way that it allows one to become aware of its many facets and grow from that knowledge.


McCain has the talent and commitment "to do what I love and love what I do," which he freely offers as good advice to others. He's a man who inherently feels a debt to mankind and the world, and expresses it through his gifts of musical and lyrical beauty. Clearly, he is one who loves well.


His mother knew he would be a musician, recalling that he sang even as a baby in his crib. McCain thinks his mother is being kind. "There's a pretty fine line between crying and singing." But mothers do seem to have a sixth sense about these things.


Also prescient was his father, who rushed into McCain's bedroom the day he was to leave for college and made him promise never to play music for a living. It seems unlikely that his father's well-founded fear about his son's vocation will bring him ill fortune. Despite McCain's early check-out from college to become a professional musician, his prospects look far from bleak.


Teaming up with McCain are band members Craig Shields, T.J. Hall and Scott Bannevich. Shields chills on the saxophone and has solid credentials, including performance degrees from West Virginia University and the prestigious Navy School of Music.


Hall produces pulsing, primal rhythms, having studied African drumming. He received his performance degree from West Virginia University as well, and has played professionally since his mid-teens.


Providing a bountiful bottom end is bassist Bannevich, who also turned professional in his early teens.


When asked what questions he doesn't like to be asked by reporters, McCain, always affable, provided the first clue about the way he thinks. "Things that they already know the answer to," he said, "things they've already prejudged me for or already know what they're gonna write about so that the answers don't really matter."




Many say McCain is going to be "the next big thing." When asked what makes him feel as if he might have arrived, he speaks of the administrative side of the business, and describes his band members as his partners.


He plays a very active role in his development as a marketable entity, focusing on "touring smart" (he plays 27 days out of each month). Part of that strategy includes working closely with the Southeastern Music Association to help other musicians.


McCain spoke fervently about his desire to see projects such as the development of an organization to help provide low-cost group rates for musicians on benefits they can rarely afford, such as health insurance.


Although McCain loves staying out on the road, he admitted he has "had to change lifestyle a little bit. I can't party every night. I can't raise hell as much because I have to get up at eight and go to the radio stations and do interviews and try to accomplish something career-wise. And it's really great because you see the product of your labor you see the spins increasing on the stations and you see the people coming out of the shows and it's a great feeling."


Feelings that he had arrived as a songwriter came a week before our interview when a middle-aged man approached him after waiting over an hour after the show for McCain to come out from backstage.


He told McCain he had been taking antidepressant medication for years, but after hearing the lyrics of the song "Alive" at a concert the year before, his life had been totally changed and he no longer relies on drugs to get him through.


"It floored me," McCain reflected. "It absolutely floored me. That reminded me that with all the touring and all the things that I have to do, it's easy to forget why you are doing it. And that reminded me that the spirituality of the music, the power of it, so far exceeds all of our little human applications to it. It was a moving situation."


It is events like these, in which listeners feel a musician touches them, that give artists the ability to affect more people than they can access directly.


A true poet with a message of hope, despite the down side to life, can go beyond the limits of his or her own physical realm to help heal a wounded soul. Despite his youth and recent entry into the recording industry, McCain has achieved that status.


If there is a down side to his success, it would be that some detractors characterize his success as based solely on his friendship with Hootie and the Blowfish, the most successful band in Atlantic's stable.


"I get criticized all the time for my association with them," McCain said, "everything from the nickname Edwin McCoattails to critics who say the only reason I am experiencing any success is because of them."


He feels these comments are made by critics who haven't really listened and who "haven't seen Darius and me sing together. They wouldn't understand a musical friendship that started before any of us were making money, before any of us were achieving any success born primarily of the desire to sing together on stage. We first sang together at Rockafella's [in Columbia]" and have since performed at some of the seminal rock venues on the East Coast, such as the Bayou in the Washington, D.C., area and Ziggy's, in the historic North Carolina town of Winston-Salem.


It may be that those who call him "McCoattails" may have had one too many "McCocktails" to be able to perceive the message behind his haunting melodies, sung with a voice that is simultaneously ethereal and gritty.


McCain decidedly will foster envy, whether or not he attains sales approaching that of the other artists to whom he is compared, because he is doing what so few can: what he loves. As his song "Thirty Pieces" suggests, he has found the "place in our hearts where we're all free."


And despite the fact that there are those who would begrudge him his current level of success, he chooses to focus on the positive.


"I love that people would question my validity in light of my association with Hootie and the Blowfish," he said. "It makes me feel good to know that there will always be two sides to every story, that we are all inquisitive enough not to be led around by the nose more than we already are."


Comparisons to other artists are only valid until one becomes intrigued enough to listen to the new artist. At that point, one is compelled to apply one's judgment to the individual without continuing to make comparisons, be they favorable or unfavorable.




McCain hopesthat people will listen to this, his first recording for a major label, to "give this project a chance, to take it for what it is. It's a work of music; it's a work of thought. There's a lot of my life in this it's all of my life, up to this point and not prejudge me. Listen to the music with an open mind."


In the seven weeks since its release, 80,000 copies of Honor Among Thieves have been sold. Somebody out there is listening.


And more surely will. The ability to disengage people's rear ends from the lure of their sofas is an important gauge of success. In early October, McCain drew a crowd of 40,000 in his adopted hometown of Charleston, then headlined the last leg of the national AWARE festival in Columbia.


The potential for future sales for this performer appears strong. People seem to want to hear what he has to say. McCain fans are devoted fans. At the Columbia show, much of the crowd sang every word of his popular "Solitude," complete with each heartfelt nuance.


McCain's favorite cut on the CD is "Sorry to a Friend," which is about an attempt to rebuild some once-burned bridges. The poignant quality of this song is compelling, with lyrics such as: "We had wonderful times/but terrible timing/the road where we split up is paved/with the things I didn't say." No matter how distant one's last break-up, this song evokes a responsive chord. It can relight a flame even if one is holding an unlit torch.


Other songs, such as "Alive," are filled with angst but hold out hope for the future. It is difficult to listen without becoming enveloped.


Every writer has his or her own methods and muses. McCain's elegance with a phrase belies his sheepish claim that he writes his songs in "one big brain burp."


More believably, he finds many of his ideas during sleep, saying "I dream it first," grasping the elusive vapors of those dreams as he drifts into full consciousness. He also admits that, much like a folk artist, he reflects tales from other lives he comes across in his travels.


Atlantic Records has tapped into a valuable Southern resource with its roots in the poetically thought-provoking style of acoustic but with the added intensity of electric. McCain plays music with an acoustic heart and a rock pulse. Can any heart be immune?


The day I met McCain ended with a "bang!" as he and his band produced an explosion of sound that charged off-stage, sparking his listeners' hearts with his touching and, at times, wrenchingly soulful tunes.


You won't need a fire extinguisher when you see or hear him, because this fire will be in your soul and once it catches, you won't want to put it out.




Clair DeLune is a music reviewer and hosts a weekly blues show on WUSC-FM.




---
McCain has the talent and commitment "to do what I love and love what I do," which he freely offers as good advice to others.
---