William H. Johnson
The man & his art
BY NANCY HIGGINS

---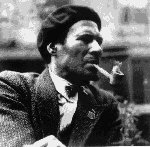 If the name William Henry Johnson rings a bell, it probably brings to mind flat, colorful, primitive paintings that reflect rural South Carolina during the first decades of this century.


According to experts, these works are his best. They represent his most original period, when he was expressing his identity as an African-American, and when he escaped from the academic tradition in which he was trained.


Johnson was born in Florence in 1901. Seventeen years later, he moved to New York City, where he enrolled in the prestigious school of the National Academy of Design.


He studied and painted in Europe and then, on the brink of World War II, returned to the United States. His relatively brief career ended in 1946 when he was admitted to a mental hospital in New York, where he died in 1970, just when events began to unfold that would bring him such acclaim.


South Carolinians can get a glimpse of Johnson's body of work at a retrospective on display at the State Museum in Columbia through Jan. 7.


The show includes works borrowed from public and private collections around South Carolina. Lenders include the I.P. Stanback Museum and Planetarium at South Carolina State University, the Columbia Museum of Art, the Gibbes Museum of Art and Johnson family members, who still live in Florence County.


The museum bills the show as a "visual biography" of Johnson. That can be said of practically any artist's retrospective, but it seems to be particularly true of Johnson. His works, as represented in the show, are primarily portraits and landscapes of the people and places he knew in America and in Europe.


The exhibit begins with two stunning realistic paintings. "Self-Portrait, c. 1923-26" shows a serious, youthful Johnson in a red plaid shirt. In "Still Life, c. 1923-26" fruit, maybe apples or peaches, rolls out of a blue and white bowl. Both are traditional oil-on-canvas pieces that one would suspect, even if the labels didn't say so, reflect the style of Johnson's teachers at the National Academy of Design. This isn't his most creative work. But even people who occasionally write about art like to look at pretty pictures.


Aesthetic considerations aside, these paintings beg one question: how did Johnson get so good so fast?


We're talking about a black man who was born into a family of modest means in a small South Carolina town at the turn of the century. The state's first art museum, Carolina Art Association, which became the Gibbes Museum of Art, didn't acquire a permanent building until 1904. A fine arts department wasn't established at the University of South Carolina until 1925. In the 1920s, only one public school in the state employed a regular art teacher. And you can bet he wasn't teaching blacks.


According to Dr. Richard Powell, who wrote Homecoming: The Art and Life of William H. Johnson, the artist got his first "training" copying cartoons such as "Mutt and Jeff." It was apparently during his early years in New York, when he worked at manual labor and service jobs, that Johnson decided to become a cartoonist. With that goal in mind he applied to the school of the National Academy of Design in 1921.


How did someone with virtually no training manage to be accepted into one of the more distinguished art training programs in New York? How did he even find the courage to apply? How did he go from cartoons to elegant oil paintings in just four or five years? One can only conclude that Johnson had not only a considerable degree of talent but an almost superhuman drive to develop that talent.


In 1926, with $1,000 raised by one of his teachers, Johnson set out for Europe. It was an exciting time for a young artist to be on the continent. The works of painters like Pissaro and Monet were hanging in the galleries.


Johnson lived for a time in James McNeill Whistler's former studio. The influence of the work he saw is clear in his paintings from this period. We see a new, more impressionistic, Johnson. Creating realistic images became less important to him.


It was on this first trip to Europe that Johnson met Danish textile artist Holcha Krake, who was traveling with her sister and brother-in-law, a German sculptor. When Johnson returned to Florence in 1930 it is believed he did so, in part, to tell his family that he planned to marry Krake. That trip to South Carolina produced several fine paintings.


"Girl in a Green Dress (Portrait Study No. 22)," a psychological study of a young girl, is no less impressive because it reminds one of Modigliani's work. That painting and "Jim," a portrait of Johnson's younger brother, illustrate Powell's point that Johnson painted blacks as people, not as the stereotypical images that were common at the time.


The visit to Florence also produced "Jacobia Hotel." Florence of the 1930s was a place where black men painted walls, not canvases. According to a family story, Johnson was nearly arrested when he decided to paint the once-fashionable hotel that had become a brothel.


Johnson went back to Europe and, in May 1930, married Krake. This may have begun the happiest period in his life. The couple lived what Johnson described as "the simple, peasant life."


He and his wife traveled through Europe and visited North Africa, creating and often exhibiting their work together. It is easy to imagine that the bright colors and exuberant brush strokes in paintings such as "Harbor Under the Midnight Sun," "Fruit Trees and Mountains" and "Chalet in the Mountains" reflect the joy the artist found with his wife. Interestingly, there are no portraits of Holcha in the show or even in Powell's book.


In 1938, as Nazi Germany was becoming increasingly aggressive, the Johnsons returned to America. Like many artists, Johnson was employed in a WPA Federal Art Project. His job at the Harlem Community Art Center provided income. It also enabled him to interact with other African-Americans, an opportunity he seldom had during his years in Europe, and to become part of the thriving black culture in New York. The energy of the period is reflected in the "Jitterbugs" series.


Johnson once said that the "one absorbing and inspired idea" of all his years of painting was "to give, in simple and stark form, the story of the Negro as he existed." This really began to become apparent in his work in the late 1930s in what Powell calls Johnson's "Homecoming" period.


The period is well represented in this exhibit, filling the center of the gallery, as well as a smaller space, which contains mainly rural Southern pieces. Works include "Li'l Sis," a 1944 portrait of Johnson's niece, Ernestine Brown, who still lives in Florence; "Burned Out," a couple contemplating their flaming home; and "Honeymooners," a couple beginning their wedding trip. It also includes paintings of black life in the military, a tribute to the soldiers and a subtle comment on the nation's then-segregated armed forces.


Casual viewers -- and not so casual viewers -- are apt to ask why anyone who could paint such beautiful still lifes and impressionistic landscapes would turn to what Powell describes as "seemingly crude and folkloric-looking new paintings."


The reason may have been partly practical. Johnson received some financial support from the Harmon Foundation, a group dedicated to supporting artistic achievements of blacks. The group liked the idea of American art that reflected the culture of Africa.


Johnson's study of African sculpture is reflected in the large hands and feet and in the elongated heads of the people in his paintings. The influence of African weaving and African-American pieced quilts is evident in the stripes in many of the paintings from the "Homecoming" period.


But whether he is harking back to his ancestors' roots or his own, Johnson was looking for Johnson. He apparently found himself in a bold evocation of black life, rural and urban.


In the mid-1940s events began to occur that lend a special poignance to the exhibit at the State Museum. Holcha died of cancer in 1944. Perhaps as a reflection of his grief, Johnson for the first time began creating religious works, such as "David and Goliath" and "Lamentations."


About 1945 he began painting his "Fighters for Freedom" series. These works include images of Abraham Lincoln, Frederick Douglass, John Brown and George Washington Carver.


A painting of "Women Builders" features South Carolinians Jane Edna Hunter of Pendleton and Mary McLeod Bethune of Mayesville. One of the most compelling paintings in the show is a portrait of Harriet Tubman, who helped build and operate the Underground Railroad, wearing a skirt that is apparently a U.S. flag.


It was in this period that Johnson's work began to show, according to Powell, "a strained, awkward handling of materials and subject matter " The artist had syphilis. His mental and physical condition deteriorated to the point that, in 1947, he was admitted to the Central Islip State Hospital in New York. He never again painted.


This would have been the end of Johnson's story, had it not been for the determined efforts of his friends, most notably Helen Harriton, the wife of a glass designer Johnson met in Europe.


Johnson's possessions, including his art, were stored in a New York warehouse. In 1955, funds for storage ran out. Everything would have been destroyed had Harriton not persuaded the Harmon Foundation to act as caretakers for his belongings, more than 1,300 objects.


When the foundation closed, the work was given in 1967 to the National Collection of Fine Arts, now the National Museum of American Art. Johnson, sadly, was so ill he never realized that his life's work found a permanent home in Washington, D.C.


The Smithsonian first exhibited Johnson's work in 1971. In the years since, he has increasingly claimed a place in the history of 20th-century American art and in the cultural history of his native state. The exhibit at the State Museum will show you why.


"William H. Johnson: A Retrospective from the National Museum of Art" is on display through Jan. 7.

Come visit the gallery.
| | |
| --- | --- |
| | Holcha Krake, also an artist, and William H. Johnson in their studio in Kerteminde, Denmark, in 1931 |
---
Nancy Higgins works at the State Museum in Columbia.


---
"My aim is to express in a natural way what I feel, what is in me, both rhythmically and spiritually, all that which in time has been saved up in my family of primitivism and tradition, and which is now concentrated in me."

William H. Johnson (1901-1970)


---