Fishy Business
E. Michelle Seay, hunter of sharks and dreamer of strange pictures...
BY ALEX TODOROVIC

---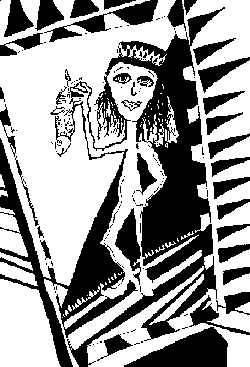 E. Michelle Seay is the kind of woman who prompts men to crane their necks out of car windows to catch a better glimpse. Her long blond hair is a graceful crown on top of a 23-year-old vibrant body made strong by the rigors of her profession.


She looks like any number of attractive blond women you'd see on a summer's day at Folly Beach. But Seay is different. Her expression and focus are deeply centered and penetrating, especially when discussing the topics for which she has a religious respect: shark hunting and art.


After graduating from the College of Charleston with a degree in studio art, Seay spent a year teaching art in Texas. Then she moved back to Charleston wondering what to do next. She needed a job and preferred something in the art business. The job search led her to an art gallery for an interview.


"When I saw the caption on their business card, The Lord is Our Chief Framer,' I knew it would be stuffy," she recalled.


Then an unusual ad in the classifieds caught her attention, "Only Experienced Hustlers Need Apply."


Seay called the number out of curiosity and reached Captain Mac, who was out at sea on the Bonsai, a shark-hunting vessel. Mac, it seemed, needed a hookman, and Seay set up an interview.


Seay recalled her first visit to the docks. "I creeped over and asked these fisherman for Mac. They were all chasing me around."


When she found Mac, she met an eccentric man with black curly hair and wild blue eyes. "I kept asking myself, What are you doing here?' He didn't ask me one question about my history or qualifications. All he did was tell stories," she said.


"So after drinking some beers, we went to the boat. I had the job. I couldn't believe it. I was hired as a hookman," she said.


Eager to start, Seay would have to wait two weeks for the gale winds to die down. She remembered the first excursion. "We left at 7 am. I got on the boat, and there was this giant guy named Vic, who was going to be the butcher. He was a meathead. We had all just met on the Bonsai.


"It was really rough and choppy with eight-foot swells. Vic mentioned he was feeling queasy."


Seay had passed the first test; she wasn't seasick. During the seven-hour ride, they cooked some food and ate together.


Seay remembered some of the more incongruous moments on that first trip, "One rule about the Bonsai, the television stays on all the time. We were eating dinner and Melrose Place was on. Vic was going, I love this show! I love this show!'"


When the fishing began, Seay's job was to pull the six-foot sharks off the hooks and into the boat. As they pulled the sharks through a gate, Mac shot each one with a 44 magnum.


All of a sudden there was this mountain of fish, and Mac asked Vic, "That enough sharks for you?"


Seay said, "Vic had been saying all night, I want to see some sharks! I want to see some sharks!' "


"Mac was frustrated with Vic," Seay said. "He was very particular about having pretty fish and Vic wasn't cutting them right. They were bickering back and forth.


"We were way out at sea and all of the sudden Vic quit. There was a lot of tension on that little boat. So I immediately had to learn how to gut the sharks. Mac and I were up late cutting the sharks."


Mac, encouraged by Seay's enthusiasm, got on the VHF radio and started bragging about his new crew member. He warned Michelle, "Don't let them bother you."


Seay was the topic of much conversation back at the docks. "After the first trip, everyone was wondering how long I'd last. Mac loved the attention, having this tall blond in black rubber boots on his boat."


One year later, Seay has gained the respect of others on the docks. As far as she knows, Seay is the only woman shark hunter in the Southeastern United States.


Seay has drawn on her hunting experience extensively in her artwork. As the shark hunting season may open and close unexpectedly, Seay has plenty of time to pursue her love of art.


Primordial images leap from her work. Her lines are disorienting, the mood playful and freaky. Seay has tapped into some secret knowledge pulled up from the dark oceanic waters.


---
Her expression and focus are deeply centered and penetrating, especially when duscussing the topics for which she has a religious respect: shark hunting and art.
---