Mepkin Abbey
Trappist monastery offers blessed sanctuary from the modern world.
BY LIZ FERSZT

---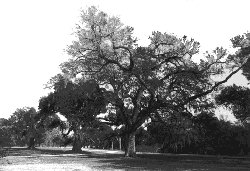 Outside Moncks Corner, in the heart of rural Berkeley County, lies Mepkin Abbey, a Trappist monastery. For retreatants like Dick and Jerry, Mepkin exists "to leave the profane world behind." For Father Richard, prior of the monastery, Mepkin is a microcosmic model of God's home on earth. It serves the clerics, a mixture of ordained priests and brothers, as well as the lay community, which may seek a sanctuary for reflection and respite.


To be sure, Mepkin has served various other roles, some unsavory, some glamorous. Originally a prosperous rice plantation owned by colonial giant Henry Laurens, the Mepkin property used West African slave labor.


Laurens was a planter, statesperson, diplomat and slave trader. The Charleston aristocrat commuted from his mansion on the Battery by boat during the heady mid-18th century, using Mepkin as a country getaway and source of income. He and his family are buried on a plot overlooking the shores of the West Cooper.


Mepkin was then owned by the philanthropists Henry and Clare Booth Luce, of the Time/Life publishing empire. Clare "fell in love with the trees," and the couple promptly built bungalows for guest hunting parties. Many prominent, powerful and affluent figures of the 1930s and 1940s spent time at Mepkin, including industrialist Bernard Baruch and the popular Catholic Bishop Futon Sheen.


The Luces were the height of pre-jet-set society; enabled by their wealth to sponsor whatever pleased them. Thus the tradition of paternalism, although exculpated by Yankee largess, continued. Bishop Sheen handled Clare Luce's conversion from Episcopalianism, and the Cisterian Trappist monks were the ultimate beneficiaries of her new Catholicism. Mepkin land was donated to the monks in 1949.


Clare Luce, with her remarkable career as a congresswoman and ambassador to Italy, an Eisenhower appointment, never fully divested herself of Mepkin. When he first met her, Father Richard was a young seminarian, newly out of Saint Louis University, a Jesuit institution, which he had entered at age 18. He remembers her more for her wit and intelligence than for her deportment and looks, although she was a famous beauty. Father Richard would have been drafted during World War II had he not enrolled in the seminary.


Today, however, the holy order does not accept novices under age 22. "People are not mature enough [these days]," Father Richard explains. The average age of a Mepkin monk is mid-forties. The formation program, a sort of spiritual curriculum, takes six to 12 years to complete. Novice monks wear the white scapular during their first three years, after which they make a temporary commitment, and are voted on by the elder monks for fitness to continue the faith process. They are judged mostly on how well they "live the life," or what in today's parlance would be termed "walk the walk."


It's a tall order. Monks must ingest the psalmic crypticism "I am a worm," (Psalm 22:6) in imitation of Jesus. They must strive toward the suffering servant role of Jesus. They enact this paradigm by way of deprivation: the Benedictine Rule is a strict methodology of work and worship governed by the hours. They may not smoke, drink, watch television or eat meat; they must follow the Benedictine clock and bells, which deprive them of standard sleep patterns. But as Father Richard says, "you get used to it."


The monks' day begins at 3 a.m., followed by mass at 4:15, meals, subsistence farming and egg collection, interspersed with the latinate system of counting hours of prayer: vigils, lauds, terce, sext, none, vespers, and compline. The monks retire at 8 p.m. Because the Benedictine Trappists unlike other clerical orders such as the Franciscans, Dominicans or Jesuits are not mendicants (beggars) the egg farm supports them.


Saint Benedict, founder of western monasticism, in the 5th century established an order on the hills of Monte Cassino in Italy. Membership in the vocation meant living under semiprivate conditions, with the main precept being "obey now." It was a rigorous, and sometimes severe, ascetic lifestyle. The abbot of a Benedictine monastery was not unlike a benevolent despot who could commandeer and consume a novice's packages from home, if he saw just cause. But the present Mepkin Abbot, Father Francis, while firm, is no task master. He is truly father ("abba"). He is also an accomplished organist and evenhanded spiritual leader to the cloister on the Cooper River.


Benedictine Trappists are a contemplative order, which emphasizes individual study and meditation. The monks wear robes and cowls; some brothers wear sandals; some have clipped beards. They quietly farm eggs, selling them to major retailers. They sell the old hens to Campbell's for chicken soup.


The monks live in simple, ranch-style dormitories, ride bicycles to and from the roost and chapel, an understated structure built in 1993. A bell tower as stiff and geometric as a hollow rocket dominates the chapel courtyard. It is dedicated to the seven spirits of Mepkin: the Native Americans, the Laurens, the African-American slaves, the Luces, dead friends, extant monks and monks to come.


The architecture is not the must-see feature at Mepkin. The grounds, a beguiling blend of devotional statuary, formal gardens and trees are what make Mepkin worth the pilgrimage. The grounds are covered with massive live oaks, palmettos, cedar, camellias and crepe myrtle dripping with Spanish moss.


There is a sense of comfortable separateness which permeates Mepkin, where authentic self-esteem, or Christian self-love, is introspective, rarely articulated and comes from the profound realization that one is saved. The so-called outside world does race by. On the Cooper, speeding fishing boats, overloaded with Mercury outboards, leave their wake of noise and waves. High on the bluffs, Mepkin endures.

The Mepkin Guestmaster greets visitors daily from 8:30 a.m. to 4:30 p.m. There is no charge but donations are accepted. For information, call 761-8509.
---
Liz Ferszt is a writer and teacher who lives in Goose Creek.