---


DO SOMETHING is a bulletin board for political and social activist groups to post upcoming events. Mail information to POINT, P. O. Box 8325, Columbia, SC 29202, or fax us at 771-6572. This is a free service; deadline for entry is the 23rd of each month.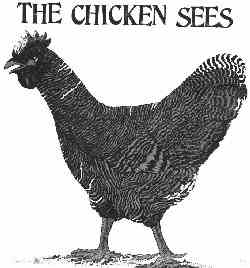 AIKEN




The First Thursday Writers Series is held the first Thursday of each month at the Aiken Center for the Arts, 122 Laurens St., SE. Call 641-9094.




CHARLESTON




52%, a women's political action group, meets the third Monday of each month. Call 853-0052 for information.


Meetings of the Lowcountry Gay and Lesbian Alliance are held the last Tuesday of each month at 7 p.m. at the Charleston County Library on King Street. Call 720-8088 or write: LGLA, P.O. Box 98, Charleston, SC 29402.


Parents and Friends of Lesbians and Gays (PFLAG) meets the second Monday of each month at 6 p.m. at Metropolitan Community Church, 2010 Hawthorne Dr. For details, call 856-0577.


Play it Safe features the first-ever compilation of Charleston's musicians who donated time and talent to help raise money for Lowcountry AIDS Services. Play it Safe is available at all music outlets, at live concerts by participating musicians, consignment outlets or by mailing $13 to P.O. Box 20001, Charleston, SC 29413.


Alex Sanders, president of the College of Charleston, will guest speak at the next meeting of the Secular Humanists of the Lowcountry on Feb. 18. Sanders will argue for and against political correctness, with audience discussion to follow. The public is invited to attend the meeting, which begins at 4 p.m. at Gage Hall, 4 Archdale St. For details, call 577-0637.




COLUMBIA




Call the Association for Children for Enforcement Support for information on how to collect child support. Services are free. Call 892-3403 (Lexington County) or 755-6713 (Richland).


Need a pal? Adopt a pet from the Animal Protection League, 6080 Old Leesville Rd. Call 783-2119.


Carolina Cats, a pet rescue foundation, needs temporary homes for cats awaiting adoption. Vet care and supplies are provided. Call 791-7707 for details. Donations of all kinds are gratefully accepted. Write: P.O. Box 210705, Columbia, SC 29221.


Columbia Audubon Society sponsors a variety of free events each month. Call 737-7204 or the Audubon Society's Infoline, 748-9066.


The Columbia Zen Group meets every Sunday from 6 8 p.m. at 2065 Blossom St. For details, call 790-5569.


Dances of Universal Peace are held the third Saturday of each month. The dances are simple, joyous circle dances honoring the religious traditions of the world. Come join hands and celebrate the joy and divinity of life at 7:30 p.m. on Feb. 17 at the Unitarian Universalist Fellowship, Heyward and Woodrow in Shandon. Call 791-9627.


Hombres! is a support group for gay men to realize their true selves. Open sessions meet at 7 p.m. on Mondays at the GLPM Community Center, 1108 Woodrow St. Call 771-7713 for information.


Save nearly three pounds of trash by recycling you old phone book in the Keep America Beautiful telephone book recycling campaign. During February, you can drop off your old directory at one of 24 locations. For a recorded list of drop spots, call 750-5000, ext. 4803.


Les Ms., a confidential group offering women the chance to learn about lesbian identity, meets on Tuesdays at 7 p.m. at the GLPM Community Center, 1108 Woodrow St. Call 771-7713.


Midlands Astronomy Club meets the first Thursday of the month at 7:30 p.m. in Rm. 208 of the USC Physical Science Center.


The Midlands Chapter of the Archaeological Society of South Carolina will make a field trip to the late prehistoric Adamson Mound near Camden on Feb. 17. Outdoor dress. Meet at 9 a.m. in Columbia in the parking lot at the corner of Marion and Pendelton. Call 734-3753 for details.


The Midlands Libertarians meet the second Thursday of each month at 7 p.m. at the Lizard's Thicket on Bush River Road. For details, call 894-4073.


The Columbia Branch NAACP meets the third Sunday of each month at various churches. For details, call the NAACP at 256-8771.


Overeaters Anonymous is a fellowship of recovery for those with food problems. Call 736-9878 for a meeting in your area.


Palmetto AIDS Life Support Services offers two confidential support groups for people living with HIV; one for HIV+ men and women, one for HIV+ women only. For details, call 779-7257.


PALSS is offering an HIV positive course designed for those newly diagnosed and their loved ones to offer emotional support and practical information. For details, call 779-7257 or 1-800-723-7257.


Parents and Friends of Lesbians and Gays (PFLAG) offers a free monthly support group at 6 p.m. on the 3rd Thursday of the month at the GLPM Community Center, 1108 Woodrow St. Call 799-6533.


Pets Inc., an all-volunteer animal rescue organization that has placed more than 6,000 dogs and cats since 1991, need a new roof. The group's building on Shull Street is falling in. Donations can be made to: P.O. Box 6394, West Columbia SC 29171. For details, call 739-9333.


Join Planned Parenthood of Central South Carolina in its efforts to protect women's reproductive rights. Stay informed and add your name to Planned Parenthood's Action Alert Network by calling 256-2600, ext. 24.


Planned Parenthood will hold its 12th annual gala fundraiser, "In Full Swing," on March 9 at the Adam's Mark Hotel in Columbia. Advance tickets are available by calling 56-2600, ext. 22.


The S.C. Gay and Lesbian Pride Movement (GLPM) meets the third Sunday of each month at 2 p.m. Call 771-7713.


Join a group of women in the Midlands who are in the process of creating a Women's Resource Center. It is in the development stages, and people with good ideas, lots of energy and organizing skills are needed. For details, call 791-8156.


The Women's Studies Program at USC offers an ongoing series of lectures. On Feb. 12, Dr. Stephanie Shields presents "Beliefs about Gender and Emotion: What Difference do they Make?" at 4 p.m. in Rm. 151 at Gambrell Hall. On Feb. 21, Miriam Freeman will present "Virginia Satir, Family Therapy and Gender Issues at 3:30 p.m. at Gambrell Hall, Rm. 250. For details, call 777-4007.


The YWCA offers services for women at nominal fees, including computer training, employment skills development and legal information. For details, call 252-2151.




STATEWIDE




Citizens Opposed to Domestic Abuse offers 24-hour crisis line counseling, emergency shelter and help with orders of protection. Call 1-800-868-2632.


The S.C. Sierra Club holds monthly meetings across the state. Find the group nearest to you and help wage the fight to save South Carolina's environment.


| | | |
| --- | --- | --- |
| Charleston | 1st Thursday | MUSC Basic Science Bldg. |
| Clemson | 1st Tuesday | Unitarian Church, 226 Pendleton Rd. |
| Columbia | 3rd Monday | Unitarian Church, 2710 Heyward St. |
| Florence | 2nd Thursday | John Calvin Presbyterian, 2000 Marsh Ave. |
| Greenville | 3rd Wednesday | Unitarian Church, 37 Hillcrest Dr. |
| Hilton Head Island | 1st Tuesday | Palmetto Electric Bldg., Matthews Dr. |
| Murrells Inlet | 2nd Monday | Belin Methodist Ed. Bldg., Business 17 |
| Rock Hill | 2nd Thursday | Wesley Foundation, corner of Stewart and Park |