There goes the neighborhood
New motor speedway threatens to disturb the peace of Francis Beidler Forest
BY JOHN VERNELSON

---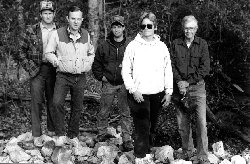 "South Carolina doesn't need another automobile race track anywhere

especially not in Berkeley County at the apex of a watershed that includes Four Holes Swamp, Francis Beidler Forest and the Edisto River," said Lisa Hadstate, who lives in the area. "The dollars expected to come from the operation don't justify jeopardizing the quality of the surrounding land and water resources, and the serenity of a lifestyle that will be lost forever when the first car roars around the track."


The "operation" referred to by Hadstate is Interstate Speedway, a new $2 million, half-mile concrete oval just off I-26 in Berkeley County near Ridgeville. Scheduled for completion in mid-February, the track complex sits on a 50-acre site about 1,000 feet from Four Holes Swamp and about two miles from Francis Beidler Forest. The site, an open field once used for soybeans and corn, borders the interstate on one side, but its remaining sides are mostly surrounded by swampland, woods and open fields.


A canal along the back side of the speedway site empties into a borrow pit and network of creeks that lead to Four Holes Swamp and Francis Beidler Forest, a 6,000-acre nature preserve and wildlife sanctuary containing 1,700 acres of old-growth swamp forest and 4,300 acres of maturing, natural second growth. Water from the swamp eventually makes its way to the Edisto River, the longest pristine black-water river in the eastern United States.


Co-owned by The Nature Conservancy and The National Audubon Society, Beidler Forest supports an array of wildlife, including some of the densest populations of nesting songbirds in the East. Four Holes Swamp, and particularly the portion containing Beidler Forest, is "one of the finest and most intact wetlands in South Carolina and the Southeast," according to its Sanctuary Manager Norman Brunswig.


The track complex will include: a main aluminum grandstand with a seating capacity of 4,500 expandable to 15,000; plus parking for vehicles along the backstretch; infield capacity large enough for 1,500 people including drivers, pit crews and racing fans; and 20 air-conditioned corporate suites with room for about 20 people per unit.


The inaugural racing event at Interstate Speedway is set for late March, and will include a full schedule of racing in six divisions and a 100-lap main event.


Because there is no land-use plan in effect for unincorporated areas of Berkeley County, the only permit speedway owners Mike Brown and Howard Tharp needed to begin construction was a DHEC-approved storm water drainage plan. The permit was granted.


Under the drainage plan, runoff from grassed parking areas, the track and gravel road will be routed to a holding pond where an oil and grease separator is supposed to remove those materials from the water. Treated water from this smaller pond and runoff from other areas of the complex will be routed to a larger detention pond which drains into the canal and then into a creek that leads to the borrow pit and swamp. Runoff is to be controlled so that it doesn't exceed current runoff levels.


Most of the work on the drainage system has been done. Drainage lines are in place and workers have used them to take surface water from work sites to the canal. Hadstate and Danny Hill, a member of the family who once owned the open field and still owns most of the land immediately surrounding it, filed an objection to the drainage permit after they discovered silting in the swamp from speedway runoff.


"Danny and I spotted the silting December 19 and followed it for about 900 feet along a 12-foot-wide swath in the borrow pit near the drainage end of the speedway, and then for about 300 feet into the swamp," Hadstate said.


"It was milky-white, and in some places dirt mixed in the runoff had turned the water orange-brown. Some of it looked like chocolate milk."


Hadstate said a "kind of green algae-like scum" had collected on the water surface contaminated by the silting. "We called DHEC, but when they came out to look, they didn't seem very concerned."


"It took about two weeks for it to disappear," she said. "No man-made system is foolproof. Just think how bad it would be if the drainage system broke down because of a storm, a tremor

whatever. Clearing up oil or gas-soaked soil would require removal of the contaminated soil and replacing it with the same type. This would be hard enough on the speedway site. What about in Four Holes Swamp?"


Hadstate has arranged for a scientist to test soils in areas marked by silting. Hadstate said the soil scientist will double-check data DHEC used to approve the drainage permit. Results are expected by mid-February.


Speedway owners also need a septic tank permit and expect it to be issued in early February.


Nancy Vinson of the Coastal Conservation League said the Charleston-based environmental watchdog group will file an objection to the permit when it is issued. Because South Carolina has some of the least stringent septic tank regulations in the nation, she said it is necessary to keep septic systems constructed in "such sensitive environmental areas" under the closest scrutiny.


Brown said he and Tharp have done everything asked of them by DHEC. "The plan for our drainage system is based on a 100-year plan instead of the required 10-year plan," he said. "We are going to build the septic system on the interstate side as far as possible from the drainage canal, and it's designed to tie in to a county sewer line we expect to be built in 18 months or so. I don't know what else we can do."


As for noise, Brown said sound tests held at the site indicate it will fall within acceptable levels, according to sound tests conducted by Warren Enterprises Inc., a Ladson company Brown and Tharp hired to design the speedway drainage and sewage disposal systems.


According to a letter dated Oct. 25, 1995, from Warren Enterprises president Walter A. Warren to Brunswig, race day noise will be at or below recommended sound levels in areas surrounding the speedway. According to the letter, those areas include "open spaces that require special qualities of serenity and quiet," such as Beidler Forest, and areas used for homes, motels, schools, churches, libraries and hospitals.


Brown said races will only be held on Saturdays, beginning with time trials at 3:30 p.m. and ending at 11 p.m. "With the special mufflers used by race cars, the noise won't be any louder than the noise already caused by interstate traffic," he said.


But Hadstate, who lives about five miles from the speedway, says if the track makes money, there will likely be cars on it more than just one day a week. "I lived five miles from the Summerville Speedway and the main reason I moved from Summerville to Berkeley County was to get away from the noise. I now live more than 10 miles from Summerville Speedway and sometimes on Saturday nights I can hear the cars out here."


Hadstate lives in Pringletown, which runs along six or seven miles of S.C. Road 27, from I-26 towards Moncks Corner. Some Pringletown homes are within 200 or 300 feet of the speedway.


"Do they really expect us to believe people living that close to the track won't be bothered?" Hadstate asked. "But Berkeley County does have a sound ordinance, and in the end that may be our best chance to do something about the track."


The county ordinance was enacted about two years ago, but is not specific as to acceptable sound levels. It says simply, "loud and unreasonable noise which disturbs" people or businesses in unincorporated areas is against the law.


Under the ordinance, county magistrate court comes into play when three or more people file a complaint, or when more persons in combination with a law enforcement officer file.


Convictions could result in fines ranging from $25 to $200 and/or imprisonment for a period not to exceed 30 days. Race cars are not exempt, but since the ordinance will not go into effect until a violation is charged, it can't be used to stop construction.


"About all we can do now is to force a review of the drainage and septic permits to make sure they are within DHEC regulations," Hadstate said. "Later, if they actually race out there, we can take people to court for violating the sound ordinance, including race car drivers."


Meanwhile, Hadstate lays the blame for the speedway's construction at the feet of Berkeley County Council member and County Supervisor Jim Rozier. "They're supposed to look out for us and our environment," she said. "But in this situation, they did nothing. We didn't know about the race track until after construction had started.


"When I talked to Mr. Rozier about it, he said it was our fault because we had voted against zoning. He said if we had voted for it, there probably wouldn't be a speedway out there. We didn't trust government then, and we certainly don't trust it now."


Hill, who lives about three miles from the speedway, said the "tragedy" is also about the destruction of a way of life. "It's a hunter's paradise, and a wonderful place to get away from it all," he said. "My daddy and uncle preserved it for us and I want to help preserve it for those who follow me. There's no way we'll ever have deer or any more peace and quiet out here when they start racing. The noise and pollution puts our whole way of life at risk forever."


Rozier said, by law the only way county government can control development is through land use planning. "People in Pringletown voted overwhelmingly against zoning in a 1990 referendum, the year before I took office," he said.


"They have to trust somebody. If we had a zoning ordinance, county government and county council would be accountable. The speedway owners so far have done everything required of them by DHEC. What if another landowner out there wanted to build a junk yard or a hog farm on his land? Without a zoning ordinance, he could build it if he could get the permits from DHEC

and there would be nothing county government could do about it."


But Hadstate said there is something the people can do about it. "We can vote this government out of office and put a new one in."


---
---
"The dollars expected to come from the operation don't justify jeopardizing the quality of the surrounding land and water resources, and the serenity of a lifestyle that will be lost forever when the first car roars around the track."
---