Johns Island Expressway
Limited access road takes a toll on the island and its residents
BY JOHN VERNELSON

---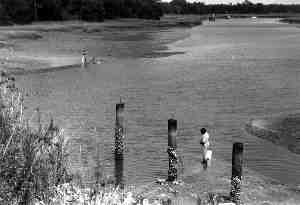 Curch Creek separates Johns Island from Wadmalaw Island, a span the expressway would bridge.

Johns, Kiawah, Seabrook and Wadmalaw islands are a string of sea islands in southwestern Charleston County separated from the mainland by the North Edisto, Wadmalaw and Stono rivers and connected to the mainland by two bridges.


The Limehouse Bridge on Main Road crosses the Intracoastal Waterway and ties Johns Island to the mainland and U.S. Highway 17S on the north. The Maybank Highway bridge over the Stono River connects with James Island and Charleston.


Most of Johns Island and Wadmalaw is rural and used for farming. Kiawah and Seabrook island development is a mix of residential and resort, peopled mostly with retirees.


Kiawah is internationally known for its championship golf courses. Both Kiawah and Seabrook are protected by gates and guards, preventing entry to either of the incorporated towns without a pass.


But the rural roads that meander across Johns Island and Wadmalaw are open to everyone and are lined with farms, woodlands, marshes, small groups of homes, vegetable and fruit stands and schools.


Long stretches of these two-lane roads are shaded by moss-draped live oak canopies and crisscrossed by tidal creeks. Traffic moves slowly, often interrupted by farm equipment, school buses and pedestrians.


The same roads are used by Kiawah and Seabrook residents traveling to and from Charleston. Their trips are slowed by the same farmers, pedestrians and slow-moving traffic they encountered five or 10 years ago when they first drove out to Kiawah or Seabrook to look at what was to become their home.


Nothing has changed

except that developers are now circling in the skies above Johns Island; and Kiawah and Seabrook residents, frustrated by a lack of quick access to suburban services, are trying to use projections of a sea island population explosion as an excuse to speed up life on Johns Island and cut the driving time to Charleston.


The means to this end, if it ever comes to fruition, will be a four-lane, limited-access toll road that would connect Bohicket and River Roads on the Kiawah-Seabrook end of Johns Island to Maybank Highway on the Charleston end.


There would be no access points to the expressway between the Charleston and Kiawah/Seabrook connectors. To prevent access by pedestrians, farmers and motorists, the expressway would be lined with chain-link fencing. In effect, the toll road would run from the Kiawah/Seabrook guard gates to the Charleston connector.


The project is recommended by HNTB Corporation, an Atlanta firm hired by Johns Island Expressway Inc., a non-profit organization formed by Johns Island and Kiawah/Seabrook Island residents to conduct a feasibility study for solutions to safety and travel issues on Johns Island. The study was completed in June 1995.


If the expressway is built, it will be a joint venture of Johns Island Expressway Inc. and the state Department of Transportation, a common partnership of public and private sectors.


DOT would build the road but the project would be paid for by tolls and possibly local assistance from either city and/or county governments or special assessment districts that could include gas tax, sales tax, resort or room tax, vehicle registration tax, property tax or impact fees on future development. State or county bonds to reduce interest is also an option.


Although none of the money for the road would come from DOT, its right to eminent domain would be available to Johns Island Expressway Inc., making it much easier to acquire the rights-of-way for the road through condemnation proceedings.


Proponents of the toll road say it would lessen traffic on rural roads on Johns Island, and that limited access is critical because too many intersections would create traffic problems on the toll road.


They also argue that special taxes and/or impact fees needed to help pay for the road will be neither excessive nor a hardship on Johns Islanders.


But such a road would cut Johns Island in half and forever alter its rural nature, according to expressway opponents, who advocate more study before a toll road is built.


"That road is strictly for people who live at Kiawah and Seabrook," said the Rev. Alonza Washington, president of the Johns Island/Wadmalaw Island Ministerial Alliance.


"Islanders on either side won't have access to it or to each other unless they drive to one end or the other to get on the expressway, or drive around it and back to visit a neighbor who might live within walking distance without the toll road being in the way."


Washington said special taxes and fees islanders will have to "cough up" to help pay for a road they cannot use will eventually make it harder for them to pay property taxes, which will cause some to lose their homes and land.


"The people who live on Kiawah and Seabrook don't have any real contact with island people," Washington said. "They don't know how tight money is for some of these families. I agree that we need to plan for the future, but there's got to be a better way than this toll road."


Washington is not the only Johns Islander against the expressway. Similar sentiments were raised at a February meeting of a group formed about a year ago, shortly after the toll road idea surfaced.


According to Meg Hoyle, about 1,000 people have signed a petition to oppose any Sea Island Expressway, and call for exploring alternatives for improving existing roads and highways on Johns Island for "the benefit of all."


Lewis Hay, a Wadmalaw Island resident and chief architect of a land-use plan for the island developed by a citizens' group in the 1980s, said the root of the problem is that people on Kiawah and Seabrook want to live in an isolated area "away from the rat race," but they want easy access to services they would expect to have if they lived in town.


"You build a retirement home on Kiawah or Seabrook when you're 65 and everything's okay," Hay said. "But 10 years later you're 75 and you need to be closer to a doctor. What you and I would have to do would be to move closer to the doctor or whatever you need, but these people don't want to move.


"They want services brought to them, and if they have to come on the backs of taxpayers who won't benefit, so be it."


---
"I agree that we need to plan for the future, but there's got to be a better way than this toll road."

Rev. Alonza Washington
---