Casting the Net
Call them crazy. But they still believe in democracy. And in the power of ordinary people.
BY BECCI ROBBINS

---



They come from different places. They hold different jobs. They are young and old, black and white, male and female, well-groomed and not. They are wearing ties and tie-dye, combat boots and Birkenstocks, suspenders and support hose, tattoos and bifocals, pressed shirts and pressed hair, beards and buzz cuts, rattails, jerry curls and a t-shirt that says DYKE.



They have come from across South Carolina, driving down Highway 21 in brilliant April sunshine, under canopies of sprawling oaks and Spanish moss, past trailer parks and country shacks gaudy with azaleas and junked cars, through the heart of Beaufort and out across the bridge to St. Helena Island, throught the marsh and into the sleepy town, turning finally onto Martin Luther King Jr. Drive, past the platform where the good doctor once spoke, to arrive here at Penn Center.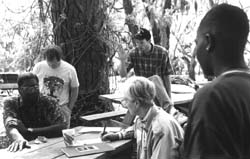 John Hickey, director of Missouri Progressive Voter Coalition, talks in a small-group session about how his organization has successfully backed a dozen candidates for the Missouri Legislature.

These are the same roads Dr. King, John Lewis, Jessie Jackson and Andrew Young traveled in the '60s when they came to Penn Center to train and organize. If they could see us now

gathered here in this wooden-floored room with its high windows and slow-turning fans

what would they think?



Today, the group is gathered here for the first conference of the South Carolina Progressive Network, a weekend retreat for grassroots activists from across the state to get together to compare notes, brainstorm, talk politics and get to know each other.



The conference is actually the culmination of a year of networking. Beginning last April, social and political activists began meeting, talking on the phone, creating a Web site and sharing mailings in an effort to put together a progressive coalition.



The Progressive Network is growing quietly, with members signing on in the hopes of building a unified front to fight the erosion of gains they have worked for decades to secure. They believe that by joining forces they can help leverage each other's work and strengthen the progressive community in South Carolina.



The efforts at building a viable statewide network were boosted by a grant from the NOYSE Foundation, which was secured by the Natural Guard Fund (the nonprofit group whose projects include POINT).



So far, the Network has 38 members

grassroots groups working to protect a broad range of interests: labor, the environment, civil liberties, prison reform, animal welfare, reproductive freedom, and the rights of minorities, women and children.



The Network includes older, established organizations like A.C.L.U. and Planned Parenthood as well as younger, smaller groups like 52% (a Charleston-based women's PAC) and S.C. Environmental Watch (a group organized in Gadsden that works to protect low-income minority communities from industries that pollute).



Individuals who don't belong to any group also support the Network. These "loose lefties" contribute in a variety of ways but do not have voting power.



While members of the Network serve a variety of interests, they share a lot in common. Diversity is the strength of the coalition, but their commonality is the glue.



"The issue of racism is the same issue as homophobia," explains Tom Myers, director of We Are Family, a nonprofit group in Charleston that works to educate the straight public about gay issues.



"Discrimination against women is the same issue as racism. It is all about people trying to impose control on another group of people because they don't have as much power."












The conference is the first time that members of the Network have met in a large group. Over the weekend, 65 activists will take part in the discussion, which is loose and informal. The agenda is to solidify the form and function of the Network and to identify some short- and long-term projects.



Before they do anything, they move the chairs from rows into a circle. This act is a metaphor for what the group hopes to do: take that which is separate and make it whole

a sum stronger than its parts.



It also reflects how business will be done. Action will not come from up front, but in the round. They will not be talked to; they will talk with each other. Face to face.



To help frame the discussion, the leaders of two groups that have formed similar coalitions in other states talk about the nuts and bolts of building a statewide network. They offer their experiences to warn us of potential pitfalls, to outline strategies that worked for them but

most of all

to reassure us that it can be done.



The same political cold front that progressives have felt here is the same chill that has already mobilized grassroots groups in other states. They have organized in various ways; the job today is to structure something that is right for South Carolina.



John Hickey, director of Missouri Progressive Voter Coalition, describes how his organization has successfully backed a dozen progressive candidates for the Missouri legislature. His group, formed five years ago using organized labor as its base, focuses exclusively on electoral action.



Hickey, who looks like a taller, prettier James Carville

and who is just as sharp

talks about how his group was started, with just him and five of his friends, and how quickly it came together.



"It is almost scary how fast you can be an operative at the state representative level," Hickey says.



And he explains how.



Providing a different model, Randall Merritt talks about the structure of the Georgia Urban/Rural Summit, for which he serves as outreach director. The coalition, formed a year ago, is made up of groups whose nonprofit status prevents them from doing certain work in the electoral arena, such as endorse candidates.



While not overtly political, the Georgia network was born in the wake of the "Republican revolution."



"That was our wake-up call," Merritt says. "We were asleep at the wheel."



The purpose of the Summit, according to a position paper, is to initiate a dialogue between elected officials and statewide organizations to develop a unified sense of purpose. Furthermore, "the Summit will help them take full advantage of their collective power in both the public policy arena and in communities."



Merritt sees this as a pivotal period for politics in this country. "This year is critical," he says. "We either survive together or we die together."



To help put the discussion into a local context, two South Carolina legislators offer an inside view of the current political climate in the General Assembly. "The legislature is mean, mean-spirited, and getting meaner by the hour," says Rep. Joe Neal (D-Richland), who is a member of the Network through S.C. Environmental Watch.



Neal gives a rundown on some of the bills debated this session. It is a quick sketch of how the state government went about the business of gutting environmental protections, cutting social services, whoring for big business and how it is gearing up to resegregate public education.



Gilda Cobb-Hunter (D-Orangeburg), a Network member through CASA, a family crisis agency, talks about how the Republican majority has changed the legislature.



"I'm used to not having much power," she says, "but for many of my white Democratic colleagues it was a new experience to be in the minority. It has forced us to get our act together; has made us realize we need to work together."



But while the Democratic Party is most closely aligned with the ideals of the Network, the group will remain nonpartisan. Members of the Network recognize that Democrats have had their hand in shabby politics and that certain Independents and Republicans have done important work, such as Sen. Holly Cork (R-Beaufort), who has waged a lonely battle for environmental protections and reproductive choice.



"My first philosophy is: don't agonize; organize." Cobb-Hunter says. "I think this is the first step toward doing that. In the work I do [as a social worker for battered women] we talk about breaking the silence to end abuse. That's what we have to do here; it's the same analogy. We need to break the silence.



"We need to get beyond our own groups and write letters to the editor, call talk shows and challenge these crazies spewing hateful stuff. We need to take the name Christian Coalition back and call them what they are, which is religious political extremists. You cannot allow them to outwork you. Stop whining and complaining; get out and do something."












At dusk they break for an oyster roast out under the trees. About half the crowd leaves to honor other commitments; but those who remain don't stop working. Some of the most useful discussions of the weekend take place in small groups around the fire, which burns long past midnight.



In the morning, they reconvene to make some critical decisions about the form and function of the Network. The discussion grows circuitous and tiresome, but after they break into smaller issue groups they finally make slow headway in hammering out some details.



The most important decision the group makes is to divide the Network into two separate entities.



"Since many of the Network members are tax-exempt, we need to keep our electoral activities separate from our other work," explains Brett Bursey, director of the Natural Guard.



"All of our organizations are doing work around the critical issues that our legislature debates," Bursey says, "but none of us is organized to focus our efforts on electing specific candidates. That's where religious conservatives are beating us."



To that end, the group decides to form South Carolina Progressive Voter Coalition (S.C. ProVote) which will target statewide races to support or defeat.



The PAC's work will be facilitated by work the Network will do, which will include tracking legislation, compiling and circulating voting records of legislators, and conducting voter education and registration drives.



The Network is optimistic about its chances for leveraging change in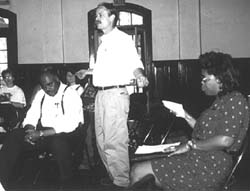 Brett Bursey, editor of

POINT and director of the Natural Guard, which is serving as interim coordinator of the Network, introduces representatives Joe Neal and Gilda Cobb-Hunter, who offer a reality check on the current state of the State House.

the South Carolina Legislature. While conservatives have monopolized the public debate, it is power that has been abdicated, not earned.



In truth, most South Carolinians do not participate in the political process. Less than half of us are registered. In the 1994 general elections, according to figures from the state Election Commission, only 34 percent made it to the polls.



In the gubernatorial election, David Beasley won with just 17 percent of the state's voting age population.



The task for the Network is to reach

and mobilize

the other 83 percent. Once the numbers are crunched, the idea of shaking up the status quo seems a less daunting task.



"We've tried to do this sort of thing before," Bursey says, "and it never quite worked. What makes this effort different is that the objective reality has changed. The political climate is more charged, which makes mobilizing people easier.



"Also, this time we have strong black leadership, which makes all the difference."









---
"My first philosophy is: don't agonize; organize. I think this is the first step toward doing that."

Gilda Cobb-Hunter
---