Takin it to the streets
BY SANDY QUICK

---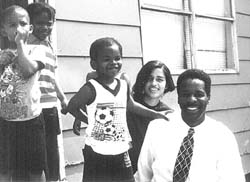 Delbert DuBois (r) visits with friends in the Four Mile/Hibernian neighborhood in Charleston, where he works to protect residents from the industries that have taken over the area.

Orange metal shipping containers, eight feet tall, are an easy pebble's toss away from Delbert DuBois' front porch on Four Mile Lane in Charleston. Beyond the containers are dozens of semi-trucks, loud freight carriers that puff dark clouds of diesel exhaust into the air.



Within two miles of the house near upper Meeting Street that DuBois shares with his mother and sister lie 68 industrial sites. Between and beside the chimneys, trucks and containers

sometimes separated by just a few feet of grass or a chain link fence

are small groupings of houses, remnants of a larger neighborhood that was cut up, bit by bit, to make way for railroad tracks, I-26, storage tanks and factories.



Established in the 1830s, the neighborhood is known as Four Mile/Hibernian, originally called Four-Mile because of its distance from the courthouse, or the Battery (because roads have changed, no one is sure).



DuBois, who often works in the neighborhood as AmeriCorps site coordinator for the Infant Mortality Task Force, says many of the houses are home to elderly people caring for young grandchildren.



At 33, DuBois remembers a greener neighborhood. Having grown up in the same house where he now lives, he remembers trees and ball parks, rivers for fishing and creeks for crabbing.



The scenes around him have changed drastically, he says, but about 120 people remain in the houses, trying to make their way and keep the integrity of the neighborhood.



DuBois left Four Mile/Hibernian when he graduated from high school in 1980. He went to college, did an eight-year stint in the Army, and then spent two years traveling around the United States.



When he came home, the deteriorating condition of his neighborhood upset him, and he found that his neighbors also had concerns. They told DuBois they were getting too old to carry their trash out to the street for pickup

sometimes having to walk several blocks; and that their mail boxes, which lined busy Meeting Street, were no longer secure. People often tampered with their mail.



A group of neighbors began to meet regularly to discuss common issues, and by 1992 had formed the Four Mile/Hibernian Community Association, electing DuBois president.



The group's first projects were to seek curbside trash pickup and home mail delivery. When they succeeded, the neighborhood then worked to get debris

including junked cars, trucks and barrels

cleaned from medians and roadside properties. Now cleared, several tracts are being offered for sale.



"We're all trying to learn our rights as citizens

such rights as having clean air and a safe environment," DuBois said. "We have to gain knowledge so we can protect ourselves and our neighborhoods."



DuBois has taken leadership training sessions sponsored by the Neighborhoods Energized to Win (NEW) Fund of the Community Foundation, a staffed program that provides training, technical help and small grants to low- and moderate-income neighborhood groups in the tri-county. He has attended conferences that address environmental issues, and shares what he's learned with the residents of Four/Mile Hibernian and other nearby neighborhoods.



Last summer, DuBois' outreach led him to invite an EPA official to visit Bayside Manor to see a black ooze that was bubbling up near the low-income apartments. The sticky substance residents had been tracking in on their shoes since the apartments opened in 1971 turned out to be ship fuel from tanks stored on the site around the turn of the century. EPA attention spurred property owners to act, and this winter the ooze was cleaned up.



Buoyed by his successes, DuBois has entered the race for the House of Representatives. He faces two other Democratic candidates in the June 11 primary. Held by retiring legislator Lucille Whipper (D-Mt. Pleasant), the seat has been redrawn to encompass less East Cooper neighborhoods and more low-income Neck area neighborhoods in North Charleston and Charleston.



"It's time to get the people's views on the table," DuBois said. "I feel I can do that."



His platform focuses on environmental justice issues, education and job training, and increased access to health care. He said lower-income communities have repeatedly shouldered the burden of unsafe facilities which locate in or near their communities.



"There's going to have to be environmental cleanups, and those jobs will be high paying," DuBois said. "I would like to see the residents of the neighborhoods that have been affected to have the first chance at getting those jobs so they can at least reap some benefit from the environmental damage they have sustained."



Mel Goodwin, executive director of the Harmony Project, first met DuBois at a 1994 workshop on environmental issues. DuBois invited him to visit Four Mile/Hibernian.



Goodwin, whose organization is dedicated to promoting sustainable development in greater Charleston, said he and DuBois worked together to get soil samples taken and analyzed, and found elevated levels of chromium and lead in several sites.



"One of the things that I respect most about Delbert is that he doesn't accept that the complexity of an issue is an excuse for not talking about it," Goodwin said.



"He demands that people who claim to understand an issue be able to share that knowledge in a way that residents in the neighborhoods can understand."



"That's the kind of person Delbert is," said Bernie Mazyck, director of the NEW Fund. "He's never been shy about contacting resources who are recommended to him. What's interesting about Delbert is that he's a talented young man who could be doing a lot of other things with his time if he wasn't working on neighborhood development, but that's his choice. Instead of living somewhere else, he decided to come back home and try to improve the neighborhood he grew up in."



Sandy Quick, communications director for the Community Foundation, lives in Charleston.


---
Within two miles of the house Delbert DuBois shares with his mother and sister lie 68 industrial sites. Between the chimneys, trucks and containers are houses, remnants of a larger neighborhood that was cut up to make way for railroad tracks, I-26, storage tanks and factories.
---