Trouble in Paradise
Workers demand decent pay on Hilton Head.
COMPILED FROM STAFF REPORTS

---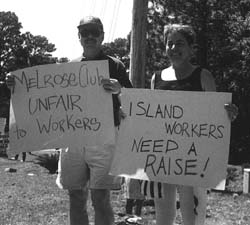 Every April, thousands of golfers and vacationers flock to Hilton Head Island to enjoy an early summer and the MCI Heritage Golf classic. They roam the manicured greens, sail yachts, eat, drink and spend some serious money. A local paper boasted that during last year's Heritage weekend, visitors spent $22 million.


This year, while the business community prayed for sunny weather and planned eagerly for a bigger payout than last year, another sentiment was also gaining momentum. Island workers

the folks who clean the toilets, wash the dishes, make the beds, and tend the greens at the island's resort "plantations"

have grown sick and tired of plantation life. This April they made thousands of wealthy white tourists a little uncomfortable.


The antebellum theme of Hilton Head's beach resorts and the tightly controlled labor force that maintains them make unlikely ingredients for a workers' rights movement. But out of racial and economic division and a long list of daily oppressions, the island's workers are telling a success story. To understand, we have to take a step back in time.


In 1865, Gen. William T. Sherman issued an order setting aside 400,000 acres of the sea islands south of Charleston to rent and later sell to black families and loyal refugees. By that June, 40,000 black families had settled on South Carolina's and Georgia's coastal regions.


Over the last few decades, wealthy white entrepreneurs have taken these lands back.


"Thirty years ago when they came in with the Hilton Head Inn, we built it with our hands

the golf courses and the rooms, we did it all," said Bill Feruguson, the lone native islander represented on Hilton Head's Town Council. "And we expected that we would move into positions of management and we would own the next resorts built on our lands. But after we did the work, they brought in foreign management teams and kept us in the lowest jobs. Then resort after resort was built and there was no opportunity for native Islanders to advance."


Wealthy retirees and vacationers have brought a higher cost of living, higher land prices and higher property taxes to Hilton Head. Where hope for a piece of the pie did not compel black families to sell their land, taxes did. Today, most of the island's majority African-American work force is bussed in from the rural counties surrounding Hilton Head, paying at least an hour's wages and spending up to five hours a day on getting to and from their jobs.


"You have to understand that for kids in high school in the outlying counties their dream in life is to come work at one of the resorts, wear a fancy uniform and earn $6 an hour," said one native islander. But the plantation metaphor used by many of the island's resorts is not lost on these workers. The bus drivers who bring 600 workers to the island daily recently characterized the Lowcountry Regional Transit Authority for whom they work a "slave farm."


Opposition to these circumstances also has roots that go back many years. In the late 1980s, Doris Grant, a fifth-generation resident of Hilton Head, led a group called the Underground Railroad, which used grassroots tactics to publicize the quasi-slave conditions in which blacks on Hilton Head were still living.


"My fight will never be over until we get a fair share," Grant said. "Please remember Hilton Head Island is a resort island where we should be making resort money, not slave wages. My grandmother always said, If they ain't tired, I'm tired for them.'"


A core group of leaders grew up around Grant's Underground Railroad, but found it hard to challenge the large hotels on the island. They got some publicity in 1990 when "60 Minutes" did a story about the conditions faced by island workers, including those on neighboring Daufuskie Island where resort plantations threatened to destroy cemeteries where black families had been buried for generations.


That same year, the Carolina Alliance for Fair Employment (CAFE), a Greenville-based workers rights group, was expanding statewide. Arthur Pinckney, a former shipyard worker at the Charleston Naval Yard and a native islander from Mt. Pleasant, was hired to work part-time for CAFE.


Pinckney heard about the stirrings on Hilton Head and went down to investigate. As he recalls, there was immediate excitement about CAFE. "There were overwhelming problems," he said, "and we were one of the first groups that seemed truly willing to listen to people's job problems and fight to improve their situation."


Grant liked the sound of CAFE, and thought it wouldn't be hard to get a chapter going. And by March of 1991, a new chapter of CAFE, centered on Hilton Head, was recognized and 25 members, led by Grant, began to meet.


The issues they faced were numerous. The resorts were called "plantations," which was offensive to many; there was no affordable housing; many roads weren't paved in black neighborhoods; and workers faced a range of illegal and abusive practices at the hands of employers.


Three years of meetings and public job rights workshops brought CAFE new members, a higher profile in the community, and even a meeting with President-elect Clinton's transition team. Despite these efforts, problems continued.


In 1994, an employee from the Melrose Resort on Daufuskie Island contacted CAFE because of job problems he and others were having. He became a CAFE member and expressed interest in unionizing. CAFE put the employee in touch with the International Union of Operating Engineers (IUOE).


IUOE organizers from Charlotte, N.C., held a series of meetings with Melrose employees, and a biracial group of over 30 employees formed an organizing committee.


Over the course of the three-month campaign, CAFE and the IUOE dev-eloped an innovative labor community alliance. Public interest and support were rallied through community events. CAFE members began printing a one-page newsletter written by local workers and highlighting the problems at the Melrose Resort and at other hotels on the island.


In the last days of the union drive, CAFE and IUOE brought national attention to the campaign by distributing a letter to Melrose employees from the Rev. Jesse Jackson. He wrote, "You are part of an important and historic struggle for justice and respect at Melrose Resort. You have an opportunity to build a strong union and to create a better life for yourself, your family and your community."


Many observers, including the law firm employed by the Melrose Resort to steer the employees away from unionization, believe this letter was crucial in solidifying the pro-union majority.


On Oct. 27, 1994, employees of the Melrose Resort made history, voting 98 to 45 to be represented by IUOE. Those workers became the first in the Hilton Head area to successfully organize for union representation.


A year and a half later, monthly contract negotiations still have not resulted in a contract agreement. But as the negotiations drag on, the community-labor alliance grows stronger.


Last spring, dozens of organizers from across the South came to Hilton Head to protest the contract delays at Melrose. They joined the Ministerial Alliance, the NAACP, and the local Democratic club, who had formed an unprecedented local coalition to support Melrose workers.


In February, CAFE members distributed 600 "wanted" fliers featuring Melrose's General Manager Pierre Renault, and set up a 12-foot inflatable rat named Mickey Melrose near the entrance to the plantation where Renault lives.


Meanwhile, the union filed dozens of unfair labor practice charges with the National Labor Relations Board. Most of the charges

firing union supporters, using illegal union-busting tactics and unfair bargaining

were confirmed by the board, which recently issued a bad-faith bargaining ruling against the Melrose Club.


The community-labor alliance that arose to support Melrose workers moved on to support other island workers:



Within weeks of the Melrose election, waste haulers at ECO Services in Beaufort asked for help in unionizing. The IUOE, with CAFE's support, began another organizing drive. Although the union fell a few votes short in the election, the National Labor Relations Board issued a rare bargaining order because of the numerous legal violations committed by Eco Services' management during the campaign. The bargaining order, once settled in court, would require ECO Services to negotiate a contract as if the union had won the election.



CAFE helped workers at Walmart on Hilton Head do a "concerted action"

a group complaint that is protected by federal law. Workers complained about discriminatory hiring practices and won their demands to have job openings posted in advance and have four African-Americans promoted into supervisory positions.



Employees at Ellen Ashley (a small clothes retailer on the Island) also did a concerted action that yielded the desired result

their manager resigned and the managerial position was offered to the leader of the concerted action.



Bus drivers for the Lowcountry Regional Transit Authority (LRTA) enlisted CAFE's help after organizing an impromptu "sick-out" last spring to protest stagnant wages, problems with their manager and safety violations.


LRTA bus drivers have been denied wage increases for more than three years, and remain at the bottom of the pay scale for transit drivers in South Carolina. Their fight for better working conditions became a focus of last month's week of actions.


Years of anger and organizing generated the steam to propel the week of actions during this year's MCI Heritage Golf Classic. Workers on Hilton Head were joined by members from the Food and Allied Service Trade of the AFL-CIO, the IUOE, CAFE, South Carolina United Action and from grassroots groups in several states.


"We wanted to push forward negotiations at Melrose, win a concrete victory for LRTA bus drivers, educate more workers about what their rights are, and let the tourists know that their plantation vacation comes at somebody else's expense," said Simon Greer of CAFE.


Protesters kicked off the week on April 16, passing out thousands of flyers in hotels, restaurants, shopping malls and at traffic intersections across Hilton Head. Some received the flyers with puzzled politeness while others snarled and said things like, 'Get a real job." Or, "If the workers don't like it, they can go get higher-paying jobs somewhere else."


On Wednesday before dawn, LRTA bus drivers and Melrose employees were greeted by supporters with donuts and flyers poking fun at the workers' bosses.


On Thursday morning, traffic coming onto the island was brought to a crawl by a motorcade of vehicles traveling at low speed. When the traffic did make it over the bridge, they were met by 15 protesters waving American flags standing next to the now-famous giant inflatable rat

Mickey Melrose.


On Thursday evening, members of AFL-CIO and IUOE rode on workers' buses to educate them about their job rights. These "union schools" brought new requests from island workers for help with organizers' efforts.


"Two years ago you couldn't find a union organizer down here, and this week we had six of them riding on the buses talking with people," said CAFE member Mary Heyward.


On Friday, LRTA bus drivers announced a major victory. Ten days before, the drivers and CAFE held a press conference to announce five demands, including a wage increase and the termination or resignation of Sam Smith, their manager. On the 10th day, after a flyer displaying an unflattering cartoon of Smith appeared on his desk, he took a permanent leave from his job, following on the heels of LRTA board chairperson Ron Voegeli, who resigned under pressure the day before.


"This is a historic day for the bus drivers," Greer said. "The drivers are heroes for all island workers. They have had the courage to stand up and they've proven that together we can win."


Attention was turned for the rest of the week on the contract fight at the Melrose Resort. As Eric Coney, an employee of the resort and a negotiating team member for the union, explained, "Management changed at Melrose once a year. We lost our sense of family at Melrose along with trust, benefits and wages. That's why we're fighting for this contract."


While past protests against Melrose took place on Hilton Head, on Friday during the largest check-in day of the week, boats of protesters went over to the resort itself. A protester from the Student Environmental Action Coalition in Chapel Hill, N.C., said, "We caught them completely off guard. We drove around the island in golf carts and slowed their shuttle buses down. We leafleted them as they came off the boat and chanted, Hey, hey, hey, how many slaves did you buy today?'"


On Saturday, at the main traffic circle on Hilton Head, 30 protesters carried signs saying "Take Your Plantation and Shove It," "Decent Pay for Decent Work" and "Honk If You're Greedy."


Meanwhile, at the Heritage golf tournament, a boat pulled in just off shore from the 18th hole, where thousands were gathered in respectful silence of the golfers. With a rented PA system, protesters blared social justice songs and recorded testimony from Melrose workers.


While the Coast Guard drove the boat away, protesters with passes inside the golf tournament distributed thousands of cards asking visitors to remember that after serving their food, cleaning their rooms, and hauling their bags, that the workers too had families to go home and take care of.


On the final day of actions, the wired-for-sound boat used the previous day went to Daufuskie Island and serenaded Melrose Resort members as they boarded a shuttle boat to go home. Stunned, the captive audience listened as the PA system broadcast Jimmy Cliff singing "Get up, stand up. Stand up for your rights." As if on cue, a group of African American Melrose employees came down the boardwalk with their fists raised high in the air.


Back at Sea Pines Plantation, where the golf tournament was concluding, three patrol boats stationed themselves to stop a repeat performance at the 18th hole. The expected boat never came. Instead, a plane appeared trailing a banner that read: "Melrose empoyees deserve a fair contract now." For two hours, the plane circled overhead, leaving an indelible memory for the thousands of golfers who had come to enjoy the island pleasures made available to those with hefty paychecks and stock portfolios.


After a week of little sleep and much fellowship, protesters gathered at a local church for a banquet and the chance to reflect on what they had achieved. Powerful men had resigned, workers took risks and stood up for themselves, and the blissful ease of plantation life was disrupted at every turn.


The strength the AFL-CIO and the IUOE brought to this year's protest made it a particularly successful effort. While the week of actions didn't achieve a total shut down, it was clear to workers, resort managers and tourists alike that things will never be the same on Hilton Head.


---
"My fight will never be over until we get a fair share. Please remember Hilton Head Island is a resort island where we should be making resort money, not slave wages."

Doris Grant
---