Spoleto
Behind the scenes
BY JOHN VERNELSON

---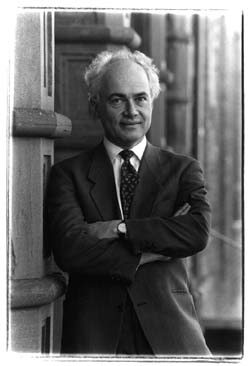 Nigel Redden

David shook his head at me and said he wasn't going to make any art about plantation life in the South for Spoleto," recalls Charleston contractor Albert Alston of a conversation he had with internationally acclaimed artist David Hammons at the corner of America and Reid Streets a few weeks before the May 24 opening of the 1991 Spoleto Festival U.S.A.



"What he wanted to do was build a miniature house on the corner with a Hugo tree lying across it, but I convinced him that was too negative," Alston said. "I told him we needed to do something more positive with this corner in East Side Neighborhood because it's on America Street, and the art should say something positive to the people who live here, not remind them of Hurricane Hugo."



The art the two men were to make on that corner went on to become what many critics termed "the strongest piece" among a 61-exhibition visual arts Spoleto project titled "Places with a Past: New Site-Specific Art in Charleston."



Hammons was commissioned to create a large-scale assemblage of objects gathered in Charleston that would explore the African-American experience.



Alston's idea was to build a 20-foot-long, door-wide, two-story single house that would incorporate various styles of Charlestonian architecture. The different styles, materials and construction methods would be labeled. Inside would be drawings and paintings of objects appropriate to the themes of the piece by local artist Larry Jackson.



On the corner opposite the miniature house would be a small park, the centerpiece of which would be a black nationalist flag flying atop a 50-foot-tall flagpole. A billboard to the left of the flagpole would depict the faces of black youth with eyes lifted toward the flag.



The back wall of the miniature house would be emblazoned with the words:



"The Afro-American has become heir to the myths that it is better to be poor than rich, lower class rather than middle or upper, easygoing rather than industrious, extravagant rather than thrifty, and athletic rather than academic."


Other works in the 1991 exhibition that mined the city landscape for its rich repository of meanings

historical, socioeconomic, and anecdotal

included: a marble bass-relief commemorating Denmark Vesey, who led an unsuccessful slave insurrection in Charleston in 1822; the evoking of "weeping willows" by topping four Corinthian columns in a city park with trees laden with brightly-colored African beads; and a representation of the lives of women in Charleston in an installation that included a lone dress that slowly leached the dark indigo dye of the region.



Of the 61 pieces, only one remains, the miniature single-house and park on America Street. Its existence is heavy with irony. "Places with a Past," the brainchild of Nigel Redden, general manager of the 1991 Spoleto Festival, was said by critics to be one of the most ambitious visual arts projects ever undertaken, yet it gave Spoleto founder Gian Carlo Menotti the excuse he wanted to force Redden out.



At the time, Menotti called the exhibition "silly and sophomoric," and said it was not fit for "a cheap discotheque." Menotti charged that Redden was the leader of a challenge to his role as festival artistic director, and told the Spoleto board he would resign unless Redden, festival board chair Ross A. Markwardt and festival president Edgar F. Daniels quit.



All three eventually bowed out, leaving Menotti in charge. But less than two years later, with Spoleto deep in debt, Menotti, in another fit of temper, walked out on the festival, citing challenges to his artistic vision as the reason.



Redden had been general manager of Spoleto for six years when Menotti forced him out. He had managed the festival with a combination of artistic vision and business acumen that kept it consistently in the black and artistically ahead of its time.



"Nigel had the right idea with Places with a Past.'" Alston said recently at the America Street corner. "Before that exhibition, Spoleto hadn't done much to involve the black community. All Menotti seemed to care about was the black-tie crowd, not black people who live in the city.



"Look at this corner," Alston said. "The people here were affected by the art in such a way that they keep this corner clean. You can come here late at night and you'll be safe. This corner used to be notorious

people just hung around waiting for trouble, and it came. When we first put those words on the back of the single house the people who hung around the corner didn't like it, but eventually they understood. Art and what it can mean to people when they feel they are part of it is symbolized by this house and park on America Street. In my opinion, Menotti missed the boat completely on what art is really all about."



The Alston/Hammons miniature single house made the cover of Art in America, and was featured in many other national and international art publications. Such publicity has drawn countless teachers, architects and artists to the site in the years since, Alston said, providing him the chance to travel "all over the world" to talk about historic renovation, preservation and how art can affect culture.



"When I talk about this corner to students and others who come, I mention the festival," he said, "but most people associated with the festival don't realize what this corner has meant to Spoleto since 1991. And they sure as hell don't realize what a difference it has made in East Side."



Alston is in the process of refurbishing the single-house for a summer program for East Side kids that has been in place since 1991. Participants learn about art, history, construction and their culture.



Alston will also re-erect the billboard depicting black kids looking at the black nationalist flag. The refurbishing coincides with Redden's return last October as general manager of Spoleto. As general manager, Redden is responsible for fund-raising, administration, marketing, union negotiations, artist contracts, board development and programming.



Just as Alston keeps the America Street corner alive with an art project made possible by Redden's idea, Redden is breathing new financial and artistic life into Spoleto.



Since his return, the festival has raised $1.6 million in special funds to erase $1.5 million in losses from the 1994 festival, cutting by more than half an accumulated debt of $3 million.



During the same period, the Charleston festival has reduced its outstanding bills to $80,312 from $1,130,980 and has moved ahead of schedule on fundraising for this year's event.



In addition to helping ensure the long-term financial health of the festival, Redden committed this year's festival to producing the American premiers of Janacek's "The Excursions of Mr. Broucek," Philip Glass' "Les Enfants Terribles" and the world premiere of Lee Breuer's "Peter and Wendy." These are among the 114 performances of 45 programs the festival will present from May 24 through June 9.



"It's easy to raise money if you have a good idea to sell," Redden said in a recent interview. "The art comes first, of course, but if you put something on stage that's wonderful, excites the audience and involves them in the dialogue with performers and the festival [board], it works artistically and economically

and that's the trick.



"I'm 45 now," said Redden, a Yale graduate with a B.A. in Art History. "I began at 18 with the festival in Italy. I've done everything there is to do at the festival except perform.



"To make it all work, you have to keep up with production details and the budget, line item by line item. But first and foremost you have to love art

and the festival. This is the job I always wanted, and I'm back."



---
Festival Manager Nigel Redden

ousted in 1991

is back in charge. It is sweet vindication.
---