Howard Finster
"A man of vision"
BY TIM BULLARD

---


The Rev. Howard Finster, born in 1916, claims that in 1976 he was visited by an angel who instructed him to make sacred art. His work, which has graced the album covers for the Talking Heads and R.E.M., hangs this month at the Peter Nein Gallery in Myrtle Beach.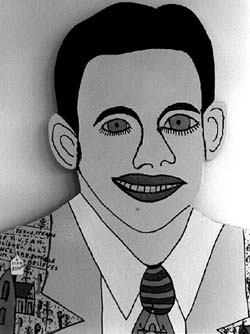 Once in a blue moon the Lord shines Her creative light through artists, and on June 30, during the second full moon of the month, Howard Finster's aura brightened the neon skyline of Myrtle Beach.

"The Second Noah: A Man Of Vision" is the name of the art exhibition for the man who has had more visions than Tim Leary, a show which is running this month at the new Peter Nein Gallery in Myrtle Beach.

One piece is $8,000. There's a painted paint can, a painted soda can and a few dozen other examples of American folk art. This is Andy Warhol in overalls

Elmer Gantry as Mr. Bainter the Painter.



Nein, 31, has pulled off a miracle, and he credits God. "We've been working around the clock," the gallery owner said. "I've been doing art work here now for 12 years. My work I feel like is 100 percent to the glory of God."

"I never seen a person I didn't love."

"I have visions about very sophisticated things," says the artist, his thick barbershop accent spewing an apocalyptic philosophy.

At the opening on June 29, he is sitting in a wooden chair, wearing gold-rimmed glasses, a striped dark blue jacket, khakis that are stained with white paint on the left pants leg, white athletic socks, black shoes and a starched white dress shirt.

Neophyte visitors will soon include Police Chief Sam Killman and his wife, a Columbia accountant and a lady with a Talking Heads album cover.

"I'm sort of wrapped up in that Olympic thing," he says. "I've done two or three Olympic pieces. The Coca-Cola Company and some of the members of that thing are trying to get my work in there."

The Coca-Cola Company has commissioned him to paint an eight-foot Olympic Coke bottle to represent the U.S. art exhibits. The first time he heard from them he was scared they were going to sue him.

This year the Howard Finster Festival in his home of Summerville, Ga., was held in the school yard for the artist, a diabetic who preaches against cocaine. "I've got elevated blood sugar, and I'm deteriorating. My poor old wife, she's breaking at the same time I am. I'll be 80 years old, and I'm trying to reach all the people I can."

"I've been on TV more than any other little feller in this country."

Nein, a Christian, visited Finster in Summerville, and convinced him to visit Myrtle Beach.

"I couldn't hardly believe it," Finster says. "I've heard about Myrtle Beach all my life. They gave me one of the finest hotels I've ever stayed in. I'm right on the beach over here looking over a water-cooled roof and a 200-foot swimming pool right under my back porch, and I'm sitting there all day long seeing them kids and their mothers playing in the water. Right down in the basement there's a bunch of other swimming pools like a museum.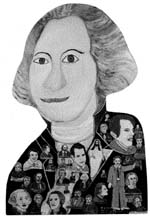 "But the people here at art shows in this town, they don't understand about preaching in a show. They're used to being in churches, so I kind of try to have services wherever I have a show."

Johnny Carson is on the muted color television set in the corner.

Michael Stipe was at a recent birthday party for Finster's, and Finster said Stipe looked "sick."

The Lord is on his mind today.

"I've got a kind of a mansion I live in. It's a big house. It was once a rich person's house, and finally I came along, a poor man, and got it."

"We fought and have spilled boxcar loads of blood for all of the churches to exist and to be free. I think it's wrong to condemn any church. That's what you call freedom. I seen that Russian ruler up on the stand wiggling all over and trying to be rock and roll. He's trying to get his people on democracy. It tickled me when I saw him doing that. He's really interested in those people having democracy and freedom."

Holding a goat piece of artwork, he said, "This goat here, he can be used in a lot of different subjects. He can be used as a scapegoat. You know, goats are mean. They butt you. I got butted by one. My sister got butted by one. Sheep are humble. They represent Christians."

The last appearance Finster made was about a year ago in Oxford, Miss. at the International Conference on Elvis Presley.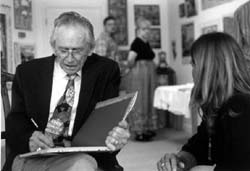 Finster holds court at the opening of his show.

"In the first church I pastored I began to learn that there are three worlds for me to work in. One is a teen-ager's world, and one is a child's world, and one is the old people. I have a right smart time working with old people. They don't seem to want to do things in the church like they ought to. The young people are a little difficult, too. The kids are really my favorites."

Finster hopes his Summerville Paradise Garden (which includes, among other things, a 20-foot rusty bicycle tower, a Keith Haring monument and his neighbor's tonsils in a glass jar) will be restored.

"While I was building it, people called me a kind of junk man. A lot of people come to my garden." R.E.M.'s first video was shot there.

"Elvis appeared to me in my garden several years ago after he died. He walked up behind me, and I looked around and seen him and said a very short word to him, and he said a very short word to me." Call the garden at 1-800-FINSTER, and see what you hear.

"There will be no bathrooms in hell. There will be no cold Coke-Colas in hell. You fall and fall and just keep falling."

His first vision was at the age of three in Alabama when he saw his sister, Abby, coming down from the clouds with steps. There were 13 children in his family, and at 16 he started preaching.

There were tent revivals, and he pastored several churches. He and his wife, Pauline, raised five children.

"Human blood and animal blood don't agree, don't mix."

Popcorn's popping Sunday night, and Coca-Cola's effervescent foam is tickling noses at Nein's hot warehouse studio as Howard's daughter, Beverly, her husband and their son and daughter hop out of a van, fresh from a visit to Howard's Cattle Co. steakhouse. A Baptist preacher leads a stand-up, sit-down song. Check your Dadaist karma at the door. Mayor Bob Grissom has another venue at which he's soon due, so he's up first, and there's not many events he doesn't crack a joke, even at a blue moon prayer meeting.

"I'm the only member of the Presbyterian Church that's paid not to sing in the choir," Grissom said. "They don't even want me to make a joyful noise. It's a pleasure to here with you and to know that the cultural arts community and our community has progressed to the point where a religious motif is very strong. Myrtle Beach has come a long way in the last few years, and we've got a long way to go. The Lord has blessed us very, very much, and I think he will continue to."

The Broadway section of downtown has turned into an artist's mecca with the Broadway Gallery and others springing up fast with the works of such talented painters as David Bellucci with his peculiar Gigeresque hallucinations. The key to the city has been given to Dolly Parton, Kenny Rogers and other luminaries.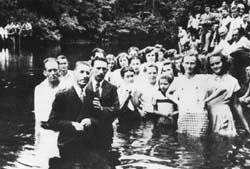 The Rev. Howard Finster (in dark suit fourth from left) baptizes the faithful at Mentone, Ala., in the early 1940s.

"This key, Brother Finster, does not unlock anything except the love in our hearts and our respect for you and what you have done for your fellow man." Nein hugs both men, telling the group, "It's just a blessing to see what's going on here. I just feel like it's our prayers being answered. I just want to encourage everybody in the room to pray for Bob Grissom."

"They're pushing God back in a corner, my friends. They're going to push him a little too far one day. You'd better be ready to meet God because he's going to destroy this world just as certain as I'm sitting in this chair."

There's some guitar music for the kids in the audience from Ocean Drive Presbyterian and a lengthy sermon by a speaker named Jack Frost of Conway who gave up drugs for the Lord. "I appreciate the mayor," Finster said.

"He gave me this key. That's exactly what my mayor done down at the house. I don't know of anyone else in the world who has given me a key. I don't know what that key will unlock. I know it's done unlocked my heart, and I thank the mayor for the key because surely it unlocks something.

"Everything is so beautiful here. Ya'll have a lot to be proud of. "You don't have to be called to do art. If you want to be an artist, you can be one. What you're going to do in this life is going to be you. You don't wait around to see if you're gifted to do art. If you love art and want to do art, get started on it."

A film by Jay Brown, presented by The American Museum of Folk Art, "The Sacred Vision of Howard Finster," is shown. "I have visions that I cannot describe. I have visions that I can't paint, and I see things that I don't think anybody can paint, but I try to do an image of it the best that I can," Finster says in the film. "I definitely had a call from God to preach the gospel."

He and his brother were hauling wood with mules on a wagon, and his brother got him laughing."I was about 13 years old. All at once I felt God call me to preach there," he said. "I just said, God, I can't do that. I can't preach.' And he didn't turn me aloose." His parents thought he was "mental."

In 1976 he was working on a bike and got paint on his finger, and a face in the paint spoke to him like he was Charlton Heston. "Not in sound. It spoke to me conscientiously. Paint sacred art. I looked at that thing, and it was looking at me, telling me to paint sacred art, and I said, not me. I've seen professionals do it."

Finster gives a slide show of his early work.

"Another things that's coming is the killing bees. They're heading toward the United States right now. When it stings you, it kills you, and that's the pestilence."

By now, the teens have stuck their tennis shoe heels up on the church pews of the studio, as Finster lectures them, fishing for souls.

"All you've got to do is believe in Jesus Christ. He's been by my side. I've got 15 grandchildren. I've about run my race. I've had alters full. You're the only one who's going to know it if you get saved. How many of you know When The Roll Is Called?'"

Finster sings the gospel song, eyes closed, the bird on his shoulder. Nein's exotic pet pecks at Finster's ear as he strokes it, chirping to it like there were 24 hours in a minute.

"We need two or three Billy Grahams in the world right now."

Tim Bullard is a journalist living in Conway.