That's the Power of Love
BY RODNEY WELCH

---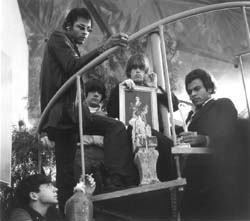 Love is: Al Pfisterer, Arthur Lee, ken Forssi, Bryan MacLean and John Echols.

Several times a year, I have this dream where I suddenly discover a recording

a tape, record or CD

I forgot I owned. I immediately recognize it as a rarity, a gem of deep personal significance; something I heard a long time ago, loved, and inexplicably forgot, and which has been lurking around in my sub-sub-subconscious ever since. It's an indispensable record, and I swear I'll never lose it again.

Of course, I do. By the time I wake up, I've mislaid it, or eaten it, or Rush Limbaugh has come over in a gingham dress and threatened to beat me senseless with a rolling pin unless I handed it over. So there I am, lying in bed, trying to recall the cover or the title or something. Maybe it is best I don't remember; maybe in the cold light of day the elusive mystery record is a piece of crap.

Since getting a turntable a few months ago, and having a chance to dive into those boxes of vinyl that have been staring at me ruefully ever since the CD player moved in, my search for the dream disc has intensified. And if Love's Forever Changes isn't it, it is as close a facsimile as I could hope for. It is a 1968 relic whose combination of lush strings and passionate hippie nonsense love-bombs me like a cadre of nubile candy stripers on Spanish fly every time I hear it. It is as haunting today as it was 10 years ago, before the belt-drive of my old record player snapped.

Chances are you've never heard this all-but-forgotten classic. I've never met anyone who has, although band and record aren't unknown among the tastemakers. In 1978, an international poll of rock critics and radio stations gave Forever Changes a most respectable rank of 16 among the Top 20 Rock Albums of All Time, two notches above the White Album. It has influenced bands like Echo and the Bunnymen and The Teardrop Explodes, and I detect hints of Love

warped lyrics amid well-crafted pop arrangements

in Lotion's two discs as well.
Personally, I'm not sure this work is great in the usual sense; it lacks the adventurousness of Blonde on Blonde or Exile on Main Street or London Calling or 1969 (the Velvet Underground's live set), and it certainly isn't as timeless as they are. But part of its charm is that it is so gloriously dated, so very redolent of the Summer of Love in which it was spawned. It has a flower-power sensibility that is absolutely genuine and impossible to reproduce today. That's why, if I were banished to the moon tomorrow and could take only one disc, this would be it. It's great for driving to work, and it would be even better for bouncing to work in reduced gravity.
The song titles

"The People Would Be the Times or Between Clark and Hillman," "The Good Humor Man He Sees Everything Like This"

sound like surrealist paintings. Lyrics wander breezily between the sweet, the sappy, the silly and the doggedly obscure. The music, similarly, plays like the score of a Douglas Sirk soap opera set in 9th Century India, and it has a sudden, spine-tingling spontaneity: like the trumpet solo on the first cut that seems to have wandered in from Miles Davis' Sketches of Spain.
Before I go further, a proper introduction is in order. What information exists about the band

or at least what I could plunder from the shelves of the Richland County Library, and my own few resources

is scant. Assorted rock music histories, in which Love usually merits a slight but respectful mention, provide the following.
Love is the brainchild of Arthur Lee of Los Angeles, a most talented musician/arranger. The band was born in 1964 or 1965, and signed with Elektra not long after. Their self-titled first album yielded a minor hit in 1966. A second album, Da Capo, came out the next year; according to the generally useful Rolling Stone Encyclopedia of Rock and Roll, it "featured some topically druggy lyrics, jazz touches and a few personnel changes," thereby establishing a pattern.
Although they never had the following of L.A. peers like the Byrds

one of Lee's early influences

or the Mamas and the Papas and Buffalo Springfield, Love set something of a local standard for success. They were the reason at least one other struggling band signed with Elektra.
"We felt that if Elektra could make us as big as Love, that'd be fine," said Doors drummer John Densmore. (No point in belaboring the irony of that one.)
For reasons I don't know, the band was plagued with personnel problems; they reportedly made nearly a dozen albums over the course of a decade or so, with Lee as the only creative constant. This, coupled with the fact that they rarely toured outside of L.A., may explain their overall lack of renown beyond the West Coast.
The core founding group was on hand for Forever Changes, Love's third album, made in a relatively stable period for the band. Lee is the unquestioned visionary at the center, serving as writer, singer, arranger and guitarist. The closest he has to a collaborator (technically and philosophically) is Bryan MacLean, who wrote, sang and co-arranged two of the 11 cuts. Veterans John Echols, Ken Forssi and Michael Stuart round out the group on guitar, bass and drums. The album leaves uncredited an extraordinary array of strings, horns and (if my ear is to be trusted) sitar.
While I don't particularly like speculating on the external circumstances surrounding a work of art

the work is what matters, after all

this one seems inseparable from the acid fog in which it was no doubt created. Most memorable lyrics: "Oh the snot has caked against my pants/It has turned into crystal/There's a bluebird sitting on a branch/I guess I'll take my pistol."
Or try this masterpiece: "And the waters turn to blood/And if you don't think so/Go turn on your tub/And if it's mixed with mud/You see it turn to gray/Then you can call my name/I hear you calling my name "
Yet the record adds up to more than the sum of its drug-addled parts. No matter how obtuse the words get

and despite Lee's moping, woe-is-me vocals

the record sustains a swoony effect on the listener, even when you're not sure what all the hazy emoting is about.
Repeated listenings do, I think, open up Lee's world just a bit. The gorgeous opening cut, "Alone Again Or," establishes a recurring theme

a deep sense of loneliness that contrasts a blissed-out love for humanity. The solipsistic "A House is Not a Motel" compares one's own interior life with a house that can't be occupied by more than one. "Andmoreagain" is a haunting paean to some mystical Guinevere, and seems to suggest the merging of two souls.
Glimpse past the smoke rings of Lee's mind, and you might just see Roy Orbison in a Nehru jacket and love beads

that or the minstrel in As You Like It, wandering the Forest of Arden playing "Under the Greenwood Tree" on his mandolin. (Lee would probably have been happy to have lived in an age when you could do that without getting your ass seriously beaten.) Although he often accepts break-ups and near misses with a pothead's easygoing aplomb, Lee is basically a lovesick romantic. You find yourself sympathizing with this poor loner, imprisoned in a regimented world, sloshing through tides of heartbreak for the love that will last.
In the closing number, "You Set the Scene," he seems to have resolved these matters with a certain happy finality. The song is replete with the usual lame metaphors and aimless imagery, and at times it doesn't make any more sense than the ones that precede it; I think it's a farewell song that shifts gears into carpe diem ecstasy. It expresses wild joy over the fact that life does grant second chances; a flourish of trumpets suggests the dawn of a new day

or, to me, the mythical figures from Botticelli's La Primavera, prancing on the shore of a beach, beckoning you hither from your boat in an ocean on fire. Don't ask me to explain why.
From the vantage point of Cloud Nine, Love leaves you with the knowledge that the world is yours to re-invent. Not much, perhaps, but exactly what I want to be thinking as I gently roll my battered Toyota into the parking lot of the building where I work.




Forever Changes is available on CD from Elektra. It is also included in its entirety on Love Story, a two-disc anthology from Rhino Records.

Rodney Welch frequently reviews books and movies for POINT. He lives in Elgin.
---
If I were banished to the moon tomorrow and could only take one disc, this would be it. It's great for driving to work, and it would be even better for bouncing to work in reduced gravity.
---