You can help map the future of Sumter National Forest
---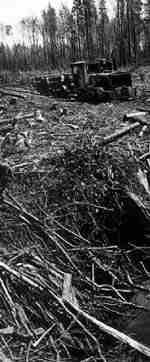 "Most of us have fished in the Sumter National Forest all our lives. We have seen changes, both good and bad. Now we have an opportunity to influence the future of the forest. We must speak up about water quality issues affecting the fisheries." says Chris Kempton of Clemson.

Only once every 15 years does the public get to provide input into the revision of management plans for our national forests. Now, during a 120-day comment period, the Sumter National Forest is inviting anyone to comment on issues that will impact their forest, such as recreation areas logging and wildlife habitat issues.

"Many people are shocked by what they see happening within the forests, such as logging, and don't realize that for this short period of time they can speak out," says Kathy McDeed of South Carolina Forest Watch, a local citizens' group based in Westminster. SC Forest Watch is one of 15 local citizens' groups and a member of the Southern Appalachian Forest Coalition leading the effort in South Carolina to get their communities involved in generating comments during the forest plan revision process.

This round of the forest plan revision process is different from the one in the 1980s. This time, the U.S. Forest Service is seeking much greater participation from the public at the beginning of the process.

Tom Hatley, director of the Southern Appalachian Forest Coalition, says "We hope this will lead to a citizens' forest planning effort that will parallel the official process and make certain the public's perspective is communicated to the Forest Service at the right time and the right place."

Forest Watch will hold many events and meetings throughout the comment period. Interested citizens can call the Forest Watch office at 864-647-8804 for meeting dates to discuss the plan revision process for the Sumter National Forest and get their concerns on the record during the 120-day comment period.

The Sumter National Forest is one of five National forests in the southern Appalachian region that are beginning their forest plan revision process.

For information, call the Southern Appalachian Forest Coalition at 1-888-8FOREST (or 836-7378).