<!heading here-> Aware 4
REVIEWED BY JILL CARROLL

---

If you're comatose from all the goo on the radio, catatonic from all the annoying bam-bam-bam, neon, super smooth, cooperate affectations on MTV, I can recommend some ear medicine for you.

AWARE Records, a label specializing in the country's local, unsigned bands, has released its fourth compilation disc.

Unfamiliar with discs 1, 2, 3, you say?

Let me introduce you to a few of the bands AWARE threw into the arena.

There's one from Columbia that signed with Atlantic you may have heard of, Hootie and the Blowfish.

Other groups sent screaming to the big labels include Better Than Ezra, Jackopierce, The Verve Pipe and Gibb Droll.

Now, AWARE has rounded up another group of sweet young innocents.

Athenaeum, from Greensboro, N.C., ranks high with both of those modifiers, offering us a rare opportunity to witness the solidification of a band whose senior member is a budding 22. Singer Mark Kano's Evan Dando-esque voice may belie his age, but the lyrics he intones ooze of youth — candid and disarming.

How else could you absorb "Just Like You," which professes such endearing insecurities as "I want to see the world through your eyes, and know exactly what it's like to be with meWhen my life is so uncertain and I don't know what to do, I'll just be you," and still come away thinking "oh, how sweet?"

Backed with Alex McKinney's bass, Nic Brown's drums, and Grey Brewster's guitar, "Just Like You" offers well-blended, easy-going rhythms that are sure to remain lodged in your brain for days.

From the not-so-ancient Athens, Ga., hails The Nathan Sheppard Band. Their contribution to the disc, "Something Else," balances the tickle of Sheppard's acoustic guitar and the boulder-rolling drums of Mike Rizzi.

Mixing in Matt White's gentle guitar and Tom McNeill's bass creates a song that mounts with anxious questions, "Is there something else you really meant to say?The clock ticks faster," and recedes with an effacing conclusion, "You talk about the future, you sound as if you know...but no one really knows."

But ultimately, "Something Else" creates a Widespread Panic atmosphere where you want to shake your locks and shuffle your feet.

After they tearfully admitted to the dearth of "polka culture" in America, and after throttling all aspirations of becoming a mime troupe, (although I hear they still have a fetish for the leotards — this is true, I swear) four Gulf Coast Floridians banded together to make music as Mighty Joe Plum.

Chosen from Aardvark, their own compact disc, "Fifteen Stories" is a collision of classic rock and alternative (does this word still carry meaning?) rock. The backbone of the song is the winding echo of Marlin Clark's guitar, which guides Brett Williams' vocals.

Williams' washboard voice is testimony to booze and bar smoke with a ghostly hint of Mother Love Bone's Andrew Wood. Verses coiled with his grit: "What if I fell 15 stories? What if my weight wasn't enough to kill me?Maybe I can live through this," are fleshed out by the punches of Mark Mercado's drums and Davy Mason's bass.

Mighty Joe Plum's well-sanded "Fifteen Stories" is a "kinder-gentler" descendant of late 80s hard rock, leaving behind cheese-overkill for unadulterated simpliity.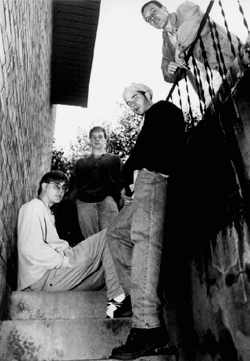 Once Hush

Once Hush formed their quartet as students at WVU in Morgantown. Phish-like clarity and sharp edges distinguish their "Heading South" from the other songs on the disc.

The parley between Loren Duffey's drums and Alan Kozlay's keyboards highlight Greg Riordan's lucid vocals.

Eric Lewis's bass offers foundation for a song the lyrics of which address the transience of a touring band: "Bumbling and stuttering, keeping balance and juggling, throwing dice and chasing stars... Not knowing where we are... Spending time on 70, at 25 where will I be... not knowing where I'll be."

Settling on the certainty of uncertainty, the song closes with Riordan belting over the rise of his bandmates' instruments that "everything's alright with me not knowing who I'll be, not knowing where we are."

Even though the veneer of studio polish is evident in the texture of "Heading South," it still manages to express the doubly precarious nature of being young and in a band with sincerity.

Although I have only mentioned bands close to South Carolina — purely out of geographic loyalty — AWARE 4 serves up first-rate songs by bands from other locales. A few more that tugged at my ears were Slackjaw (Charlottesville, Va.), The Winebottles (Philadelphia), Fighting Gravity (Richmond, Va.) and Farmer (Los Angeles).

Totalling 19 songs and 15 bands, the disc is a thrifty buy. So, enjoy these national newcomers while they are still doing the bar scene and before the multi-pierced teeny-boppers catch wind and blow Bubblicious into your hair on the crowded dance floor.