Just What The Doctor Ordered
Volunteers in Medicine
BY SHIN YUN

---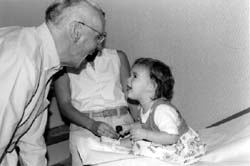 Dr. Jack MCConnell is the brains and heart behind the Volunteers in Medicine Clinic on Hilton Head Island, which provides free health care services to people who otherwise would not get them.

Where do sick people go if they aren't insured or don't have any money? Many of them don't go anywhere. But if they live on Hilton Head Island, they can go to the Volunteers in Medicine Clinic (VIM).

Retired physicians and nurses provide free medical services at the clinic to people who live or work on Hilton Head Island, as long as they fall below 200 percent of the poverty level and lack health insurance. The clinic also serves adults on Medicaid.

VIM is supported by the work of retirees -- 50 physicians, 65 nurses, 13 dentists -- as well as 150 lay volunteers and four paid staff. Practicing physicians donate time, medical supplies and equipment. Pharmaceutical companies donate medicine. VIM also receives monetary donations and grants.

"The clinic just seemed like a decent thing to do and I wasn't otherwise busy so I just did it," said Jack McConnell, VIM's founder.

McConnell, a 71-year-old retired physician and researcher, moved to Hilton Head in 1989 with his wife to play golf and to get involved in what he called "good things."

But when he saw the poverty on the island, he couldn't enjoy his retirement the way he'd planned.

By picking up hitchhikers McConnell was able to meet people in the community whom he wouldn't have run into on the greens. He found out many of these people weren't getting any medical care.

McConnell's experiences with the hitchhikers prompted him to thoroughly research the area. He discovered 8,500 people, not including senior citizens, who were receiving no medical care.

McConnell convinced 16 of his colleagues to help the community. They began by giving free immunization shots in a building donated by the town hospital.

But the poor people in the community needed more than immunization shots, and McConnell wanted to do more to help them.

That's when he got the idea for VIM. The clinic not only offers immunization shots, but routine medical exams, and dental care.

Elizabeth Taylor, 65, was one of the clinic's first patients when it opened three years ago. VIM treated Taylor for high blood pressure. She and her husband are retired and live on a fixed income.

"I used to have to pay $42 for five minutes to see a doctor in Beaufort, so many times when I got sick I didn't go," Taylor said.

But at VIM, Taylor said the staff treated her well, and took their time with her.

"It's the most blessed thing on Hilton Head," Taylor said.

VIM may provide necessary health care to those who otherwise would not get it, but McConnell doesn't believe the patients are the only people to benefit from the clinic.

"If you work and give your services away free of charge, you'll live a long life," McConnell said.

But founding a health clinic was not easy work. McConnell learned about the policies and procedures involved in opening the volunteer-based clinic from Cathcart Smith, who is also a retired doctor.

A native of South Carolina, Smith chose to retire in his home state, but found that retirement left him with too much free time. In 1986 Smith founded Baskerville Medical Clinic on Pawley's Island. It's run by 20 retired doctors and nurses, and provides free services.

"It wasn't hard to convince doctors and nurses to help with the clinic," Smith said. "It's an opportunity to keep our brains alive."

Still, McConnell wanted to make it easier for the doctors and nurses at VIM to volunteer. One problem McConnell faced was the SPEX exam, a standardized test doctors are required to pass before getting an unrestricted medical license. "The retired doctors wanted to practice, but they didn't want to pay $1000 to take an eight-hour test and [then] put their life savings at a threat in order to practice," McConnell said.

"I got a Special Volunteer License passed by the South Carolina General Assembly that allows anyone who had a license to practice and who never had any problems to waive all fees and the test. And the Joint Underwriters Association offered us malpractice insurance with an unlimited 21-year extended coverage," McConnell said.

In 1994 the Volunteers in Medicine Clinic opened its 7,000-square-foot building at 15 Northridge Dr. on Hilton Head Island.

Although VIM is a special place to McConnell, he would like to see the idea behind the clinic to become commonplace.

"I want every child to have health care in this state," McConnell said. "We've shown them we can do it. The resources exist in every town and state."

The idea is catching on elsewhere. McConnell said interested people have contacted him about VIM, and he estimates that some eight to 10 clinics will be opening soon around the country.

"I didn't really know what retirement would be like," McConnell said. "I never thought it would be this. It's an enormous challenge and opportunity."

Shin Yun is a journalism student at the University of South Carolina in Columbia.