"Somebody has got to be on the front lines."
---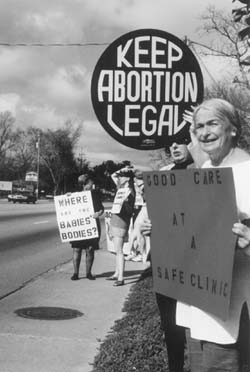 Abortion activists from both sides stake out turf on the sidewalk in front of the women's clinic.

Each Saturday at 6:45 a.m. a few people gather together for a cup of coffee at the Charleston Women's Medical Clinic. But they do not come just to be sociable; they come to escort patients past the anti-abortion protesters who picket the clinic.

"It's rewarding work," said escort Shelley O'Neill. "I help make the patients feel comfortable and secure so they can focus on personal issues and not what some stranger said to them."

For Ron Kaz, being an escort is a much simpler job. "All I have to do is get up early in the morning, peddle my bike over, and take the abuse," Kaz said.

Sometimes the abuse is verbal, and sometimes it takes the form of intimidation.

"These guys come out here and take license plate numbers," said escort Kathy Gaspar. "Then they can go to the DMV and find out the names and addresses. Sometimes they call those people's neighbors, or send out mailings that say Your neighbor is a baby killer.'"

Gaspar coordinates escort volunteers as a member of 52%, a women's political action group. It's the only organized effort to recruit escorts.

"There needs to be support for people who come to the clinic," Gaspar said. "Obviously, there is a lot of harassment aimed at them."

Escort Barbara Joslin said the harassment is aimed at all patients, not just women receiving abortions. "Someone can come in to get a blood test and they are yelling, You murderer!'" she said.

At times like that, Mike Maguire's job is clear to him. "I try to get [the patient's] attention off the protesters," he said. "A lot of them are kind of wary. They don't know what's going on."

Kaz believes the protesters won't go any further than verbal abuse. "In the past few years there have been a few people to be really concerned about, but the rest are comparatively harmless," he said.

O'Neill tries not to think about any possible danger. "I have to stand up for what I believe in," she said. "Somebody has got to be brave. Somebody has got to be on the front lines."