MeowMeowMeow
STORY AND PHOTOS BY JILL CARROLL

---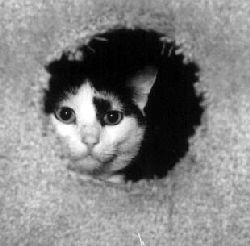 Walk into Deni Huffman's house and it seems the rooms are moving. Your vision is filled with motion: furry, feline motion.

Cats snooze, bathe and paw at each other on carpeted shelves. They sprint up and down the staircase, lounge in large groups in the sunshine. They are up high, on top of cabinets and the refrig-erator, and down low, dashing out from under chairs, peeping through holes in cardboard boxes.

And these cats are not shy. They twine through visitors' legs, stretch up on thighs, and meow as if they have important news to share.

From her home in Mt. Pleasant, Huffman runs Feline Refuge, a nonprofit organization dedicated to controlling the stray cat population.

Huffman began saving strays 14 years ago when she noticed two cats in the woods behind her townhouse. She fed them at the edge of the woods, eventually moving the food to her porch.

"I only had two cats at the time," Huffman said. "I was a normal person."

One of the cats was pregnant, and Huffman brought her into the vacant townhouse next door to have her kittens in the kitchen.

Little Girl had five kittens, and Huffman was able to find homes for all but one, Alfie. Alfie and his sister, Little Girl II, and father, Little Boy, still live with Huffman.

So do more than a hundred other cats.

There's Oscar, a black and white long-hair found in Summerville who was hit by a car. Cloud Nine, who was found at four months crying in a parking lot. There's Sir Lancelot, who has been with Huffman for a year and is just now letting her pick him up. And J.J., rescued from Animal Control after he was captured and pegged as wild. Huffman had been feeding him behind her office building for five years.

"Once I started seeing all the strays on the streets, I started having more compassion for the animals," Huffman said. "They are treated so bad. "

But not all of the cats Huffman cares for were strays. A lot of them come from homes where they were no longer wanted.

"I get three to four calls a day from people looking to find homes for their pets," Huffman said. "I also get calls from people who know of a cat who was left behind by its family."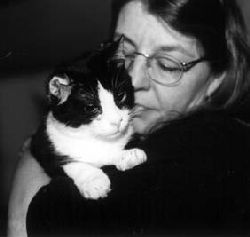 Deni Huffman has a big heart and more than 100 cats.

Many times these cats have been neglected. Boo, for example, is a tricolored female whose ears and nose are damaged because her owners never let her inside. For the eight years they had her, they thought she was a male.

Huffman's goal is to find lifelong homes for all of the cats.

If not, she will provide for them throughout their lives.

Caring for the cats includes food and shelter as well as full medical attention. With help from local veterinarian Tom Hentges, Huffman is able to have the cats spayed or neutered.

A few of the cats require special medication, which Huffman dispenses periodically throughout the day. Cats who are severely ill are kept in cages in what used to be the dining room.

"My goal is to get them off the street, get them healthy, and put down the ones who aren't because they are out there spreading disease," Huffman said.

Feline Refuge has about 15 volunteers, mostly kids, who come in to play with the cats, as well as to feed them and clean up after them. (And since everyone's bound to wonder, no, the house does not stink.)

Feline Refuge collects food from donation boxes at Harris Teeter stores in Charleston, Mt. Pleasant and James Island. The money collected from adoptions also helps cover the cats' food and medical bills.

To adopt a cat costs $45. New owners must sign a contract stating that if they ever get rid of the cat, or are unable to care for the cat, they must return it to Feline Refuge.

"If every home took in seven cats, there would still be strays," Huffman said. "Only two out of 10 find lifelong homes."

To adopt a cat, make a donation to Feline Refuge or to volunteer, call 803-849-6606. Visit the Refuge's Web page: http://www.awod.com/gallery/probono/.

For information about pet adoption or spay/neuter facilities, call 800-321-PETS or 800-248-SPAY.