Freedom of Expression
BY NANCY KERN

---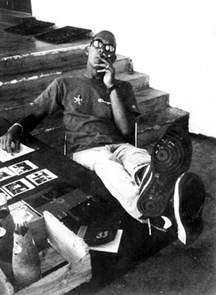 New York visual artist Gregory Coates kicks back in Cape Town South Africa, where he visited earlier this year. Coates will help lead an artist workshop at the Peter Nein Gallery in Myrtle Beach the weekend of May 16-17.

To what degree can abstract art be political?

If you ask Gregory Coates, artist-in-residence at the Studio Museum in Harlem, he might say to no degree at all. "My work is abstract. I am not trying to tell a story or make a social or political statement."

Yet there is a spirit of independence inherent in any visual artist's decision to use abstract materials rather than words for self-expression, something that bespeaks nonconformity or distrust in convention. Isn't there?

South Carolina artists and laypeople alike will have the chance to judge for themselves when Coates and four other renowned New York artists -- Al Loving, Ralph Raphael Fleming, Randy Bloom and Sholto Ainslie -- bring their work and ideas to Myrtle Beach this month.

Starting on May 16, the group will conduct a weekend "warehouse workshop" at the Peter Nein Gallery. Some 45 participants will be invited to immerse themselves in the creative process alongside the artists, working with materials as disparate as acrylic, plexiglass, wires and billboard paper.

The workshops will be flanked by two shows, the first of which will exhibit the artists' work, while the second will include the work of the participants. In addition to the sessions and the shows, a forum discussion will be held Saturday night. For $50, the weekend is a bargain at thrice the price.

What's wonderful about these artists is that despite their common goals each brings to the workshop his own unique style and background. Loving, for instance, has been established in the art world for 30 years. His work has been displayed at public collections in museums as prestigious as the Whitney and the Met, and he has served over a dozen residencies. His expressionistic spirals of heavyweight rag paper are neither collage nor sculpture, but rather "material abstraction."

Coates, on the other hand, uses "found objects" to enliven his work. A piece of duct tape or a bullet belt might be deliberately incorporated into a piece.

"I hammer, weld, scratch, drill, tear or cut, depending on what the material best lends itself to," he said. "The work tells its own story, presenting a sense of intrigue and wisdom about the places it may have been."

Sharing Coates' pioneering spirit is Fleming, whose search for old billboard paper "has led him into the wild places and forgotten corners of our urban landscape." But, whereas Coates creates around his found objects, Fleming creates from them, tearing the pieces of pixilated color and using them like brushstrokes of paint.

Preferring acrylic paint and gels to build up his surface, Ainslie brings to his art a lyrical sensibility which may have originated in his native land of South Africa. Bloom's formal geometric patterns in painting and sculpture, on the other hand, reveal the balance of Zen-like abstractions.

The group's purpose in visiting Myrtle Beach is simple: to spread a knowledge and love for art among people who might not otherwise have been exposed to it. They are bound together by their desire to expose all peoples to the idea of freedom of expression.

"Everybody has permission to make something from themselves," says Kiki Coates, co-coordinator of the workshop and wife of Gregory Coates. "We're about abandoning old notions...about opening options."

Although the group as a whole has never collectively presented a workshop before, individually most of them have led similar programs in places as remote as New Zealand and South Africa.

This is not to say that the group views South Carolina as an artistic backwoods; but they do recognize the state's need for a more progressive outlook. "When you start a dialogue among artists, the [liberal] legislation begins not long after," Kiki Coates said.

"Like in South Africa, you didn't have an anti-apartheid movement until free expression was accepted. Now, I'm not saying you can get a specific law passed by making a painting. If you want to get a law passed you go get up some senator's ass. But artistic expression paves the way for political change, and that's important to us."

For information or attend the shows or workshops, call the Peter Nein Gallery at 803-626-2211.

Nancy Kern is enrolled in the Master of Fine Arts program in creative writing at the University of South Carolina in Columbia, where she serves as assistant editor of the graduate literary journal, Yemassee.