More Bang For Your Funk
Reviews by Jill Carroll
---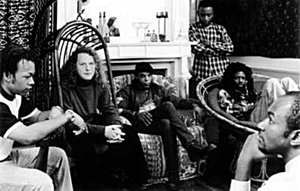 Furious Styles

Furious Styles, one of the Columbia music scene's new fruits, recently released a self-titled EP layered with funk, jazz, guitar-rock and hip-hop sounds that lift it beyond the "local."

"Comes the Crush" stretches out of bounds and still manages to retain the power of cohesion. Barry Harp's steady percussion binds Dale Simmons crooning to a pumping, course guitar and then carries us through the classically tickled strings to end on a pounding hip-hop verse.

Ernie Frank's guitar with Jimm-E Brown's saxophone and Travis Fripp's trombone lead the way through "Tell Us in Time," a song with shades of The Urge's funk-ensemble sound.

Furious Style's live show includes experimentally driven songs like "Tribal Screams," an earth-jam blues instrumental, as well as, "A Thousand Hands," with its honeydew vocals and penetrating rhythm.

Only together for about five months, Furious Styles has managed to develop a well-worked yet spontaneous sound. Many of the members have a long history playing in popular Columbia bands such as Kindred Soul, Midnight Society, The Void and God's Comics.

But Furious Styles' willingness to unify and still expand their own sound promises they will outgrow their separate pasts.

"We want to hit you from all sides," said bassist and hip-hop lyricist Bobby Guider.

Furious Styles will play May 30 at the Windjammer on the Isle of Palms, and in Columbia at Rockafellas' June 6 and Jungle Jim's June 28.
---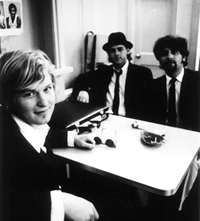 Hobex

Hobex: or, Hobex style, as in finger licking after many legs o' fried chicken, or as in a howling 50-foot naked jump into placid blue water.

Or even, Hobex, as in Greg Humphreys and Andy Ware leaving a decade of the successful Chapel Hill band Dillon Fence to join Steve Hill, from Johnny Quest, in shedding their skins and wriggling their way to the light of funk.

"Hobex is more my speed," lead singer and guitarist Humphreys said. "The music drives me to get into a pocket and just feel it."

Hobex recently released the six-song Payback EP, and have been touring the East Coast to spread their new sound.

Hobex's style marks a return to the Marvin Gaye, Stevie Wonder, James Brown and Otis Redding family from the more college-diet oriented Dillon Fence.

"Hobex is more stripped down," Humph-reys said. "There's more room to breath."

With songs like "Let Me Live" and "Moneybaby" and "Feelin' a Little Down," Payback is clearly an exhalation of stale smoke from working so many years with an indifferent record label. It's an attempt to exercise negativity in preparation for a more positive debut album in the near future.

"Intensive negativity leads to a dead end," Humphreys said. "We are trying to use music for positive change. Music is a refuge."

Hobex, as in the disciples' new-born devotion, and the sandblasted integrity of three bluesmen.

Witness Hobex May 15 at Elbow Room in Columbia.
---

A new band is rising from the soup of Columbia's moist, pollinated spring.

Evergreen, whose geneology is cross-cut and anchored in the Columbia music scene, began playing together about a month ago. Andreas Panagopoulos, who came to Columbia from Athens, Greece, and Trond Larsen and Hans Petter Stifoss-Hanssen, both from Norway, played together in the Columbia band One More Slave. When the other musicians left, the three continued to play together along with former Treadmill Trackstar, as well as God's Comics, member, Jason Brazell.

"We were drinking lots of red wine, playing music, and then Jason started hanging out with us," Panagopoulos said. "We got together at a wedding, and then did a tape."

Enter Drew Parker, former drummer of Tongue, another Columbia band, and Evergreen's gene pool was ready for growing into a mature blues/rock funk.

Evergreen is prostrate to the influence of "any blues (they) can get (their) hands on," according to Brazell.

Never doubting the power of the almighty blues, when asked where they see Evergreen going in these next few crucial months, Brazell, without hesitation, said, "I'd like to be right beneath God."

Evergreen will hold services and communion May 14 at Rockafellas' in Columbia with the Jason Bonham Band's "In the Name of My Father" Led Zeppelin Tribute.