New Museum Opens in Myrtle Beach
BY TIM BULLARD
---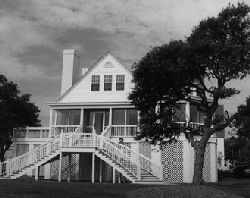 Black pupils racing to Pawleys Island Faith Memorial School freeze in the mind's eye in Alice Boyle's 1979 silver gelatin print "Recess" at the new Franklin G. Burroughs-Simeon B. Chapin Art Museum.

The $1.7 million museum opened last month at 3100 South Ocean Blvd. in Myrtle Beach.

Originally a beach house owned by the Close family of Fort Mill, and later called Springmaid Villa, the building had been on North Ocean Boulevard. It was donated to the Waccamaw Arts & Crafts Guild, which moved the structure eight miles to the new site.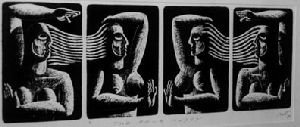 Marcello Novo, The Four Muses (nudes)
The site was donated by Myrtle Beach Farms Co, but moving the 150-ton, 48' X 80' house in 1984 caused one of two trucks to rear up on its back wheels, breaking an axle. One day's move lasted 16 blocks, and the next day it traveled 19 blocks.
The move was worth the sweat, if viewer response is any indication.
"It's like you're in a dream," Jane Charles said during a recent tour of the museum. "It's completely overwhelming."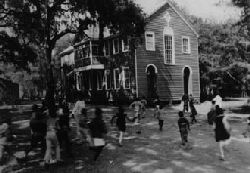 Alice Boyle,
Recess Faith Memorial School
The current exhibition is sponsored by Canal/New South Foundation, featuring 45 Southeastern United States artists through Sept. 1.
Regular showings of the exhibition will continue Tues. - Sat. 10 - 4 and on Sundays from 1-4.
For information, call the museum at 803-238-2510.
Tim Bullard is a writer who lives on the Redneck Riviera.