The Package Delivers


Review BY JAMES DENTON
---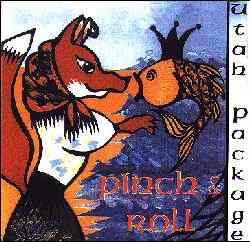 Pinch and Roll, the most recent offering from Spartanburg's rough-edged combo Utah Package is a delightfully twisted collection of raw guitar-driven anti-pop with smatterings of earnest sentimentality and wry humor. While the cd's initial 14 tracks were recorded at Charlotte's famous Reflection Studio, the production harnesses the band's frenzied live energy rather than glossing it over with sweet stickiness.

Throughout the body of Pinch and Roll and on the half-dozen live tracks that follow, Utah swings an unorthodox hammer of timing and tempo changes that are the band's trademark. While at one moment songs seem to teeter on the verge of falling apart, the group quickly finds its dark groove again and pounds forward.

This helter-skelter approach to songwriting is held together at the seams by the tight rhythm section of Randall Huggins' swooning bass and what can only be described as the lead drum work of Dan Davis.

On the few tracks that offer Huggins as lead vocalist ("No Thing," "Tech Wreck" and from the live cuts, "Shot") his voice ranges from a deep croon to a primal scream.

Jeremy Slemenda, whose whistling, white-hot guitar pilots the cd's bouncy riff-rock and driving punk, lends his fuzzy vocal twang to the other tunes. Slemenda's vocals, muddy and mysterious, add qualities that are unique to this genre of rock and roll: passion, sentiment and a touch of romance. Often, the feelings are more implied than heard.

The band's penchant for food humor is alive and well on this disc with "Soggy Cake" and the live power ballad ode to the Picadilly Cafeteria ("Get in that line, anticipation divine, then `May I serve you, please?'").

The more traditionally punk "Khaki Power" keeps the trio planted in its roots.

Pinch and Roll is a solid effort from one of Spartanburg's foremost bands: 14 loud and cranky studio cuts that stampede like the feet of giants. The live tunes follow a roughly eight-minute pause at the end of track 14. That's about how long you'll need to catch your breath before diving in again.

James Denton is a freelance writer who lives in Spartanburg. He has been involved in that area's music scene for many years. For more information on Utah Package, email Huggins@teleplex.net.