Taking a Stand


BY DANNA SMITH
---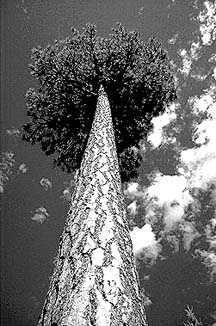 Over the past several years, multi-national wood products companies from the exhausted national forests of the Northwest have moved into the forests of the Southeast.
Some 140 wood chipping mills in the region cleared more than a million acres of forests last year alone.
In South Carolina, seven chip mills operate in the Upstate. Another is slated to open in Laurens County, but a coalition of hunters and environmentalists is fighting the mill's permit.
Here's why.

Despite growing public concern and evidence that forests in the southeast are being overcut, the wood chipping industry continues to proliferate. Seven new chip mills have been constructed in the region already this year, and seven more will be operating soon, according to the July/August issue of Timber Processing magazine.
One of these seven proposed new mills is now under construction in the Upstate. The proposed Laurens County mill, to be owned and operated by Norbord Industries of Canada, is designed to convert 900 thousand tons -- or about 22 thousand acres -- of pine and hardwood trees each year into a type of engineered lumber that is made by gluing wood chips together into press board.
Seven wood chip mills already operate in the Upstate, where many of the counties already are overcut, according to the most recent U.S. Forest Service inventory of the state's forests. While that reality seems to be lost on policy makers, economic development bureaucrats and permit writers, a group of environmental activists are determined to help them see the forest for the trees.
"How long can the pulp and paper and chip board industries sustain this kind of cutting?" asked Butch Clay of S.C. Forest Watch. "How long will Norbord be able to operate this mill? Are they going to simply drain the surrounding forests and move on, leaving us with degraded water quality, clearcut forests and a depressed local economy?"
Last month, a group of organizations representing businesses, hunters and environmentalists urged Gov. David Beasley to halt the permitting of the Norbord mill and order a full-blown assessment of the impact of the wood chipping industry's clear-cutting practices in South Carolina.
The groups included the Carolina Environmental Alliance, Chattooga River Watershed Coalition, Columbia Audubon Society, Dogwood Alliance, Downtown Charleston Business Association, Foothills Group of the S.C. Chapter of the Sierra Club, Henry's Knob Group of the S.C. Sierra Club, Hunters For Habitat, League of Women Voters-Hilton Head Island, Lunz Group of the S.C. Sierra Club, S.C. League of Women Voters, S.C. Forest Watch, S.C. Native Plant Society and the S.C. Sierra Club.
Concerns about the economic and environmental impacts of increased intensive industrial-scale clear-cutting prompted the coalition to appeal for an immediate moratorium on new chip mill permits until the impact of existing facilities are better understood.
"I want to see the state of South Carolina follow the state of North Carolina's lead and take a hard look at the implications of permitting any more chip mills," said Diane Colbertson, who lives in Laurens County. "I'm just not convinced that this is the kind of economic development we want in Laurens County. I'm concerned about how this chip mill may impact our quality of life here."
Much of the native forest in the southern part of the state has already been replaced with rows upon rows of fast-growing, genetically engineered pine seedlings. "Jasper and Hampton counties used to be home to some of the most beautiful hardwood forests in the state, providing an abundance of food and habitat for deer and turkey," said Laura Floyd of Beaufort County, a hunter and member of Hunters for Habitat.
"Today there are very little native hardwoods left in either of these two counties. It's all been clearcut and converted to pine, and the wildlife are suffering," she said.
Another reason for concern, activists point out, is that the Norbord facility will use a formaldehyde and phenol resin to glue the wood chips together. At other such mills these substances have posed significant health hazards to workers. Although Norbord says it will contribute some 120 jobs to the residents of Laurens County, they never mention the health risks those workers will face.
The mill poses other risks, as well, as it will also emit sulfur dioxide, carbon monoxide, nitrogen oxides and volatile organic compounds. The Environmental Protection Agency recently announced it will require South Carolina (and 21 other states) to reduce nitrogen oxide emissions by 28 percent over the next eight years. Nitrogen oxide is the major component in the formation of low-level ozone, which is hazardous.
Citizens have asked that the Department of Health and Environmental Control (DHEC) conduct an Environmental Impact Statement on the Norbord mill that considers the effect to air quality resulting from the loss of forests, which act as natural air filters.
DHEC is accepting comments on the permit until Oct. 29, and on Oct. 22 will hold a public hearing in Clinton.
Danna Smith is director of the Dogwood Alliance,a coalition of 30 citizens groups united to defend native ecosystems against industrial forestry. Visit the Alliance online at www.dogwoodalliance.org.