The Other Victims
For every inmate on Death Row there is a mother, a wife, a sister, a son grieving in slow motion. They are the other victims.

BY BECCI ROBBINS
---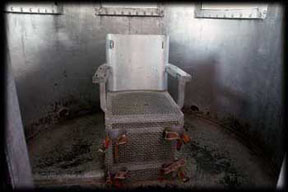 Margaret Abbott's son is on Death Row. She sees him for two hours once a week through a glass partition. Visiting days are bittersweet. Much as she misses her son, it is hard to see him like that, suspended in the strange netherworld between life and death. In many ways, she lives there with him.

Abbott's friend Della Martin is one of the few people who really understands what she is going through. Martin, not her real name, is also the mother of a Death Row inmate. Her son was arrested in 1991, and three years later was sentenced to die. Since then Martin has grown emotionally exhausted. "I wish God would come and take him away."
---
"Murderers come from all socioe-conomic levels, but the higher you go, the more chance you have of getting life in prison rather than the death penalty. If you're poor you've had it."
Margaret Abbott,
mother of Death Row inmate
---
Abbott nods. "That way it would be over," she says. "We would have closure."
They could visit their sons' graves in peace — with no guards, no bars, nobody watching. They could finally get off the freakish roller coaster they have been riding for nearly a decade. It has been, they say, a terrifying trip.
"What lots of people don't realize is that we become victims too," Abbott says. "I would give my own life to change what happened that night. My grandson lost a father. The victim, her son lost a mother. I cry when I think of the other side, too, because we all become victims."
The two friends, and Martin's 12-year-old granddaughter, are sharing the back booth at a Waffle House off I-20 in Columbia. They meet here each Thursday morning to carpool to the maximum security prison near Ridgeville, more than an hour away.
Today, just back from the prison, the strain is palpable. South Carolina is suffering record August heat and nerves are raw. Abbott, who lives in Gaston, is nearly home, but Martin still has the drive back to Augusta, where she lives with her granddaughter and another son.
"Right now I am very depressed, very angry at everything and everybody," she says. "At this point I just feel hopeless, and that's a horrible way to feel. It's hard. Very, very hard."
Martin is still processing recent news that her son lost his appeal, and she is in a gray mood.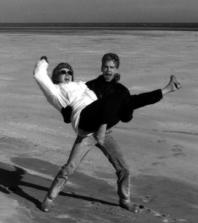 Margaret Abbott and her son, Michael Charping, clown at Folly Beach in 1989, just months before he was arrested for murder.
"I've been where she is," Abbott says. "It's like having a terminal illness."
The long drives each Thursday wear on Martin, but they are her last link to her son. "When you know the state is about to execute your child, and you only get to see him once a week," she says, "like I told the district coordinators, if they would just let me move in with him I would."
Martin's granddaughter stares into her lap, her dark hair almost hiding the tears streaming down her face.
---
"If they would just let me move in with him I would."
Della Martin,
mother of Death Row inmate
---
On another day, in the middle of a fast food restaurant's lunch crowd, it is Abbott who suddenly begins to cry. She is flipping through a scrapbook of family photographs. There is one of her son, her only boy, in his Little League uniform, smiling, sun-bleached. A Polaroid shows him all grown up, carrying his own son on his shoulders. There is a professional portrait of Abbott and her son, with him standing behind her, his hands on her shoulders. A later photo captures them in an almost identical pose, but the background, instead of a lush studio drape, is the stark white interior of a state facility.
She apologizes for her tears, saying that for the most part she has learned to control her emotions. It wasn't always so. After her son was sentenced to die, Abbott spent four years in a deep depression. She didn't open her mail, she paid her bills late and left the house only to go to work.
"My marriage went down the drain," Abbott says. "It destroyed my family." They were never the Cleavers; Abbott married five times, to men who, as was her father, were alcoholic. She regrets the marriages but not what they made possible. "I got five great kids out of it," she says. "We didn't always have a lot of money, but my kids knew I loved them."
Her four daughters, who she says remain close, were devastated when their brother went to prison. They believe him when he says he doesn't remember killing anyone. Abbott says her son was blinding drunk the night the drug deal he was involved in went horribly wrong.
Two friends were with him. One is serving a life sentence; the other, after testifying against his buddies, walked free.
"The whole trial was a nightmare," Abbott says. "No matter what I said the lawyers would turn it around to make it different. They talk so much legalese. It's an intimidating process, totally confusing."
While she was prepared for the worst, and knew there would be an automatic appeal, Abbott was not prepared to hear the sentence when it was read out loud. Upon hearing that her son was sentenced to die in six weeks, Abbott collapsed. "My daughter had to carry me out," she says.
The seemingly endless hours in court hardened Abbott. "It has destroyed the faith I had in the system. I always knew it wasn't great, knew that if you had money you could get off, but I didn't know all the tricks that were pulled, actual lies that were told. It floored me."
Abbott says she has learned a lot about how things work. One: "Murderers come from all socioe-conomic levels, but the higher you go, the more chance you have of getting life in prison rather than the death penalty. If you're poor you've had it."
Two: "What I didn't know before is that one of the questions they ask a jurist is `Can you give the death penalty?' If you can't, you're excused. So it's a stacked deck."
Three: "A lot of this turns out to be a little bit on the political side. Everyone wants to be attorney general."
The more Abbott learns, the angrier she gets. After nearly a decade battling the criminal justice system, Abbott has turned into an activist, a consciousness that came fairly naturally. "I've always fought for the underdog, always felt bad for people who didn't have."
She started by just helping other relatives of inmates navigate the prison bureaucracy. "Once I knew there was a problem in the system," she says, "I knew people needed help getting through it. You feel so lost and alone."
When Abbott's son was sentenced to die, women who had been through her nightmare reached out to help her cope. "When this happens you almost feel like an unknown human being," Abbott says. "You become faceless, you become this monster, but we could be your mother, your coworker, your favorite aunt, your best friend. Others in my situation see me as a person, as a person who has been hurt. They gave me my face back."
Abbott and Martin have became involved with the state and national Coalition to Abolish the Death Penalty, and stay in touch with grass-roots activists from across the country.
In South Carolina, they have helped organize IFF ONLYS (Inmates, Family, Friends: One Network Ladder for Your Support), a network of organizations and individuals opposed to capital punishment. They hope the network will serve several roles: support group, advocacy organization and information resource.
The members also want to work to restore the privileges that inmates were deprived of during prison chief Michael Moore's administration. Moore, who last year was named secretary of the Florida Department of Corrections, instituted sweeping changes in South Carolina's 32 prisons. Moore's get-tough policies sparked this state's bloodiest prison uprisings in 20 years, with six prison guards and 32 inmates injured.
"We used to have personal contact visits; they took that away from us," Martin says. "We used to be able to send Christmas packages; they took that away from us. They used to be able to do things like painting and basket-weaving to occupy their minds. Our telephones doubled and tripled in cost. I don't know how much more damage [Moore] could have done."
While death penalty proponents often challenge those who oppose capital punishment with, "How would you feel if it were your loved one who was murdered?" Martin's answer might surprise them.
Twenty years ago, long before she lost her son to Death Row, Martin lost a daughter to murder. "It was unexpected — painful," she remembers. "She was my only daughter, and she was the light of our lives. Her husband killed her."
The murder of Martin's daughter devastated the family. Instead of being bonded by the tragedy, they were fractured by it. Martin's husband wanted revenge, but she did not.
"I have always felt that the person who killed my daughter, that his death would never have brought her back," Martin says. "I couldn't waste my time, my energy, on hating him.
"My thing has been going to her grave and being thankful she's in a better place. Hatred just isn't going to get you anywhere. I saw what it did to my husband, I saw what it did to her two brothers, and it was not nice. They never did heal."
Martin, 74, says she had always looked forward to retiring and finally doing some travelling. "I had big plans." She would leave her husband behind and travel to all the places she had dreamed of seeing. Cheated of that, the only traveling she does now is to a maximum security prison in the middle of nowhere.
For information on the IFF ONLYS network, send e-mail to: IFF ONLYS@aol.com.