WATER WORKS


BY SHIN YUN
---

Rivers are many things to different people. For Jay Alley, they provide spiritual renewal and a way to connect with children.

Alley is executive director and founder of Canoeing for Kids, which offers free outdoor trips for disadvantaged or disabled young South Carolinians—about 7,500 since the nonprofit outfit started in 1993.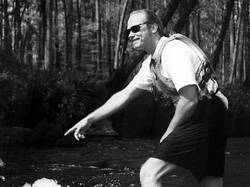 Jay Alley, who founded Canoeing for Kids in 1993, points the way through rapids on the Saluda River.
"I was searching for a way to work with kids, and I was doing a tremendous amount of paddling at the time," Alley said. "It just occurred to me that I could do something with paddling and kids."
Canoeing for Kids has organized and led trips for most of the children's homes in the state, several departments of mental health, the Department of Juvenile Justice and kids with disabilities and special needs.
One of Alley's favorite destinations is the Saluda River. He played in its rapids as a young boy, which is part of the reason he has such a strong attachment to that body of water. "I find things here on this river, internally, that I don't on others," Alley said.
Alley's special aide is his dog, Moose. He said Moose has a calming effect on people and helps them drop their protective guard. Alley considers him a big part of the team. "Some people probably think that's silly," he said, "but they haven't seen him at work."
Diane Ray, recreational therapist at Winwood Farm Home for Children in Awendaw, works with boys who have been neglected or abused. Ray uses outdoor challenges to help boys develop coping skills. For two years, she has taken boys on trips with Canoeing for Kids. "Our boys are used to walking away from their problems," she said. "They can't do that on the water. You can't turn back, so you have to keep going forward, and that's a huge challenge."
Andrea Mann, a counselor at Saluda Mental Health, is involved in a summer camp for children with behavior problems. She took two groups on Canoeing for Kids trips last summer. She said it taught the children a new respect for the natural world.
Alley said that the organization has grown beyond what he ever imagined. He started working out of his apartment, storing equipment at his friend's house; now they have an office with a garage that stores 53 canoes, kayaks and rafts.
"This taught me that I might as well not put expectations or limitations on this mission," Alley said. "I'm going to take it as far as it leads me."
It all began in 1992 when Alley announced to his family that he was planning a 2,054 mile canoeing trip from New York to New Orleans through the Allegheny, Ohio and Mississippi rivers in an effort to raise money for children's charities. He established Canoeing for Kids to handle donations.
As fate would have it, Alley and fellow paddler Ted Powell were struck by lightning while canoeing on Lake Murray about a month before the big trip. They were hospitalized for two days. "It's part of the Canoeing for Kids story," Alley said. "It's the best publicity stunt we've ever had."
Alley completed the trip in 54 days using a rotating group of 20 paddlers who each spent a week on the water with him. One of them was his father, Pastor Joe Alley of College Place United Methodist Church, who is soon to join Canoeing for Kids as director of development.
The most memorable part of the trip was when Alley was visited by an angel disguised as a tough riverboat captain. Alley said he is normally very comfortable near water, but this time was afraid because they were venturing out on the Mississippi during the flood of 1993.
"Usually I pray for other things and other people," Alley said. "But this time I prayed for myself as we got closer and closer."
When they reached Paducah, a man appeared from nowhere. Capt. Bob Cherry drove out to the ramp where Alley and Powell were eating lunch and pointed out the dangerous spots the paddlers would be traveling. He had been a commercial captain on the Mississippi River for 30 years, and knew every bend and turn. Cap. Bob told Alley not to be afraid of the water, and predicted he would spend a couple of days on it and know it and love it like every other river in his life.
The next day, the captain met up with the paddlers on his motorboat and escorted the Canoeing for Kids crew all day. At the end of the day, Alley asked the captain how he happened to show up at the ramp. The captain said that God sent him. He was reading the paper that morning and had an overwhelming feeling he had to go to the ramp and as soon as he saw Alley, he knew why he was there.
Alley said he had many profound experiences on the trip, but doesn't plan on doing it again. Instead, he raises money through the annual Canoe-a-Thon, a whitewater trip on the Saluda River held each May.
Alley relies heavily on volunteers, most of them friends and family who have been with him from the beginning. A volunteer crew just finished installing public bathrooms on the side of the office, located along the Saluda River in Lexington. They continue to work on the building and the grounds it sits on.
"It's a great blessing to be able to feel so strongly about anything, especially about my work," Alley said.
Shin Yun is working on her masters degree in social work at the University of South Carolina in Columbia.