John Crangle spent all day Tuesday at the hearing on Rep. Rick Quinn's motion to remove special prosecutor David Pascoe from the criminal case against him by alleging that Pascoe has a conflict of interest. Crangle, the SC Progressive Network's government relations director and author of the book Lost Trust, has become the go-to guy for reporters covering the growing public corruption scandal at the State House.
Crangle suspects that Quinn's high-priced attorneys didn't have any law or evidence on their side to prove Pascoe has a conflict of interest, so they spent hours arguing that SLED agents may have improperly seized evidence from Quinn's office.
Last week, Quinn was indicted on two counts of misconduct in office for not reporting more than $4.5 million in payments he received between January 1999 and this April. He also is accused of funneling more than $270,000 in House Republican Caucus funds into his father's consulting firm, Richard Quinn and Associates.
Quinn has called the investigation a "partisan witch hunt," and claims that Pascoe's political ambition causes the conflict of interest.
In this brief update, Crangle says that the SLED search had no relevance to Quinn's motion to dismiss Pascoe, and he was surprised that the judge tolerated the drawn-out testimony. The judge promised a ruling on Quinn's motion in two weeks.
Click HERE to listen to Crangle's short update from the inside.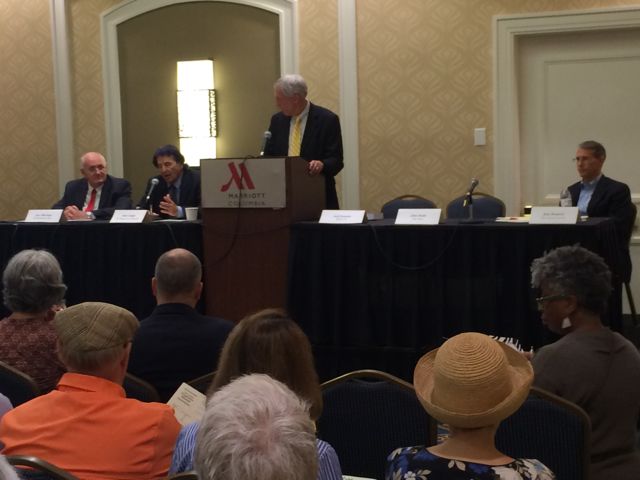 John Crangle speaks at the SC Progressive Network's May 17 forum on political corruption in the Palmetto State. With him on the panel are (from left, Sen. Mike Rose, Ret., WIS-TV reporter Jack Kuenzie, and Rick Brundrett with The Island Packet. See more photos from the packed-house event in our photo album.