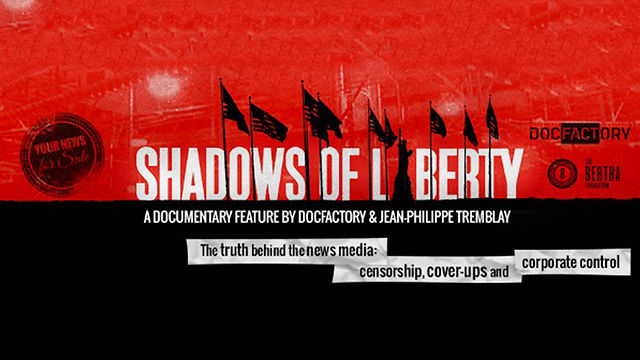 The SC Progressive Network is helping bring the internationally acclaimed documentary Shadows of Liberty to Columbia and Charleston, with interactive "talk-back" sessions after each screening.
On Wednesday, Feb. 18, the public is invited to Tapp's Arts Center, 1644 Main St., downtown Columbia for the 7:30pm showing.
The documentary reveals the extraordinary truth behind the news media: censorship, cover-ups and corporate control. In highly revealing stories, renowned journalists, activists and academics give insider accounts of a broken media system. They include Amy Goodman, Danny Glover, Julian Assange, Dan Rather, David Simon Normon Solomon Bob Bear, Roberta Baskin, John Macarthur, Jeff Cohen and John Nichols. They recount how controversial news reports are suppressed, people are censored for speaking out, and lives are shattered as the arena for public expression is turned into a private profit zone.
Shadows Of Liberty is dedicated to the journalists and information freedom fighters, the heroes of our time, who dedicate their lives to our right to freedom of information – the central pillar of a free society. The film  provides a platform for voices that have been silenced and in doing so, attempts to inspire change and accountability. This film champions the idea of an independent media where truth and integrity are the norm, not the exception.
This screening kicks off the 7th Leg of the Shadows of Liberty Coast to Coast Screening & Media Reform Action Tour.
After the screening, Network Director Brett Bursey will moderate a discussion about the film and critical issues facing the media today. The panel includes:
Bill Rogers, Executive Director of the SC Press Association, started his newspaper career working summers at The Asheville Citizen while attending UNC's J-school. After service in the Navy, he went to work as a reporter at The World-News in Roanoke, Va. He also was sports editor of The Waynesville Mountaineer and editor and general manager of The Star in White Sulphur Springs, W.Va. He used the G.I. Bill to earn his master's degree at Marshall University while advising the lab newspaper. He also taught at the University of Alabama (Roll Tide) before coming to USC (Go Cocks) to teach as the lead instructor in the Senior Semester. During summers at USC he worked at The State and was the writing coach at the Greensboro News & Record and The Herald in Rock Hill. He is a senior judge with the S.C. Barbeque Association and is also a certified Kansas City Barbecue Society judge. Earlier in his career he won two Addys for print and broadcast ads at an agency in Tuscaloosa, Ala.
Candace Chellew-Hodge spent two decades as a journalist working as a reporter, anchor, writer and editor at various radio and television stations in Atlanta, Ga., including WGST Radio, WAGA-TV and CNN. While at CNN, she worked as an anchor and editor at CNNRadio, a writer and editor at CNN Interactive and a news writer for CNN Wires. She left journalism in 2002 for a career in academic public relations working for Georgia State University and the University of South Carolina. She has since left journalism and PR to pursue a career as a pastor and currently leads the Jubilee! Circle community in Columbia, S.C.
Ernest L. Wiggins is an associate professor in the School of Journalism and Mass Communications at the University of South Carolina. A former reporter and urban affairs editor at The State (Columbia, S.C.), Wiggins holds the M.A. in mass communications and has done post-graduate study in social theory and social structures. His teaching and research interests include reporting and editing, media literacy and criticism and the intersection of journalism and social justice. His recent publications include "Walking a tightrope: Obama's duality as framed by selected African American columnists" (2014) in Journalism Practice, coauthored with Kenneth Campbell. Wiggins is a member of the Association for Education in Journalism and Mass Communications, Investigative Reporters and Editors, the National Association of Black Journalists and the Society of Professional Journalists.
Frank W. Baker is a media literacy education consultant. He is a former broadcast journalist and educational TV specialist. He is the author of three books, including Media Literacy in the K-12 Classroom (ISTE, 2012). He contributed two chapters to Mastering Media Literacy (Solution Tree, 2014). He is a recipient of the National Telemedia Council's annual Jessie McCanse Award given for individual contributions to the field of media literacy over at least 10 years. Follow him on Twitter @fbaker and visit his resource-rich website Media Literacy Clearinghouse (www.frankwbaker.com/mlc)
Tickets are $7 and benefit Tapp's, the SC Progressive Network, and the Shadows of Liberty Coast to Coast Screening & Media Reform Action Tour.
Film Website: www.shadowsofliberty.org
Film Trailer: www.youtube.com/watch?v=_SAUborWbPw
Tickets: http://www.brownpapertickets.com/event/1188412
Share/RSVP on Facebook.
The Charleston screening will be held on Thursday, Feb. 19, at 7pm at the College of Charleston Tate Center. The event is being held in collaboration with the College of Charleston Department of Communication and Urban Studies Program, Media Reform South Carolina, the Social Justice Committee of the Unitarian Church in Charleston, and the SC Progressive Network. The screening is free.