Becci Robbins
SC Progressive Network Communications Director
If you are sent to prison in South Carolina, you lose the right to vote. By state law, that right is to be restored upon completion of your sentence. But a new survey of the state's voter registration offices reveals that how the process for re-enfranchisement works — and doesn't work — depends on where you live.
The SC Progressive Network has just completed a survey of the state's 46 county voter registration offices, finding that 33 of them require people to provide documentation that they've completed their sentence in order to re-register.
"Talking with staff in each of the 46 offices, we found a selective application of the law that we believe violates the equal protection clause," said Network Director Brett Bursey. "People who have served their time are being made to jump through bureaucratic hoops to regain the full citizenship granted by law. It is unfair, further depresses the state's dismal voter participation rate, and affects twice as many black citizens as whites."
While 13 offices do not require documentation from ex-offenders, Susie Edwards, Director of the Dillon County voter registration office, said her staff will ask for proof if someone "is acting sketchy."
Saluda County voter registration office Director Dana Burdern said, "A letter from Pardons and Parole is not required by law but it's asked for."
Deputy Director Patrick Lee of Charleston said, "We go on their word. We don't require more than that."
The word Lee is relying on is the "voter oath" a person signs when registering swearing that he or she is a US citizen, is 18 years or older, and a South Carolina resident. Registrants also swear that they haven't been found "mentally incompetent," are not serving time in jail, and have completed their sentence.
"The only part of the oath citizens are being asked to provide additional proof for is the completion of a prison sentence," Bursey said. "No law requires the counties to ask for further proof, and there is no established system for proving someone has served their time."
The survey also revealed that 20 counties wrongly claim differences in the waiting periods between felonies and misdemeanors for voter registration, with felonies requiring additional waiting time.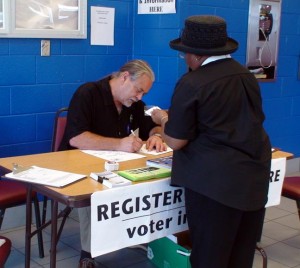 SC Progressive Network Director Brett Bursey and volunteer Bishop Shirley Raiford work a voting registration table at the bus transfer station in downtown Columbia.
"South Carolina's voting system is a vestige of the Jim Crow era," Bursey said. "The Senate was able to retain white power in 1895 by granting control of the election process to the counties, whose boards Senate members appointed. To this day, legislators appoint the boards, and each county is in charge of its own elections. This is why we have 46 counties interpreting the laws differently."
The Network has introduced legislation that would require the state to inform people exiting the prison system of their voting rights. The bill has not advanced, but will be introduced again next legislative session.
"We think it is an important part of the reintegration of people back into our communities to ensure they regain their voting rights," said Network Co-chair Virginia Sanders. "The state removes you from the rolls if you are incarcerated, and it should make sure that you can be reinstated once you've served your time."
Sanders, who has spent years doing registration drives through the Network's Missing Voter Project, said a common misconception, especially in rural areas, is that when people are sent to prison they forever lose their right to vote. "It's sad that so many people don't understand the law, especially those who are charged with enforcing it."
The Network will use the survey as evidence in a case that is being prepared for federal court. Ex-offenders with relevant testimony about difficulties registering to vote are asked to contact the Network at 803-808-3384 or by sending email to network@scpronet.com. For more about the Network or its Missing Voter Project, visit scpronet.com.