Don't miss the most important progressive gathering of the year Oct. 23-25! Get away to the Lowcountry for a weekend with friends and allies to talk politics, build alliances, sharpen strategies, and recharge our batteries.
Join grassroots activists from across the state at historic Penn Center – where the SC Progressive Network was born 19 years ago – for a weekend of fellowship, networking and mapping strategy. Sadly, this may be the last chance you can experience Penn as an activist, as the site is under new management that is working to turn it into a charter school.
The weekend will include enough structure to be focused and productive, but with enough free time built in so participants can caucus, get to know each other, or explore the area on their own. Come for a day or the whole weekend. We promise you will leave more energized and motivated than when you arrived.
At our last visit to Penn in 2013, US Sen. Bernie Sanders – not yet a candidate – electrified a packed hall with a message about building a movement fueled by progressive values. Our focus this year will be the participants themselves, who will take a hands-on and strategic approach to advancing key legislation and Network projects in the coming year.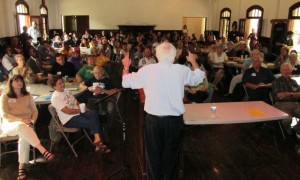 We will look back at the past year to see what it can teach us, from our Healthy Democracy Road Show through the aftermath of the massacre in Charleston and the renewed furor over the Confederate flag, through the launch of our organizing institute, the Modjeska Simkins School. We'll deconstruct the year as grassroots activists, and use it to inform our work going forward.
Orangeburg Rep. Gilda Cobb-Hunter will introduce us to the newly formed SC Legislative Progressive Caucus, which she and her legislative partners say will fill a need not being met by the current Democratic or Black Caucuses. She will talk about why she launched the new caucus and what it hopes to do when the lawmakers return to Columbia in January.
We will look ahead to the coming legislative session to map priorities and refine strategies. We will continue our work on Medicaid expansion, which will be even more complicated this year as a coalition is pushing a plan to privatize funding. The Network thinks it is the wrong approach.
The Network will offer workshops on two of its ongoing projects – Racial Profiling Campaign and the Missing Voter Project. Graduates of the Modjeska School will run the sessions, using updated tool kits and strategies.
The retreat will feature lots of down time so people can network with others working in their region or interest area.
On Saturday evening, American troubadour Dave Lippman will offer some comic relief with parodies and a sing-along. We'll also open up the mic to anyone who wants to share stories about life in the trenches and what motivates them as activists.
The weekend kicks off Friday evening, for people who want to arrive early. Check-in between 5-9pm in Hampton Hall. Registration begins at 9am Saturday morning, and the event wraps on Sunday afternoon. Carpools and scholarships are available.
Spread the word! RSVP/Share on Facebook.
See our photo album from our past retreats at Penn.
PROGRAM
9am: Registration/room assignments
Welcome, introductions and housekeeping
Brief reports from member organizations
Chapters: The Network has chapters in Charleston, Columbia, Rock Hill, and in the Upstate. Horry is under development. We will discuss structure, strategy and regional leadership development.
Modjeska Simkins School – short course. We'll offer a condensed class to teach participants a short people's history of South Carolina. This will include a look at the SC Progressive Network's own history, which has been remarkable given our radical agenda and paltry funding.
SC Progressive Network year debrief:
Healthy Democracy Road Show
Marriage equality victories
Network Voter Registration Offices Survey
Confederate flag rallies
Days of Grace
Caucuses – breakout sessions. Additional caucuses may be proposed by participants.
New Legacy Project (youth group)
Women's health
Black Lives Matter and Racial Justice
Peace and anti-death penalty movement
Labor
Immigrant rights
Legislative forecast for 2016: discussion led by Rep. Gilda Cobb-Hunter
Communications: What's new, best practices, boosting our statewide visibility. One-on-one social media sessions available throughout the weekend for anyone wanting to set up an account or ask questions about Twitter or Facebook.
Project workshops:
Saturday evening: fish fry, open mic tales from the trenches. Singalong and satire by Dave Lippman.
Sunday: Workshops and caucus reports.
SC Progressive Voter Coalition (SC ProVote) discussion. The electoral arm of the Network will map strategy.
RETREAT PACKAGES
The full weekend package: Friday check-in between 5-9pm, through Sunday 3pm, all meals and shared bedroom: $175. Private bedroom, add $35 per night.
Saturday – Sunday package: includes registration, lunch, fish fry, Saturday night shared bedroom, Sunday breakfast and lunch: $125
Saturday registration only, no meals: $10
Saturday registration; lunch: $30
Saturday registration, lunch; fish fry: $45
Sunday registration only: $10
Sunday lunch and registration: $20
We have a limited number of rooms on campus at Penn, so book early. Private rooms are available at the nearby Quality Inn. Click here to make reservations for the conference and/or lodging.