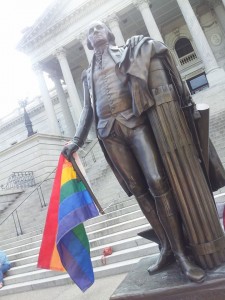 On Oct. 8, two Network groups and their allies from across South Carolina celebrated marriage equality at the SC State House after the historic court decisions paving the way for marriage equality in several states, including South Carolina. After a rally, LGBT activists and allies delivered a box of 5,000 petitions to SC Attorney General Alan Wilson's office. Ignoring the writing on the legal wall, the governor and the AG vowed they will continue using taxpayer money to fight the issue.
Indeed, the next day the SC Supreme Court blocked the marriage license applications gay couples filed the day before in Charleston and Richland County court houses.
In spite of the stubborn response on the part of state leaders, marriage equality is inevitable, even in South Carolina. Congratulations to our member groups SC Equality and the Harriet Hancock Center for their dogged pursuit of fairness for all South Carolina's citizens.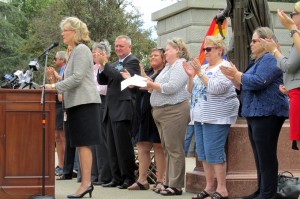 More photos on Flickr.