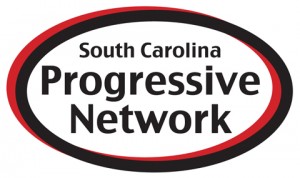 Health Care
We intend to keep educating and agitating for South Carolina to accept the Affordable Care Act. A couple of fights are looming this year, not withstanding our state's refusal to participate in the ACA.
Medicaid Expansion
We see South Carolina applying for a "waiver" to take the federal funding but not use the Medicaid system to administer the billions of dollars to fund health care for 300,00 low-income adults. States have proposed a number of waivers, but the main similarity is block granting the Medicaid expansion money to the state. Anticipate an SC waiver application that would contract with private insurance companies, or health maintenance organizations, to make a profit off of administering Medicaid program.
While Medicaid has an average administrative cost of around 7%, for profit insurance providers increase the cost as much as 25% (Center on Budget and Policy Priorities. This 18% difference amounts to a reduction of service to patients of $252 million a year out our state's estimated $1.4 billion annual Medicaid expansion funding. That's more than enough to cover the revenue lost by the state's ten largest hospitals by treating people with no insurance, or money. We have no reason to believe that the state of SC has the best interest of working people and minorities at heart. So, we will be organizing to turn out the masses at any federally mandated hearings on proposed waivers.
Marketplace insurance (Obamacare)
SC is one of 27 states that chose not to set up a state insurance marketplace that could have helped citizens get the ACA subsidized health insurance. Nine states partnered with the feds and 14 set up their own Marketplace. Over ten million citizens, 200,000 in SC, have taken advantage of the discounted health insurance. The average wage earner in SC, making around $23,000, could get a $4,300 "silver" policy for around $50 a month, or $600 a year. Not content with obstructing access to the ACA, SC is one of six states suing the federal government to stop subsidies for the nearly 200,000 South Carolinians signed up for health insurance.
Gov. Haley has taken the position that the original language in the ACA said that consumers would get subsidies through the Insurance Marketplaces set up by the states. Since SC refused to establish our own Marketplace, the feds stepped in and provided the service. In a bizarre move that has separated the true loons from the merely cold hearted, a shrinking number of Republican governors (6) signed on to a federal law suit (King v. Burwell) that argues that the working people who got discounted health insurance through the "federal" Marketplace should pay full price, because they didn't get it through a "state" Marketplace, which our state refused to set up. South Carolinians, who got an average of an 80+% discount for their policy, could be billed for the several thousand dollars and most will lose their insurance.
The Network is filing an amicus brief supporting the governments position that the intent of the Affordable Care Act was affordable care, and not whether the federal subsidy reached the consumer via a state of federal marketplace. The case is scheduled to be heard by the US Supreme Court March 4.
Voting Rights
Ex-offenders
We are developing a lawsuit to address the unequal protection of the voting rights of ex-offenders and college students. The national ACLU has said they will take the case. The Director of the State Election Commission asked us sue them, because she can't get the counties to enforce the laws in a uniform fashion.
Voting Machines
We have been working for the past 10 years with the nation's lead organizations regarding verified voting systems. We will come up with parameters to guide the type of new voting system we expect the state to buy within the next year. The state election commission is putting together a "vendor fair" in the next few months to let companies showcase their wares. While there are some good systems being developed that will meet our parameters (open source, publicly owned, cheap to buy and use, voter verifiable paper trail) we will need to focus on seeing that whatever they buy, meets our specs. They will then form an evaluation committee to determine what RFP meets their needs. The Network as been invited to participate in the vendor fair later this year. It would not be a good idea for any legislator to introduce a bill regarding the type of voting system the state purchase without talking to us. We actually want to work up a plan that works. Not just file a bill to say we did. We want to help shape the Election Commission and County Directors position. They are the ones that can get a bill passed.
Ethics Reform
The Network is working with Common Cause to promote an independent investigation of legislative ethics violations, full disclosure of income and regulate campaign expenditures. We will continue to raise publicly financed elections as the best fix for the corrupting influenced of money on politics.
Racial Injustice
At our founding conference in 1995, the Network acknowledged that racism was our state's most profound problem. In 2000, we released a study the showed the racial disparities in our criminal justice system were the worst in the nation. We then hosted town hall meetings to solicit citizen testimony on racial profiling, followed by the introduction of a bill to require "all cops to report all stops." After 9/11, the bill languished until Gov. Sanford vetoed a mandatory seat belt bill that was required to get federal highway funding.
The Republican majority offered to support the racial profiling bill to get the Black Caucus to vote to over-ride the veto. It was a year after the bill passed that we discovered the five white legislators on the conference committee added the work "non-custodial" to the bill, changing the requirement for all stops to be reported, to all warning tickets be reported. In 2010, we did a ten year review of racial disparities and an audit of the pubic data base the Dept. of Public Safety has on their web site. Though the racial profiling law requires all 299 police agencies to report the race of those questioned in "non-custodial" stops each month, nearly half the agencies are not in compliance.
The 2010 study and a link to the DPS racial profiling site is on the Network web site under Projects. Our racial profiling study provides a tool kit for anyone in the state to engage their local police in a constructive dialogue regarding racial profiling. Rep. Joe Neal, the racial profiling bill's original sponsor is planning to reintroducing legislation to add "all stops" to the data base. Our job is to lobby the heads of our local police agencies to endorse legislation that shows their communities that they do not practice, or condone, racial profiling.
Bills We're Backing
S-172: Earned Sick Leave, Sen. Marlon Kimpson. We organized the witnesses for the bill at sub committee level last session and will do so again. Expect an ALEC sponsored ANTI-Sick Leave Bill to be filed again this session. Rep. William Sandifer, Chair of the House Labor, Commerce and Industry Committee is an ALEC member and passed out an anti-worker-benefits bill last session without any public hearings or committee debate.
H-3031: Minimum wage of $10.10. Rep. Gilda Cobb-Hunter. SC is one of five states with no minimum wage.
S-207 & H-3202: Whistleblower Act. Would protect and award public employees who report illegal or unethical acts.
S-148: Early voting, Sen. John Scott. While the Network has promoted an early voting bill for the past 12 years, nearly 20% of the voters are taking advantage of our "Early-in-person-absentee-with-excuse-voting" law that allows those with one of 15 excuses to vote in person, 30 days prior to the election. For the past few sessions, Alan Clemmons, the Republican chair of the House Election Law Subcommittee, has filed legislation to do away with early absentee. Clemmons argues that we should all vote in the same 12 hours "as a show of patriotism". Clemmons, the primary sponsor of the photo-ID bill, seems to be committed to keeping fraud down by making it harder to vote.
S-48: Study Committee on Racial Profiling, Senators Gerald Malloy and Marlon Kimpson. "Study Committee on Racial Profiling" to review State and local law enforcement policies, practices, and procedures regarding racial profiling, and to make recommendations to the General Assembly regarding proposed changes to the laws regarding such policies, practices, and procedures.
Repeal Right to Work: Rep. Cobb-Hunter has offered to introduce a bill to repeal the Right to Work Act. This will be high drama and public education. We envision getting people from the unions to participate in a press conference in front of Nikki's office. "I'm Velma Huggins I'm a union member and I deliver the governor's mail. I'm Kenny Riley, I'm a union dockworker that has made the port of Charleston something the governor brags about. I'm Powell Caldwell, I'm a union member and I make sure that the governor gets her UPS packages. etc."
Mis-classification bill: Rep. Neal introduced this for us last session and will do it again. He is waiting for us to find a Republican sponsor. This is a business friendly bill that Republicans have sponsored in other states to tighten up on contract employees.
Stand Your Ground Repeal: Rep. Harold Mitchell will be reintroducing a bill we worked up for him to take the clause out of the old Castle Doctrine that the NRA inserted in 2006. This is the clause that says you can use deadly force anywhere you are lawfully present – not just inside your castle.