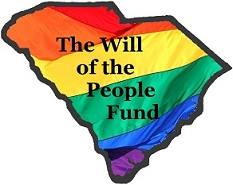 A grass roots group called The Will of the People has recently formed with a singular focus on South Carolina's marriage equality fight. The mission is simple: To raise funds for non-attorney costs to support both a pending lawsuit as well as future marriage equality litigation in our state. The catalyst for the organization's creation is the pending lawsuit by two women against the State of South Carolina in Federal District Court. The suit seeks an order requiring the state to recognize their 2012 legal marriage in Washington, DC.
The Will of the People is a volunteer organization; therefore, nearly 100% of the money raised will be used for filing fees, legal brief writings and clerical costs in the ongoing fight for marriage equality in SC. An account has been set up in the name of The Will of the People Fund at Wells Fargo Bank in South Carolina. All contributions are tax deductible. Send checks payable to The Will of the People Fund to The Will of the People Fund, PO Box 5006, Columbia, SC 29250.
Learn more about The Will of the People Fund on Facebook and Twitter @RealWOTPF.