"You're doing God's work," Mary Posey told Network Director Brett Bursey when he called to share the good news that the small plot of land in Lower Richland she started paying for in 1997 was finally hers. On Aug. 8, she signed papers to make it official.
Nobody thought it would happen. The two took on one of the county's largest landowners and won, after months of work and against all odds.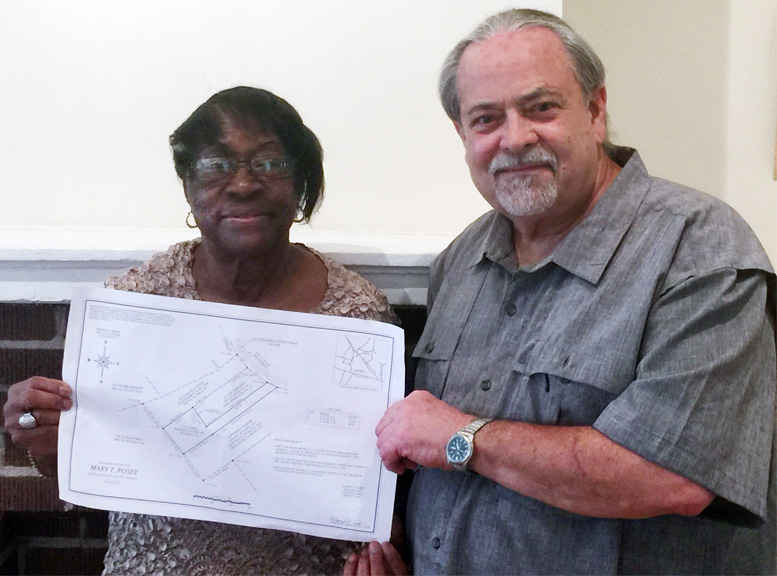 Brett Bursey and Mary Posey, holding the plat to her land.

When Rep. Joe Neal died suddenly in February, the SC Progressive Network made a rare endorsement to support Wendy Brawley in the special election to fill his seat. We wanted to ensure that Rep. Neal's replacement would continue to advance the work and vision he shared with the Network, an organization he helped found.
Brawley's main opponent was Heath Hill, who inherited 68 square miles of Lower Richland from his father, Harold Hill, who died in 2002.
During the campaign, Bursey learned of Heath Hill's reputation for questionable ethics. When he discovered that the mother of a longtime mutual friend was one of his victims, Bursey paid Ms. Posey a visit. They made this three-minute video, which was circulated online and on CDs across the district.
It was a brave move for the woman who didn't want to make waves and had intended to let the matter go. Bursey, however, could not. After Brawley won the election, he went on a campaign to pressure Hill to follow through on the deal his father made with Posey in 1997, when she began making payments on the land she wanted to buy for her grandchildren.
When the elder Hill died, Posey owed $300 on the $4,920 debt. While the contract required Posey to pay off the note in 18 months or forfeit the land and money, Hill told her to pay what she could as she was able. But when she tried to make the final payment to Heath Hill, he said she'd waited too long. He kept the money and the land.
Without bank records to prove payment, lawyers advised that there was no legal recourse. But never one to give up without a fight, Bursey went to Hill directly and asked him to do the right thing, and shared with him some of the stories and research he'd uncovered during the campaign. Bursey then took the information to Hill's attorney.
On Aug. 8, Posey took $300 to the attorney's office, signed the deed and, after 20 years, took ownership of the land.
•  •  •
We think this is an excellent reason for a party!
Help us celebrate a rare win over big money. Join friends on Tuesday evening Aug. 22 beginning at 6:30 for a casual get-together at the Fish Line restaurant – owned by Posey's daughter – at 4201 Bluff Rd. The event is free, but you can enjoy a fish dinner for $10 if you RSVP by Aug. 18. The restaurant, which is usually closed on Tuesdays, needs a head count.
Call 803-808-3384 or email network@scpronet.com for information or to make reservations. You can also share/RSVP on Facebook.