Tag Archives:
Brett Bursey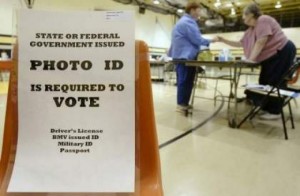 The SC Progressive Network is holding a series of community forums titled "Voter ID and the new Jim Crow." Network Director Brett Bursey will moderate. Each event will include a Q&A session and instructions for activists to work the issue in their community.
The forums will address the moving target of DOJ pre-clearance, and where we should put our efforts to try and stop it. The meeting will recognize photo ID as a symptom of larger problems, and will focus discussion on sharpening a strategy to address The Big Picture.
The Network is planning a statewide summit on Oct. 29 in Columbia to sharpen our focus and efforts. Details and agenda to be posted as they become available.
Call  803-808-3384 or email network@scpronet.com for details or to schedule a meeting in your area.
•  •  •
Sept. 12, Florence: 7pm at Poyner Auditorium, 319 South Dargan St.
Sept. 15, Beaufort: 6:30pm at Golden Corral, 122 Robert Smalls Pkwy. or Hwy. 170. Come early if you want to have dinner.
Sept. 20, Charleston: 7pm at ILA Hall, 1142 Morrison Dr.
Sept. 22, Greenville: 7pm at Furman University, Younts Conference Center.


As state works to satisfy DOJ's questions, SC Progressive Network will continue to educate and mobilize SC voters
By Becci Robbins
SC Progressive Network Communication Director
The US Dept. of Justice denied approval of South Carolina's new voter ID law on Aug. 29, giving the state another 60 days to make its case. As required by the Civil Rights Act, DOJ has been reviewing the law to ensure that it does not abridge the rights of minority voters.
In its ruling, DOJ asked the state eight questions about procedures on obtaining photo voter registration cards, funding for voter education and poll worker training, and the process for casting provisional ballots when a voter has no photo ID.
The SC Progressive Network filed voter affidavits and comments with DOJ, highlighting the burdens posed on rural, poor and minority voters, and the likelihood of the law's unequal enforcement.
DOJ raised many of the concerns the Network has about how the state will work around the burden posed by voters needing a birth certificate to get the required DMV ID card. The final version of the bill included a provision that a registered voter could obtain a photo voter registration card – pending funding – that would serve as acceptable ID without mandating a birth certificate. One camera for each county office has been funded for this purpose. The cards will be made in Columbia and mailed to voters.
In an Aug. 25 submission to DOJ, the state filed draft procedures for issuing photo voter registration cards. The plan entails issuing paper voter registration cards that a voter cannot vote with unless they have the DMV photo ID. If they don't have the required photo ID, they must go to their county voter registration office and trade in their paper registration card for a "temporary voter registration card with a photo" that is good for 30 days. Permanent photo voter registration cards with photos will be printed by the state election office and mailed to voters.
Not only is the process burdensome to voters and election workers, it is inadequately funded. In June, $1.4 million was appropriated to cover everything from buying the cameras to mailing notices to the estimated 200,000 registered SC voters with no photo ID, to educating the public and poll workers on the new law.
As confusion and costs over the ID law mount, we should remember that no one has ever been caught impersonating another voter at the polls in SC, the sort of fraud this law was designed to prevent. Rather than protecting the sanctity of the vote, as proponents claim, the new requirement does nothing but make it harder to vote in South Carolina. For some voters, the burden will be too high.
While the state digs itself deeper into a hole of its own making, the Progressive Network will continue to educate voters and expand an organized coalition of citizens to fight this and other laws compromising voting rights in South Carolina.