Sen. Clementa Pinckney testifies at a legislative committee hearing on the SC Progressive Network's bill calling for clean elections.
Brett Bursey
SC Progressive Network Director
I first met Clementa Pinckney when he was elected to represent Lowcountry counties in 1997. He was 24 years old and powerfully earnest in a humble way. I knew the name, having grown up in Beaufort with white Pinckneys who were ever-mindful of their famous namesake's role in establishing this state and nation. A standing joke in Beaufort was "the Rutledges speak to the Pinckenys and the Pinckneys speak only to God."
Clementa smiled at my mention of the white side of his family, noting that they got the money and land, but are no closer to God than his side of the family.
Most of his friends called him Clem. But I loved the name his mother Theopia gave him, and always used it. I had several occasions to spend time with his wife Jennifer and their two daughters. The girls are precious, precocious and polite reflections of their father. They will always miss him, but will always remember, too, the president of the United States eulogizing him, as well as the outpouring of grief and love across our state.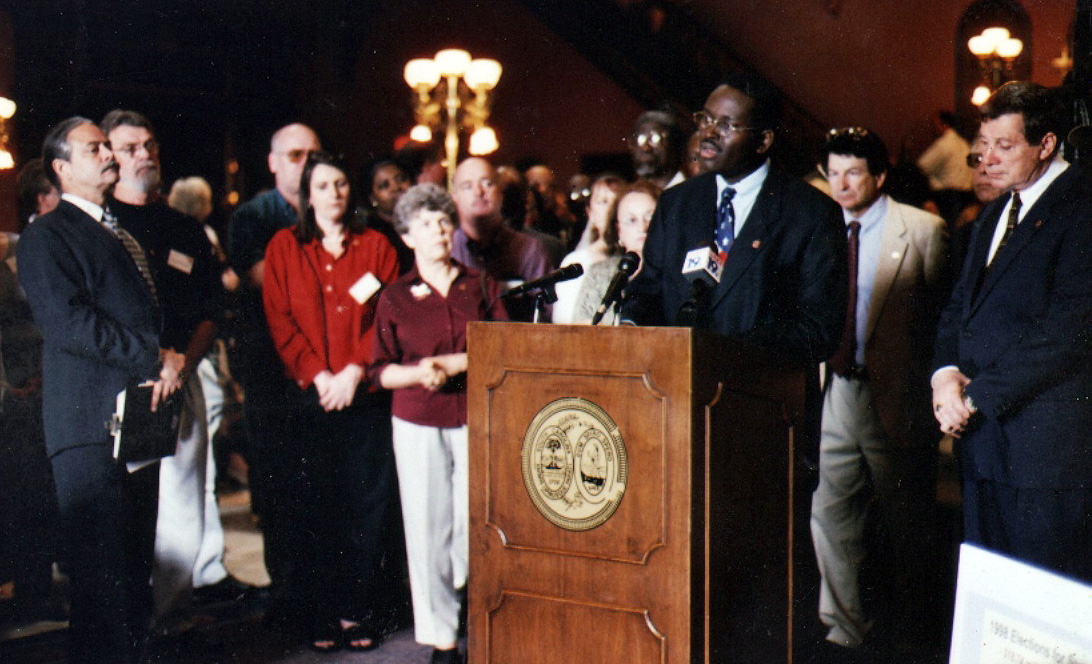 Sen. Pinckney speaks at a clean elections press conference at the State House.

Clementa was an active member of the SC Progressive Network, and championed legislation we promoted. His sponsorship and articulate defense of our clean elections bill to reduce the corrupting influence of money in politics was captured on an SCETV clip here.
Clementa's calm nature in spite of his demanding schedule was humbling. While he was a legislator, pastoring a church on the coast and being a great dad back home in Ridgeland, he found time to get a masters degree in Public Administration from USC, then take classes at the Lutheran Seminary.
When he was transferred from a small AME church in Beaufort County to one in Charleston, he didn't mention that he was the new pastor of the historic Mother Emanuel AME Church. The church, one of the oldest black congregations in the nation, has a history that reflects the violence of our state's racist heritage. Denmark Vesey, was one of the founders of the church in 1818 and the leader of a Charleston slave rebellion in 1822. Vesey and 34 others were hung for their role in the rebellion in which no white people were injured. The church was burned during the Vesey trial, and in 1834 the state outlawed all black churches.
A great new leader has been taken from us by an old and insidious enemy. Let it serve to remind us of the long road we're traveling for racial justice, and deepen our resolve to stay the course.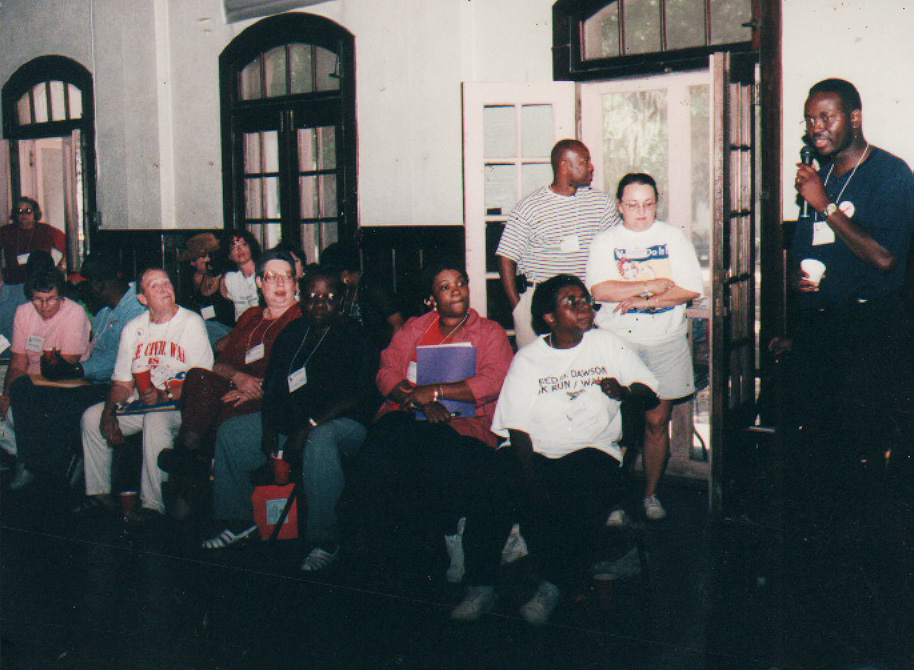 Pinckney speaks to members of the SC Progressive Network at Penn Center.