"We are really excited about the spring session of the Modjeska School," said Network Director Brett Bursey. "It's shaping up to be a powerful experience. We have expanded our readings, will have more guest teachers, and are adding a class. We also have built in more time for open discussion."
The spring session of the Modjeska School will be held every other Monday between March 21 and June 20. The session is limited to 32 students. Preference will be given to SC Progressive Network members who pledge to put their learned organizing skills to work in South Carolina.
Students will meet in the evenings between 6:30pm and 8:30pm at Columbia's historic Siebles House.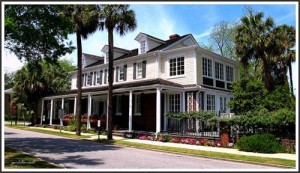 Kyle Criminger, who graduated from the summer session of the Modjeska School, had this to say: "South Carolina community organizers have the complete package in the School: guided study followed by mentorship in the field. In the people's history lectures and readings, you find a South Carolina you didn't know existed.
The School is informed by a global analysis of the problems.  It is all one struggle, the struggle for human rights, and we learned again and again the lesson that all of us who are losing must work together to fight our common enemy. Doing the work of organizing our communities means that first we tap into the collective wisdom and experience of those who have come before.
We don't just just talk about the problems; we're leveraging effective strategy to get the job done. That means students use "shovel-ready" Network projects, hold work meetings, and then educate, agitate, and organize a community of shared values, a movement with the power to set political priorities that meet everyday South Carolinians' needs."
To apply, prospective students must submit a written application and complete a brief telephone interview. (You must download the application to make it interactive.) A $190 tuition fee covers class materials, copies of Howard Zinn's A People's History and A Place at the Table: Struggles for Equality in America. Fees may be paid monthly; scholarships are available to those who need help.
If you have problems downloading the application or have any questions, call 803-808-3384. For more about the Modjeska School, visit our web site.
• CLASS SCHEDULE •

Class 1 – March 21: In the beginning – 1860. Earliest human habitation, through Native presence, the arrival of the White Man, the establishment of the colony by the Barbadians and the development of the slave economy
Class 2 – April 4: 1860-1895: SC's role in the Civil War. Reconstruction and redemption.
Class 3 – April 18: 1895-1945: 1895 Constitution, redemption, the rise of Jim Crow, the fall of democracy, the New Deal and a world war.
Class 4 – May 2: 1945-1968: Rise of Dixiecrats, SC's struggle against racial equality and the civil rights movement, the Great Society and the Southern Strategy to end it.
Class 5 – May 16: 1968-1996: Modern movements. Vietnam, United Citizens Party, GROW, gay and women's liberation movements, Republicans rising, Democrats surrendering and the SC Progressive Network established.
Class 6 – May 23: 1996-2022. (schedule change due to Memorial Day) Progressive Network's history and future plans. Building political power on changes, opportunities, clever planning and hard work.
Class 7 – June 6: Theories, Strategy and Tactics. What are our sharpest tools for building and sustaining a popular movement for a revolution of social values? What skills do we need, and what resources do we have?
Class 8 – June 20: Enough Theory; Let's Practice! Students will design and launch an actual organizing project.