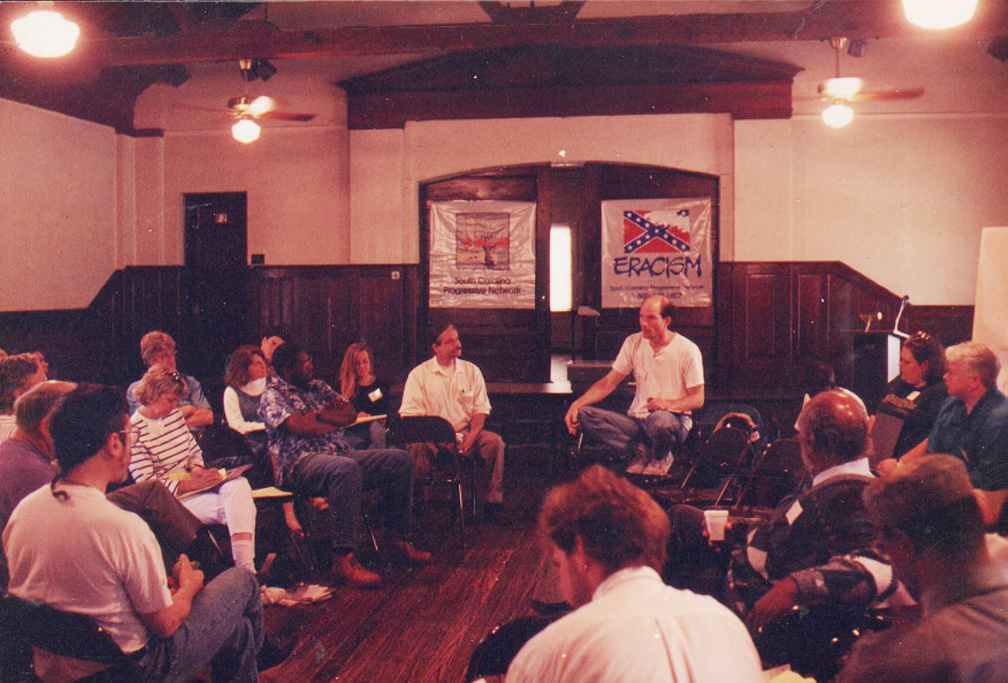 April 1996, Penn Center, St. Helena Island, SC
Twenty years ago this month, the SC Progressive Network held its founding conference. The weekend was the culmination of a year of networking, with grassroots activists meeting and talking by phone to organize a statewide coalition.
The idea was to build a unified front to fight the erosion of gains they had worked decades to secure, believing that by joining forces they could leverage each other's work and strengthen the progressive community in South Carolina. You can read about that weekend in a story that ran in the May 1996 issue of POINT newspaper, one of the vehicles for Network organizing.
That piece quotes Rep. Gilda Cobb-Hunter, who was at the conference, along with Rep. Joe Neal, who served as Network co-chair for the first dozen years. He said, "My first philosophy is: don't agonize; organize. I think this is the first step toward doing that. In the work I do [as a social worker for battered women] we talk about breaking the silence to end abuse. That's what we have to do here; it's the same analogy. We need to break the silence.
"We need to get beyond our own groups… and challenge these crazies spewing hateful stuff. You cannot allow them to outwork you. Stop whining and complaining; get out and do something."
The piece noted that while conservatives have monopolized the public debate, it is power that had been abdicated, not earned. "In truth, most South Carolinians do not participate in the political process. Less than half of us are registered. In the 1994 general elections, according to figures from the state Election Commission, only 34 percent made it to the polls. In the gubernatorial election, David Beasley won with just 17 percent of the state's voting age population." [Gov. Nikki Haley won with similarly low numbers.)
"The task for the Network is to reach – and mobilize – the other 83 percent. Once the numbers are crunched, the idea of shaking up the status quo seems a less daunting task."
The Network has not just survived 20 years, but has thrived. We have done tremendous work on a shoestring budget, and have created a solid foundation that will serve the progressive community well into the future. With your continued help and support, we look forward to many more years of shaking things up and speaking truth to power in South Carolina.
"I've never been self promotional," said Network Director Brett Bursey, "but after 20 years of good and productive work, I think it's time to take a bow. I'm realizing that my reticence to blow our own horn limits our reach, our recruiting and our fundraising."
Come help us celebrate at our monthly meeting in Columbia April 12, 7pm, at the Modjeska House, 2025 Marion St. After a brief update on the work we're doing, we'll have cake and hoist a glass to toast our success. If you can't join us, you can let us know you care by sending a gift. Details here.
Thanks, everyone! See you in the trenches.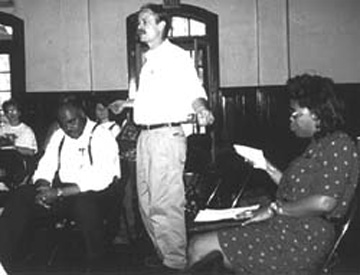 Network Director Brett Bursey, center, and Reps. Joe Neal and Gilda Cobb-Hunter. See more photos from the Network's first statewide gathering in our photo album.