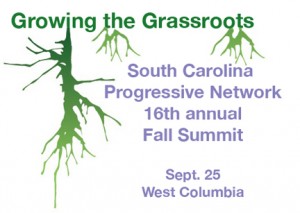 Don't miss it!
On Saturday, Sept. 25, members and allies of the SC Progressive Network will gather for an afternoon of fellowship and talking politics. Grassroots activists will travel from across the state for the meeting, which runs from 11:30am to 4pm at the CWA Hall, 566 Chris Dr. in West Columbia. Participants will look ahead to the midterm elections and the upcoming legislative session, and map a strategic way forward.
"This is our most important meeting of the year," said Network Co-chair Rep. Joe Neal. "We will talk about how we can work together and focus our energy to be most effective."
Network Co-chair Donna Dewitt, president of the SC AFL-CIO, said, "We are looking forward to seeing our members from across the state, and meeting newcomers. We are in the process of restructuring our organization, now that we're entering our 16th year, and we are looking for fresh ideas and bold leadership."
Network Director Brett Bursey said, "We are facing challenges unseen since the Great Depression. But hard times are the best of times for organizing, as the struggle for social justice is no longer an abstraction for a growing number of people. Let's make the most of this opportunity."
The Network is a coalition of grassroots groups and individual members from across the state working collaboratively to promote good government, sound public policy, and an engaged, informed citizenry.
For more on the Network, see scpronet.com, call 803-808-3384, email network@scpronet.com, or join us on Facebook.
AGENDA
11:30 – 12:30 Registration and lunch (RSVP for the sandwich buffet: $10)
12:30 – Welcome to Oz
Network Co-chair Rep. Joseph Neal will preview the upcoming legislative session.

1pm – Lead, follow, or get out of the way!
Rep. Neal and Co-chair Donna Dewitt will facilitate a discussion on our organizing and policy focus for the coming year. If your group will be targeting specific bills, or amendments, bring information to share with our members. We will co-ordinate and streamline campaigns to maximize our collective reach and clout.
1:30 – Regroup, restructure?
As we head into our 16th year as an organization, it is time to reconsider our structure and revamp our bylaws. Stark changes in the grant world have radically diminished the Network's finances and we cannot rely on grant money to fund the organizing and policy work we have been doing. We need to reorganize to promote new leaders from our individual membership. We won't finish this work at the Summit, but we should reach a consensus on what structural changes make the most sense, and a process for moving forward.
2:15 – Protecting Social Security: What's happening and what you can do about it. Join the SC Alliance for Retired Americans' postcard petition campaign to tell members of Congress and the Deficit Commission: Hands Off Social Security!

2:30 – SC Progressive Voter Coalition session
The Coalition (ProVote) includes progressive parties, caucuses, PACs and individuals. We will target races in the November elections where we can make a difference and ask that everyone adopt a campaign near them.
4pm – Adjourn