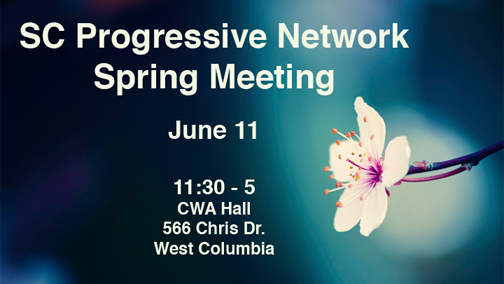 Join us for a day of fellowship with allies and mapping strategy for the coming months. The event is free and open to anyone interested in promoting a progressive agenda in the Palmetto State.
11:30 – 12:30 – Registration and lunch. Lunch is $10; please RSVP for lunch at network@scpronet.com or 803-808-3384.
12:30 – Introductions and welcome. Overview of the Network's goals, strategies and tactics. Reports from the field.
1:30pm – Policy work
• Review our moral budget campaign and look ahead to the budget in the coming legislative session
• Understanding SC's new voter photo ID law and our campaign to stop it in the Justice Department
• "Are your papers in order?" A look at SC's pending anti-immigrant legislation
• Redistricting. What's happening and what are the implications
• SC organized labor under assault; what can we do?
• Reproductive rights: victories and challenges in SC
• Hate crimes legislation: an update
2:30 – Policy priorities for the coming year
3:00 – Break
3:15 – Network Education Fund business (501-c-3)
• How can the Network Education Fund better serve your organization?
• Financial report and fundraising.
• Communications report
• By-laws changes
3:45 – Progressive Network individual members business (501-c-4)
• Movement building, political parties and strengthening our base
• ProVote – mapping strategy
• The Network's relationship with national organizations. How can we work more collaboratively?
• Summer projects
• Fall retreat: making plans for our next statewide gathering
5pm: Meet and mingle