The SC Progressive Network is asking South Carolina citizens to gather at the State House on Monday, Nov. 21, to challenge Gov. Nikki Haley's order against protesting on the grounds after 6pm.
"We are urging citizens who believe that our First Amendment right to petition our government doesn't end at sunset to join us at the State House from 6 to 7pm on Monday," said Network Director Brett Bursey. "We will peacefully protest on the grounds, and are inviting legislators to join us in taking a stand for free speech in South Carolina."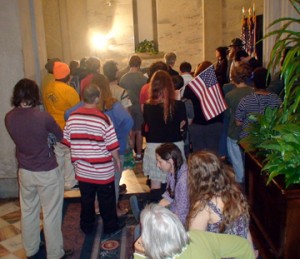 Gov. Nikki Haley orders protesters off the State House grounds at a Nov. 16 press conference. Two hours later, 19 Occupy Columbia activists are arrested.
The Network is a 16-year-old statewide coalition of advocacy organizations and grassroots activists that promotes democratic reforms, including reducing the influence of money in politics. "We do not believe that money is free speech, that corporations are people, or that the Occupy Wall Street protests don't have a clear message," Bursey said.
Network Co-chair Virginia Sanders said the the prohibition against protesting after 6pm reminds her of Columbia's old Jim Crow practice of running the last bus to the black communities before dark. "The governor is saying that if I work until 5pm, my opportunity to protest her decisions will last about 15 minutes," Sanders said.
Sanders' remembers 1961, when 187 black students were arrested for protesting racial segregation on the State House grounds. The US Supreme Court threw out the conviction, ordering that the state could not "make criminal the peaceful expression of unpopular views."
Participants in Monday's protest will not be arrested unless they refuse to leave after being ordered to do so by the Bureau of Protective Services.
Neither the Governor's Office, the Dept. of Public Saftey or the Bureau responded to repeated requests Friday for clarification of the new limits on First Amendment expression on the State House grounds. "It's my guess that they don't have a clue how to enforce an illegal order," Bursey said.
"If I can't stand on the State House grounds with a sign that expresses my opinion about how our democracy has been hijacked by corporate interests, I'd rather be in jail," he said.