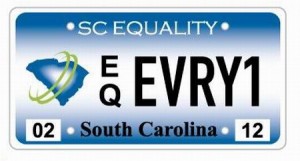 We are delighted to announce the SC Equality license plate! The plate will be available on Jan. 30, and is a wonderful way to show support for the LGBTQ community in South Carolina. This plate is not just for the LGBTQ community, but for family members, allies and the community at large!
This week, South Carolina joins Indiana as one of three states to claim pro-equality license plates, Maryland being the first in 2008.
The license plate was created as a way of allowing residents of South Carolina to publicly display their support of community, culture and policy that encourages and advocates for equal treatment for all South Carolinians, regardless of sexual orientation or gender identity.
2012 represents our 10th Anniversary of providing LGBT advocacy in the Palmetto State, and we can think of no better way to kick off our year of celebration! We begin the New Year feeling grateful and fortunate that South Carolina license plate policy allows a broad expression of diverse opinion and organizational support.
With one of the lowest specialty license plate fees in the state ($25.00), the SC Equality license plate is an affordable way to show support for equality and the over 120,000 lesbian, gay, bisexual and transgender individuals who call South Carolina home.
To get YOUR SC Equality license plate, visit your local DMV, complete the specialty plate application and pay the $25.00 fee along with standard registration fees.  Half of the $25.00 fee will support the education and advocacy work of South Carolina Equality Foundation.
Join us for the following events to celebrate the plate:
In Columbia, Jan. 20, 5:30 – 7:00pm at 701 Whaley St.
In Charleston, we celebrate with Takeover! Club Blu at Tides on Folly Beach, Jan. 21, 2012 at 8pm.
To be eligible to receive one of the first 100 plates issued, please contact Christine at christine@scequality.org.
SC Equality is a member of the SC Progressive Network.