SC Progressive Network Spring Gathering
May 19, 10:30am – 5:30pm
CWA Hall, 566 Chris Dr., West Columbia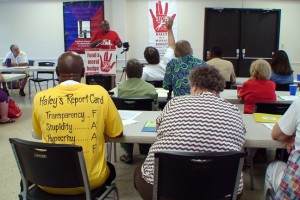 Network Co-chair Rep. Joe Neal answers questions at the 2011 Spring Gathering.

PROGRAM
10am: Registration, coffee and doughnuts
10:30 – Welcome and introductions
11 – Missing Voter Project Workshop: Finding, registering and engaging the 50 percent of South Carolinians who don't vote
11:30 – Racial Profiling Workshop: Are your local cops following the law the Network helped pass? What you can do about it.
Noon – lunch and Social Media Workshop (optional): Everything you wanted to know about social networking but were afraid to ask
1pm – Sorry State of the State: A reality check and a call to organize!
Update on Network's recent and future fight for a moral budget, and planning next steps
Protecting voting rights in South Carolina – what we did last year, and a look at what's ahead
Defending the working class and collective bargaining in a fiercely right-to-work state
4 – Network business and political endorsement process
5 – Reception to honor the retiring Donna Dewitt for her years of service to SC's labor community. She will be the first to take a whack at a Haley pinata.
$10 registration includes conference materials and lunch by Tio's
RSVP at 803-808-3384 or network@scpronet.com
More about the Network at scpronet.com