Progressive Organizing Conference
Growing the grassroots in South Carolina
Feb. 23, 10am – 4:30pm
Brookland Baptist Conference Center
1066 Sunset Blvd., West Columbia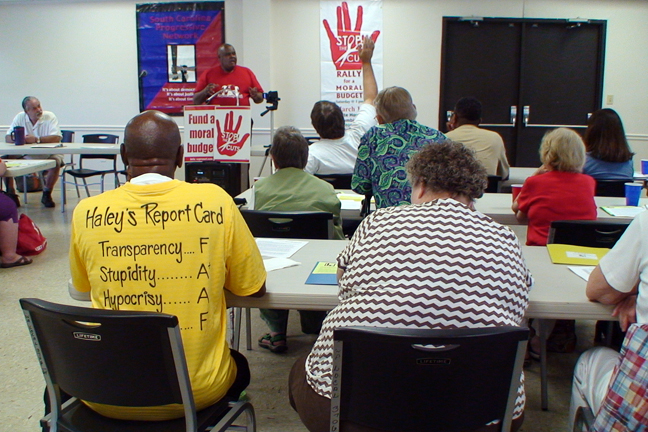 See photos from last year's conference here.
The SC Progressive Network and the SC Legislative Black Caucus are offering a day-long activist training conference Feb. 23 in West Columbia. Participants will focus on significant policy issues being considered by the legislature, with an emphasis on building a progressive movement.
"We must do more than lift up just and rational social and economic policies," said Rep. Harold Mitchell, chair of the Legislative Black Caucus. "We have to build a popular movement with the power to make the necessary changes."
The conference will address the challenges and opportunities posed by the increasingly conservative leadership in South Carolina that believes government is the problem.
Member organizations will offer brief reports on recent victories and current projects. This is an opportunity to share and inspire fellow activists with the good work going on across the Palmetto State.
RSVP for lunch ($10) required by calling 803-808-3384 or emailing network@scpronet.com. You can also RSVP or share on Facebook.
Medicaid Organizing Packet with Power Point presentation: $10 (optional).
PROGRAM
10am – Registration
10:30 – Brief reports from member groups and discussion led by community activists:
Reproductive rights: Will Bigger, Planned Parenthood
Ethics reform: John Crangle, Director, Common Cause SC
Environment: Bob Guild, environmental lawyer and Sierra Club activist
Labor: George Hopkins, labor historian and SC Progressive Network's Lowcountry representative
Immigration: Ivan Segura, Council of Mexicans in the Carolinas
Education: Roger Smith, Executive Director, SC Education Association
Voting reform: Brett Bursey, Director SC Progressive Network
LGBT rights: Ann Wilbrand, SC Equality
12:30 – Lunch catered by Tio's (optional). $10 RSVP at 803-808-3384
1 – Keynote speaker Rep. Gilda Cobb-Hunter
1:30 – Health Care and Medicaid Expansion: Former Columbia Mayor and Medicaid lobbyist Bob Coble, SC AIDS Task Force Director Dr. Bambi Gaddist, and health care economist Lynn Bailey will facilitate the discussion. The governor's refusal to accept our federal tax dollars back in the form of a 90 percent match for expanding health care coverage to over 300,000 low-income South Carolinians provides a great opportunity to illustrate the cost of free-market ideology as social policy. Participants will get an organizing packet that will help them organize educational forums on this issue in their communities.
2:30 – Medicaid expansion strategy discussion. Rep. Gilda Cobb-Hunter will facilitate.
3 – Politics and power in the Palmetto State. A discussion about how political parties, elections and grassroots activism figure in to building an effective progressive movement. Former State Superintendent of Education Dr. Jim Rex will join the discussion. He helped launch the new Free Citizens Party. Should be a spirited session.
4 – Network business meeting. Nonmembers welcome.