Medicaid Expansion Organizer's Toolkit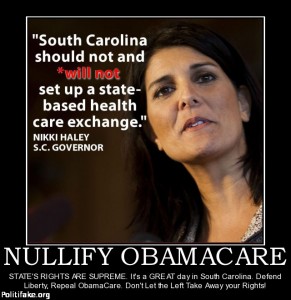 Overview
Gov. Nikki Haley's refusal to accept Medicaid expansion for South Carolina must be challenged, whether we can win that battle or not. The numbers, common sense and decency are on our side.
In her refusal to accept the nine-to-one match in our tax money, Gov. Haley asks, "What good do the nine dollars do us when we can't come up with the one?"
Truth is, South Carolina could raise the Medicaid match simply by eliminating the $300 sales tax cap on cars, boats and airplanes. It's not the lack of revenue that may kill Medicaid expansion; it's the rigid ideology that has promoted the idea that government is bad. That mindset threatens not just healthcare, but education, tax policy, environmental regulations, and so on.
If Medicaid is expanded, about 250,000 South Carolinians who make around $16,000 a year (138 percent of the federal poverty level) will be provided health coverage.
The Affordable Care Act cuts federal payments to SC hospitals by $2.6 billion. These cuts were supposed to be made up by the expansion of Medicaid to keep poor people out of emergency rooms by providing them with insurance. If South Carolina refuses to expand Medicaid, hospitals will lose this funding for the poor but still will be required to provide services to them.
Unless Medicaid is expanded, childless adults who are not disabled and make less than 100 percent of the federal poverty level – about 185,000 people – would be in health insurance limbo. They would not qualify for regular Medicaid nor the new federally subsidized insurance programs.
(Read more in a story in The State. See Health Care Fairness for SC for more information and links to your legislator.)
Democrats and hospital associations want the state to accept up to $11 billion in federal money over the next several years to expand South Carolina's Medicaid program. Federal officials would pay 100% of the program's billion-plus dollar annual cost for the first three years, gradually decreasing to 90% in 2020 . When our bill kicks in, it will be less than could be raised by lifting the 3% sales tax on cars, or by closing any of a number of other special interest tax loopholes.
House Republicans have an alternative plan that would pay hospitals up to $35 million to steer uninsured patients to community health centers, free health clinics and rural health clinics. Lawmakers also pledged to give those health centers and clinics an extra $10 million in state money to care for those uninsured patients.
This is part of a $83 million Republican plan created by Rep. Brian White (R-Anderson) to reduce costly emergency visits and to support rural hospitals and free clinics. His plan calls for only $8 million in new spending as part of next year's budget. The remaining money would come from federal sources and cash the state Department of Health and Human Services has on hand.
While health care advocates welcome the proposal to increase support to community health centers, the Republican proposal is one-time-money, not a recurring budget item, and WAY short of the billions promised by Medicaid expansion.
Who Decides?
The House has refused to pass a bill that includes Medicaid expansion. Therefore, the focus of the debate on Medicaid expansion is on the Senate Finance Committee. Medicaid expansion has a better chance of passing in the Senate than the House, and we are focusing our immediate efforts on the Republican members of the Senate Finance Committee (see list below).
There are 23 members of the Senate Finance Committee – 14 Republicans and 9 Democrats. We need 3 Republicans to vote out a budget that includes Medicaid expansion.
The Senate Finance proposal will then go to the Senate floor for consideration, at which point all Republican senators should be lobbied.
If the House and Senate do not agree on their respective bills, the question then goes to a conference committee, which will try to reach a compromise.
Should a compromise that includes Medicaid expansion be reached and passed by both bodies, the next step is the Governor's Office. Gov. Haley has pledged to veto any bill that includes Medicaid expansion. As a political face-saving move, she could let it become law without her signature.
If the governor vetoes the bill, the legislature can override her veto with a two-third's vote of both bodies.
The state legislature decides whether to accept the expansion funds — and can do so only if it can muster the two-thirds majority to override the governor's promised veto. Because all the Democratic legislators support the expansion, we must target Republicans.
Of the 124 House members, 83 must vote yes to override. With 48 Democrats and 76 Republicans in the 124 House seats, we must convince 35 Republicans to vote yes.
In the 46-seat Senate, 31 votes are needed for an override. With 27 Republicans and 19 Democrats, the override vote requires the support of 12 Republicans.
What can I do?

Arm yourself with the facts about Medicaid expansion. Health Care Fairness for SC, a coalition of hospitals and health care advocates that includes the SC Progressive Network, has a great web site with all the facts you need to understand the matter and lobby for it. There is also a link to send messages to your representatives here.
We are asking organizers to adopt a Republican legislator. Get outside your comfort zone.  If you don't have a Republican in your district, find the closest one. Look in your county delegation. Recruit five of your friends who agree with you to do the same.
Find your legislator, or look them up by your district here.
Find your senator here, and
Get that legislator to take a position on Medicaid expansion. Many Republicans are saying they are "looking at the options." This is a way of saying they are waiting to see if a super-majority for the veto is possible before they decide how to vote.
Go to your adopted legislator's church and discuss the issue with congregants. Do the same with their fellow alumni and neighbors. A listing of Republican legislators, their churches and colleges is here.
After a reasonable effort to solicit the legislator's commitment to a yes vote, you may attempt to call him out on the question in public. Tactics ranging from letters to the editor, community forums, to pickets or leafleting may be considered. The Network can provide tactical and legal advice on such actions.
Let us know who you've adopted, and their response, by calling 803-808-3384 or emailing network@scpronet.com.
If you have questions or need help, contact the SC Progressive Network at 803-808-3384.
To join an e-list for organizers working on Medicaid expansion, email network@scpronet.com.
See Health Care Fairness for SC for more information.
Goals
We want to get the Medicaid expansion passed.
Short of that, we want to:
•  Take the governor up on her position that community health care centers are a better alternative than "Obamacare," and push for a recurring budget and increased funding for the centers and rural hospitals.
•  Use the opportunity to identify allies and broaden our base of support for movement for rational change in South Carolina.
See our web site for more about the SC Progressive Network. Join us on Facebook and Twitter.
List of Republicans on the finance committee. Click here for bio and local contact information.
Leatherman, Hugh K., Sr., Chairman (Florence, Darlington)
Peeler, Harvey S., Jr. (Spartanburg, Union, York)
Courson, John E. (Lexington, Richland)
O'Dell, William H. (Abbeville, Anderson, Greenwood)
Hayes, Robert W., Jr. (York)
Alexander, Thomas C. (Oconee, Pickens)
Grooms, Lawrence K. "Larry" (Berkeley, Charleston, Berkely, Colleton)
Fair, Michael L. (Greenville)
Verdin, Daniel B. "Danny", III (Greenville, Laurens)
Cromer, Ronnie W. (Lexington, Saluda, Newberry)
Bryant, Kevin L. (Anderson)
Cleary, Raymond E., III (Charleston, Horry, Georgetown)
Campbell, Paul G., Jr. (Berkeley)
Davis, Tom (Beaufort)