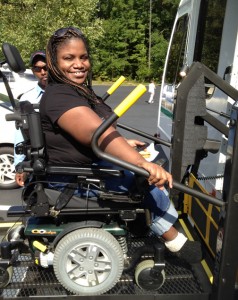 Columbia area bus and DART riders, along with public transit advocates, will launch the Midlands Transit Riders Association (MTRA) at a 2pm, April 3 press conference at the CMRTA (Central Midlands Regional Transit Authority) Transit Station, at the corner of Laurel and Sumter. Riders and advocates are urged to attend and share their stories about how public transportation affects them and how it can be improved.
Brittany Higgins, a spokesperson for the group, said that riders and advocates have been meeting for months to lay the groundwork for a riders association. "We believe that riders can provide the most informed advice about how CMRTA services are delivered," Higgins said. "The CMRTA will benefit from organized input."
Higgins, a recent Columbia College graduate, became a bus rider after years of questioning whether or not she should drive because of the symptoms of her physical disability. "I rely on public transportation," she said. "I am looking forward to improvements that will allow me to live my life to the fullest."
The MTRA's mission statement reads: "The Midlands Transit Riders Association is a nonprofit organization of riders and advocates for safe, efficient, environmentally sensitive, affordable public transportation. We believe that our communities deserve public transportation that meets the needs of those who must use it, as well as a system good enough that people want to ride."
Virginia Sanders, SC Progressive Network Co-Chair, has been working with riders for six months. She said, "Columbia's bus riders have never had a voice in how their tax dollars are spent on public transportation, and we don't want to leave all the decisions up to those who rely on low-wage workers getting to their jobs." Sanders, a public transit advocate, has been appointed to the county's penny tax oversight committee that will monitor how the $300+ million designated for public transit is spent.
"Bus drivers are the only connection most riders have with the service they get," said driver Lucious Williams. "So we are the only ones to hear their complaints." Williams has been driving a bus in Columbia for 33 years, and is vice president of the bus drivers union.
CMRTA drivers work for Veolia, a French-owned global transportation corporation, and many are represented by Amalgamated Transit Union Local 610. "The riders need to organize if they want to have an effective voice," said Williams. "This will help overall improvements in the CMRTA system."
Midlands Transit Riders Association goals:
Educate the public about the benefits and challenges of public transit.
Facilitate the voice of riders in public transit decisions.
Serve as a vehicle for community input to improve public transit.
Reduce pollution through the use of alternative fuels, smaller buses and feeder routes.
Assure safe, well-maintained buses, shelters, stops and transit station.
Advocate for efficient service with expanded routes, days and hours of public transit.
Strive for affordable rider fees.
Reduce auto traffic through park-and-ride and expanded service.
Membership in the MTRA is free and open to riders and public transit advocates. For more information, call 803-808-3384 or email MidlandsTransit@gmail.com.