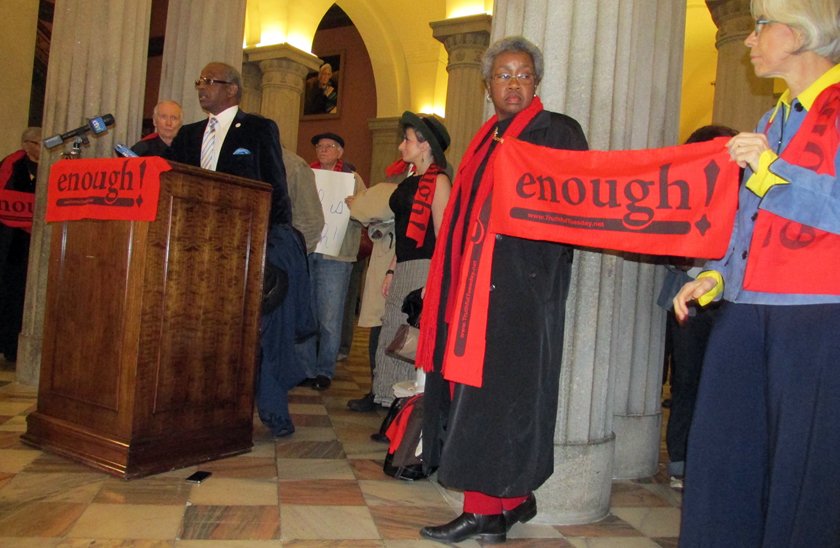 In anticipation of the Senate taking up the Nullify Obamacare bill next week (H-3101, which passed the House last year), we are calling for a Truthful Tuesday Day of Shame on Feb. 25. We will gather in the upstairs lobby at 11am and greet the Senators as they go into session at noon. Bring signs and scarves (we'll have some for folks who don't.)
We will politely ask each one of them whether they support the Affordable Health Care Act and expanding Medicaid. If they say no, or refuse to answer, we will look them in the eye and simply say "Shame!"
We have been advised that disturbing a legislative session is punishable by three years in prison and a $5,000 fine, AND the Fifth Circuit Solicitor has advised our lawyers and the police that they WILL be using that charge should anyone violate 10-11-330. Given the unreasonable consequences, we are not calling for civil disobedience at this time and place.
We firmly believe that civil disobedience is a legitimate tactic that should be pursued. There are times when it is morally imperative for people to take a stand (or sit-in) against evil. It is what ended Jim Crow, brought an end to the Vietnam war, and is the people's ultimate weapon against fatally wrong state actions. The primary beneficiary of CD is the participant whose principles are tested and found victorious. The tactic wakes the public, and forces the media to address why people are willing to get arrested.
If you are considering CD in the future, you must check in with our CD coordinator, Network Director Brett Bursey, for a briefing. Call 803-808-3384 for details.
We believe that when a majority of our legislators make partisan decisions that will cause hundreds of unnecessary deaths, it is incumbent on citizens to "disturb the orderly conduct" of such a body. We are committed to disturbing these politicians by exposing their shameless, petty, partisan self-serving conduct that violates their oath to serve the common good.
We have been reluctant to call shots when the legal liabilities were unclear, and our commitment to an open and democratic process has had us waiting for consensus from parties that are not responding.
We invite those allies who have fallen away from the effort to re-engage. The Moral Mondays spotlight in the regional and national media has given our own movement a boost, as the media has taken to linking our movements. We are resolved to press on. Please join us for the good fight and the long haul.

Bookmark TruthfulTuesday.net to stay connected. Finally, watch Rep. Gilda Cobb-Hunter in this clip at a Truthful Tuesday planning meeting, where she says she's saving bond money in case she needs it. She's stepping up. So can you.