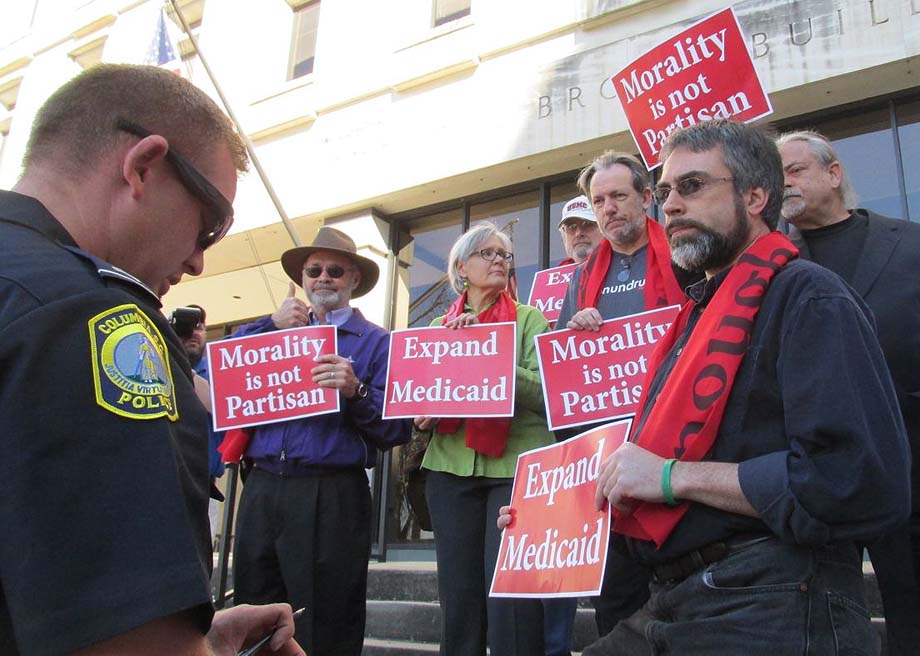 On Tuesday, as the SC Senate continues debate on the nullification bill (amended to the ACA Anti-Commandeering Act), concerned citizens will again remind lawmakers that health care is a moral issue, not a political one.
Even lawmakers who oppose the Affordable Care Act don't dispute that more than 1,000 people will die this year because South Carolina refused to expand Medicaid in 2013.
For the third week in a row, Truthful Tuesday activists will block the entrance to the SC State House garage at Pendelton and South Main beginning at 10:45am. As they have in weeks past, health care advocates, ACA Navigators and people "thrown under the ambulance" by the state's refusal to expand Medicaid, will lobby senators as they enter the Senate chambers, beginning at 11:30.
Members of the Senate have been invited to speak to demonstrators in the upstairs lobby before the session. After noon, when the session begins, some senators will be called out to the lobby to answer questions from their constituents.
Join us! We need folks willing to step off the curb, others to support them by standing in solidarity on site, and others to help pack the upstairs lobby at 11:30. Call 803-808-3384 or see TruthfulTuesday.net for details.