As part of the Modjeska Simkins School's Sunday Social series, the public is invited to hear recovering attorney Lewis Pitts on June 4 at the Seibels House, 1601 Richland St., downtown Columbia between 4 and 6pm. Pitts is a dynamic speaker with an impressive resume and a trove of stories from the trenches. 
•  •  •
Lewis Pitts was so dismayed by the legal profession that, after 43 years of practice, he asked the NC State Bar to allow him to resign. He was disturbed by the growing tendency of attorneys and law firms to put profit before the people they were supposed to serve.
"My resignation is because I see an overall breach by the Bar as a whole of the most basic of professional conduct and ethics such that I do not want be be associated with the Bar," Pitts wrote in a 2014 letter to the Bar. "I do not mean to be mean or flippant. The ministry of law has been a powerful force in my life and I have had the pleasure of working with many terrific people in pursuit of justice — lawyers and non-lawyers. I want these parting words to stir your minds and hearts into reflection, boldness, and transformational action."
The case went to the state Supreme Court, where Pitts was granted the exit he sought.
A South Carolina native, Pitts graduated from Wofford College and USC's law school. He practiced in DC and spent nearly 20 years at Legal Aid of North Carolina, where he founded the statewide children's unit and fought the schools-to-prison pipeline.
Pitts was SC Progressive Network Director Brett Bursey's lawyer after he was arrested for threatening President George Bush with a "No War for Oil" sign. (Read about the case in this blog post.)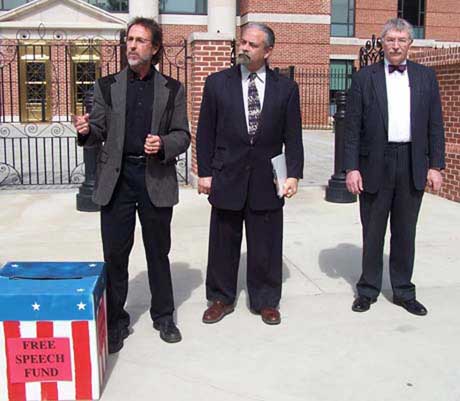 Lewis Pitts (left), Brett Bursey, and attorney Jay Bender
Bursey and Lewis go way back. Pitts represented the Natural Guard protesters at the Bomb Plant (Savannah River Site), and decided to go to jail with them. He was an attorney in Karen Silkwood's wrongful death suit, took part in civil disobedient arrests at nuclear facilities around the country, was lead attorney in the successful civil suit against the Klan and Nazis for the murder of five Greensboro activists in 1979.
"From my earliest days as a lawyer, I have been concerned that the role of our profession has been to serve and protect the political and business establishment and not to uphold rule of law," Pitts wrote in his resignation letter. (Read the letter here.)
He told a Greensboro reporter last year that there was no single incident that made him want to step away. "It was like the hypocrisy was eating me physically and psychologically." He called his appeal "a desperate plea" in "some explosive times when the rule of law really needs to mean something. I guess it's time for our profession to undergo a moral checkup."
Lewis is in Columbia to teach a class of the Modjeska Simkins School.